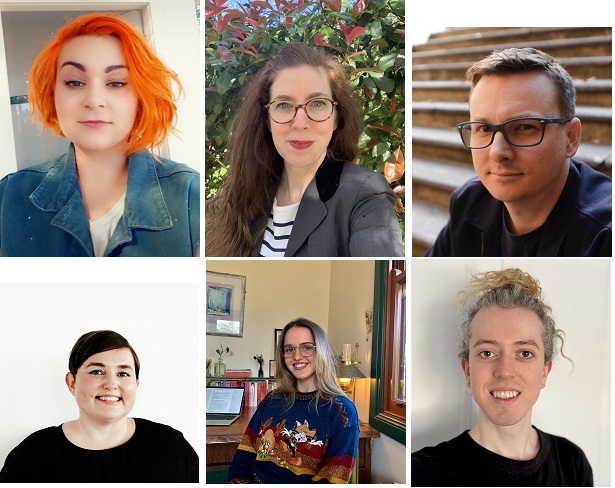 Recently we advertised for Storytellers to work with us on the Collections and Stories Project. Though we set out to find four Storytellers we ended up with six! We are delighted to welcome and introduce each of our Storytellers to Alert readers.
Laura Barling, Fiona Starr, Renae Mason and Andy Muir, who bring a strong mix of skills in writing, history, research, visual arts and digital content development, will work with us for the duration of the project. Arielle Bodenstein and Brendan Donnellan will be with us for a shorter period of time. Both Arielle and Brendan are emerging writers and artists who were super-keen to gain some experience with M&G NSW and the Collections and Stories project. We didn't want to forgo the opportunity to draw on their writing perspectives, so we invited them to come on board too.
A Walbunja woman, Laura grew up on Yuin Country (Bateman's Bay) but currently lives on Gadigal Country. Laura is a full-time artist and is currently completing studies in Visual Arts.  Aside from her practice as a visual artist Laura loves to write, her fiction and nonfiction work has been published in minor zines.  When not buried-deep in historical research Laura can be found creating textile art in her studio, or playing with her two young children. Laura is equally passionate about art and history, as well as making both accessible to everyone. Connecting people, culture and history through stories, in both her professional practice and personal life, is all-important to Laura.
Fiona is a professional historian and curator who brings over 20 years' experience to the Storyteller role. Fiona holds a BA (Hons) in historical archaeology, MA in Museum Studies and PhD in heritage conservation. Her most recent role was Curator at Hyde Park Barracks and The Mint for Sydney Living Museums. Fiona has curated history and archaeology collections, exhibitions, and written interpretive signage for small, regional and large museums and heritage sites around Australia. Fiona plays flute and piano, recreates vintage clothing with vintage fabrics, and loves bushwalking with her family in the Blue Mountains, where she lives.
Andy lives in Wollongong and is currently studying a Masters in Museum and Heritage Studies at the University of Sydney. Before turning to the world of museums and heritage, Andy worked as a professional writer, educator and public speaker – and still does. Andy has authored three crime novels including Hiding to Nothing – nominated for a Ned Kelly Award for best debut. Andy's experience also embraces historical research and screenwriting; he was a key member of the creative team involved with the Underbelly television franchise. Andy is excited about joining the Collections and Stories project, which will engage many of his interests.
Renae also lives in Wollongong but her work with museums has taken her throughout the world, including to other parts of regional Australia. Renae brings to the Collections and Stories project solid writing and digital content production experience–which is vast and intriguing. Among Renae's recent portfolio of work was her research, curation and planning for the new permanent exhibition at the Stockman's Hall of Fame in Longreach, Queensland. Renae has a good eye and ear for stories about people, the places they work/ed and live/d, and the particular 'worlds' that people and communities inhabit or have inhabited.
Every year during the school holiday break, Arielle's grandparents would take her to the museum. Since then, she has retained her love for these spaces and the numerous stories they hold. A student and emerging writer, Arielle resides in the small community of Brooklyn, nestled along the Hawkesbury River in Darug Country. She has lived here all her life and adores its "local charm". Arielle's work has been published in multiple editions of the University of Technology Sydney Writers' Anthology. She is "thrilled" to be a part of the Collections and Stories Project and hopes her writing creates the same feeling of wonder she found in the museum as a child.
Brendan Donnellan is a writer and multi-disciplinary artist who is passionate about exploring the diverse experience of queer Australians. For Brendan, growing up in the inner west of Sydney there always seemed a promise of a more fulfilling community outside the walls of their Catholic High School. At university that community burst into reality. In 2019, they graduated from UNSW with a Bachelor of Arts (Hons) in Creative Writing and a Bachelor of Fine Arts. Since then, they have prioritised serving that community through their creative practice.
During this phase of the Collections and Stories Project, our Storytellers will work closely with Kate Gahan (Collections and Stories Project Manager) and Gary Crockett (Collections and Stories Project Officer) until November 2022 to develop more than 500 stories for the project's website – Storyplace – formerly known as the Collections and Stories prototype website.
In 2022 the Storyplace website will go live and include new content from the regional 'hubs and spokes' we are currently working with – this includes hubs and spokes in the Albury, Shoalhaven, Tamworth, Maitland, Lake Macquarie and Warrumbungle local governments areas.
The Collections and Stories Project is funded by Create NSW through its Regional Cultural Fund.