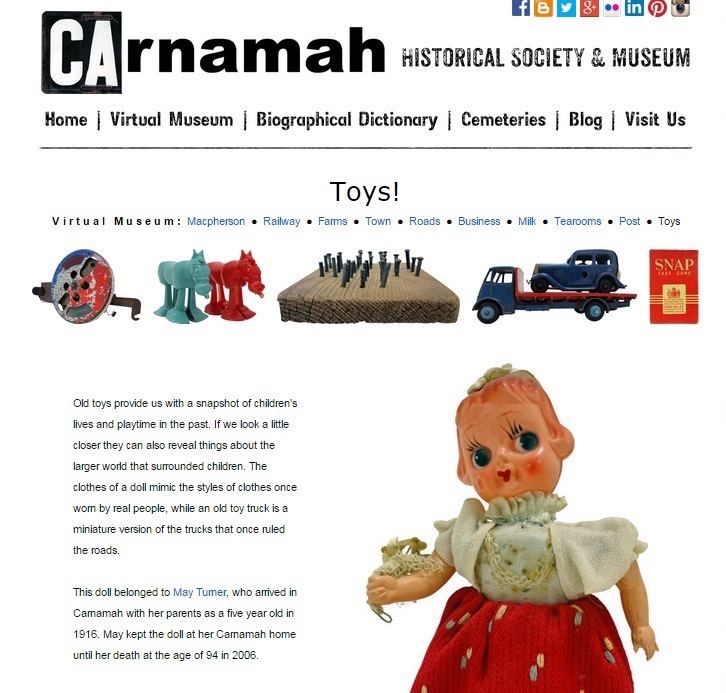 Carnamah Historical Society and Museum's website and, in particular, it's Virtual Museum and Biographical Dictionary are one of Australia's biggest online success stories. In 2014, the virtual museum won the Permanent Exhibition or Gallery Fitout section of the 2014 MAGNA awards despite competing with some very heavy hitters. The judges commented that Carnamah was "a small society with an innovative solution to extending their audience and sharing a larger proportion of their collection with the community. The website is very creative with excellent production values and interpretative images and narratives."
A key personality behind the success of the website is Andrew Bowman-Bright, Virtual Curator at Carnamah and a cultural heritage consultant. Andrew talked to M&G about the genesis of the virtual exhibitions, the depth of research that goes into the Biographical Dictionary, and the high end credibility their online presence has leant the museum.
To anyone who still thinks expanding online will lower visitor numbers please read on.
Why did Carnamah Museum create a virtual museum?
The museum had been open for about 12 years before we built a website in 2003. We received positive outcomes online with a lot of people accessing and contributing information to our biographical databases. We were reaching audiences we couldn't possibly reach from the remoteness of Carnamah.
The impetus for the virtual museum was unintentional. In 2010, in preparation for extending our physical museum we mocked up some potential exhibitions in a Word document consisting of haphazard photos of objects, ephemera and text. We came to the realisation that we could replicate the same content on a website.
We originally planned to have five virtual exhibitions. We uploaded the first three virtual exhibitions in 2011 and then another six in 2013.
With the introduction of the virtual exhibitions, we also started using more social media. We were already on Facebook, and built profiles on Flickr, Twitter and a blog. In 2010, we went a little crazy.
The Carnamah Museum doesn't have a possessive mentality so it was a very easy decision to develop the exhibitions online even if it meant interfering with physical visitor numbers. We knew the advantages far outweighed any negatives.
Did museum staff voice any concerns such as security, for example?
Security was the only one. We've skirted the security concerns by featuring objects from other collections in the virtual museum. There are items from other organisations and private collections. We keep the sources deliberately ambiguous
Did you see other virtual museums that you'd like to emulate?
Not at all. We thought 'this looks good on paper' and off we went.
Are the exhibitions part of a broader collection digitisation process?
Carnamah isn't digitising its collection at the moment. We've come to the conclusion that doing virtual exhibitions is a better use of our time. We don't want the virtual museum to simply be a 'storeroom' for everything in our collection. We believe the virtual exhibitions are a more effective means of engaging audiences online.
Building the initial website was tricky . . . but that's more about attitude and embracing challenges. If we don't have the skills that we need, we learn them.
How does the virtual museum compare with the physical Carnamah Museum?
The physical museum is very different. Some of the virtual exhibitions don't exist in the physical space. As I said, some of the objects online aren't ours and don't reside in our physical museum.
Our virtual museum is a little more interpretive than the physical museum. The physical space is much more like a cabinet of curiosities. People who visit the two museums appreciate the contrast.
Why do the virtual exhibitions work on the website?
The presentation and layout of the objects is very user-friendly. We remove the backgrounds from the photos of the objects to improve the look of the pages and the flow when the visitor scrolls. We've kept text to a minimum: objects and images share space equally. I think, the less you write the more likely people will read it.
Tell us about the Biographical Dictionary
The central premise of the Biographical Dictionary is to tell the story of the district but with the story of each person rather than with a thematic chapter. It's sourced from oral histories, newspapers, telephone directories, contributions from the public and hundreds of other sources. To keep the dictionary authoritative we reference everything and whenever we get a contradiction, we check it.
The Biographical Dictionary has been on our website since 2003 but it previously consisted of three databases: three massive bits of text split into six-metre sections with one entry underneath the other. The dictionary that you see now has been online since late 2014.
Now every entry is on its own page, it's in a structured database format, and we can link to each entry from the virtual exhibitions. It means the user experience is very layered. Visitors can burrow deeper into specific parts of history by connecting objects with biographies.
It's been going for over ten years now and because there's no end or 'publication' date its very fluid – it continually grows and improves, adding new entries and new information.
Had you ever built a website before developing Carnamah's?
I'd never used Blogger, Twitter or built a website before starting on Carnamah's website.
Was it hard to learn?
Building the initial website was tricky and building the virtual exhibitions was beyond crazy, but that's more about attitude and embracing challenges. If we don't have the skills that we need, we learn them.
I can illustrate with a challenge a museum is more likely to face. Say a museum has an object that needs immediate conservation and if they don't take action the object will disintegrate. The museum wouldn't say 'we'll do nothing because we haven't the requisite conservation skills'. They'd seek advice.
Web technology is no different. People may argue they don't understand Twitter but they're more than capable of learning.
I wrote a blog about this ethos called eHeritage: Attitude, Ethos, Culture and Creativity.
WA's Department of Culture and the Arts suggested funding options after they saw our first three virtual exhibitions.
Have you successfully built a virtual audience?
Online visitation was about the same for the first six years of the website's life but when we put up the latter six virtual exhibitions, we had a substantial leap in visitation that we've sustained. Currently we have about 40,000 annual visitors per year.
Do you get more visitors to the physical museum?
There's a myth that an online museum will dissuade people from visiting the physical museum but our museum has seen an increase in physical visitors.
I'm not sure the website would prompt someone to drive for hours to visit our museum but it's raised awareness. Someone might Google the name of an ancestor or research topic and they find a direct connection to our district, prompting them to deviate and visit if they're heading up north.
Is social media important to your online presence?
Social media is important. Even if you have a static website, social media can provide an ongoing relationship with an audience on a weekly basis. We post on Facebook, Twitter and other social media channels a couple of times a week and once a week at a minimum.
What was the rationale behind choosing so many social media platforms?
The common wisdom is that you should pick one or two platforms and do them really well. We choose to do several platforms and do them reasonably well because with different social media channels you have different audiences. If you only have a presence on one you're missing another audience. We became aware of this problem when we started using Twitter. We thought there'd be overlap with our Facebook audience but discovered that they were a completely different and new audience.
Do all museum staff see value in the online presence? Did people need convincing during the process?
There was never any negativity. Some people took time to see the value but over the past few years, the value has become so clear that everyone is behind it.
The turning point was when the National Museum of Australia contacted us about the exhibition Landmarks: People and Places across Australia. The exhibition eventually included a section on First World War solider settlement in Carnamah: a very direct outcome of the website. If we hadn't been online the NMA wouldn't have found us when Googling 'soldier settlement'.
You're obviously a critical part of the online presence? Is Carnamah's online presence sustainable without you?
The virtual exhibitions we've built already are obviously completely sustainable because they require very little maintenance.
I'm the only one on social media. If I didn't do it any more, I believe there's a reasonable chance that someone would pick it up.
Has the project ever received external financial or in-kind support?
We created our website and the first three virtual exhibitions without support. WA's Department of Culture and the Arts funded the next six virtual exhibitions. Our education resources, that we're developing to be useable from the classroom, are supported by the WA History Foundation and WA's Department of Culture and the Arts.
The WA History Foundation has given us another grant to integrate our education resources with our Biographical Dictionary. We also received a Your Community Heritage Grant from the Department of the Environment for gathering and recording local heritage stories. While this was mostly an offline project a lot of the stories shared on our Midland Railway virtual exhibition came from this project.
Has the strength of this project actually generated support?
The success has compounded. I think the depth and substantive quality of the website means we get noticed, recognised and have a stronger reputation in the community, professional community and with funders as well. WA's Department of Culture and the Arts suggested funding options after they saw our first three virtual exhibitions.
The success of the virtual exhibitions definitely led to leveraging support for accompanying educational resources.
What does the future hold for Carnamah's virtual museum?
We'd definitely like to do more virtual exhibitions. There are so many stories and nine exhibitions barely scratches the surface. We'd also like to continue growing our Biographical Dictionary and continue exploring how virtual volunteers can assist us.
What about the future for the wider sector? Do you see more virtual museums appearing?
I used to think 'yes' but many organisations seem to miss the point, putting their entire catalogue online instead. This is perfectly fine but it isn't a substitute for well-thought out, curated content.
I think the model we've created is a pretty good one. It works well, it's layered, it leads on to other information, it's not just an object in isolation.
Given the mindset that needs to be changed what sort of advice do you have for community museums and historical societies wishing to embark on a virtual museum project?
Museums need to apply the same rationale as they would to a physical exhibition.
It's not simply the objects and images that make up an exhibition, the text needs to be carefully thought out. The exhibitions are a result of information gathered and researched over the past twenty years. We have a good handle on our local history.
Andrew has written an excellent article Breaking Out in Carnamah: Virtually transforming physical limits in Museums Australia Magazine Summer 2015.