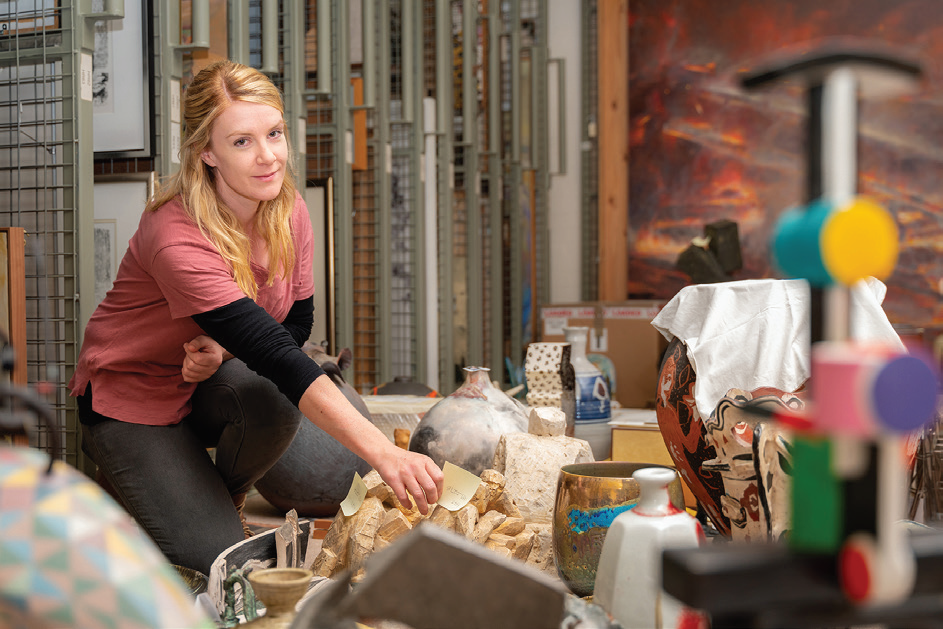 AR+COLLECT is an ambitious collection project designed to give audiences unprecedented 'behind the scenes' access to the Bathurst Regional Art Gallery collection.
Between 9 June – 9 August 2020, gallery staff will be engaged in collection activities including photography, condition reporting, cataloguing and research, within the gallery. Visitors will gain insight into collection activities that are usually conducted behind closed doors.AR+COLLECT will not only provide a rare opportunity to watch Gallery staff at work but will also provide a unique opportunity to experience the breadth of the BRAG collection. Comprising over 2,000 objects valued at $11.5 million, the collection includes paintings, drawings, prints, textile works, photography, sculpture, new media and ceramic works.
This project is the first stage in a massive collection project that will see the BRAG collection re-housed in the $4.6 million Central West Collections Facility due to open in October 2021. In order to ensure a smooth transition, BRAG will digitise its entire collection, streamline its database and collection management systems, condition report every object, and embark on a major archiving project.
This project, originally slated for 2021, has been brought forward to take advantage of the COVID-19 closure period, and ensure that a safe, staged re-opening process could be undertaken, says Sarah Gurich, Director, Bathurst regional Art Gallery. Protective measures have been put in place to ensure our facility is safe for our visitors and staff.
The program will feature four distinct highlight exhibitions: Olde Masters: Lloyd Rees and Graham Lupp (Tuesday 9 June to Sunday 21 June); Dynamic Duos: Jean Bellette & Paul Haefliger, Frank & Margel Hinder (Tuesday 23 June to Sunday 5 July); Celebration of Colour (Tuesday 7 July to Sunday 19 July); Hill End Highlights (Tuesday 21 July to Sunday 9 August).
A series of online public programs will accompany the AR+COLLECT project, including artist talks, studio tours, collection highlights and collecting tips and links. The community is encouraged to drop in regularly as artworks will change frequently.
---
Related
$4.6 million for Central Tablelands Collections Facility
In the News
Bathurst Regional Art Gallery to showcase permanent collection on relaunch