Engage – Barbara Cleveland | Thinking Business
Engagement at The Condensery | Somerset Regional Art Gallery
OPENING EVENTTHINKING BUSINESS | YOGA IN THE GALLERY 
Wednesdays 5 & 19 April 2023 | 10am – Sessions for kids and families
Wednesdays 5 & 19 April 2023 | 3pm – Sessions for adluts
The Condensery ran yoga sessions in the gallery space, allowing for movement to music to accompany the Thinking Business exhibition. Jayne from Toogoolawah Swimming Pool and Community Gym led participants in an hour of fun and physical activity to engage with the exhibition in new ways.
THINKING BUSINESS | PUPPET CONSTRUCTION
Wednesday 12 April 2023 | 10.30am & 1.30pm (ages 9-12)
Helen Stephens from Dead Puppet Society ran a fun and hands on workshop to design and construct table-top puppets using the Barbara Cleveland | Thinking Business exhibition as inspiration for movement and communication.
In this workshop visitors learned the basics behind designing animated puppet characters using readily available materials to exquisite effect. Then they explored the principles of puppet manipulation to animate and bring characters to life.
The Dead Puppet Society is an Australian based production house and design company with international reach. They create deeply imaginative visual theatre, public art and sculpture, combining old school craftsmanship with cutting edge technology.
---
Engagement at Gosford Regional Gallery
OPENING EVENT
Barbara Cleveland artist Frances Barrett travelled to Gosford to officially open the exhibition.
LAUGHING YOGA
Gosford Regional Gallery hosted a laughing yoga session as a part of their iteration of this exhibition. This brings together the themes of play and performance evident in Barbara Cleveland's practice.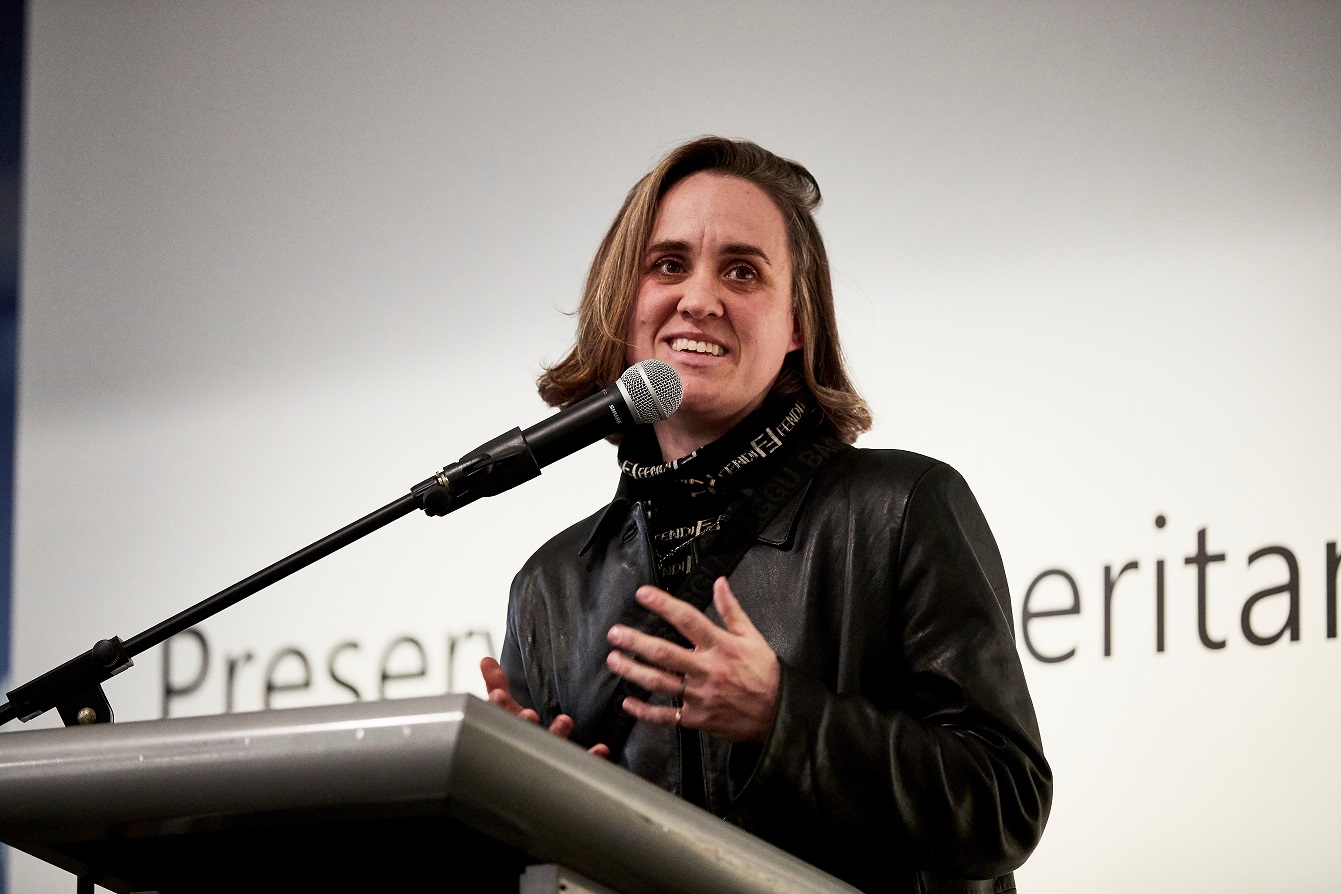 ---
Engagement at Pine Rivers Art Gallery
CREATIVE KIDS WORKSHOPS
As a part of Pine Rivers Art Gallery's presentation they created a dedicated space for young people to experiment with movement, play, and creative exercises. This included a life-sized word jumble,  a colourful hat making station, and space to interact with the education resources produced by Goulburn Regional Art Gallery.
---
Engagement at Penrith Regional Art Gallery, Home of the Lewers Bequest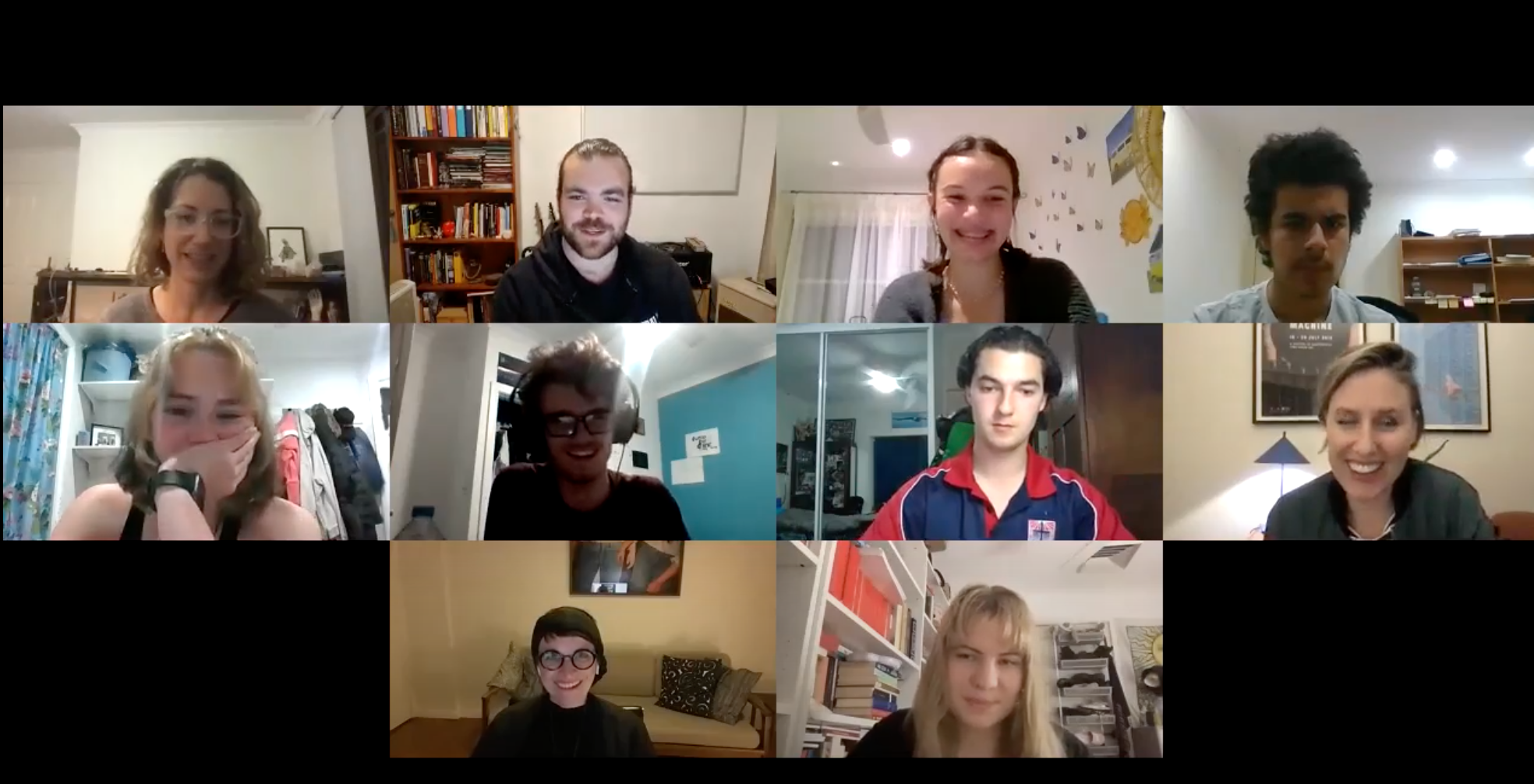 Q THEATRE STUDENTS LEARN ABOUT PERFORMANCE ART
In August 2021, Penrith Regional Gallery hosted two online workshops for young adults from Studio Q Theatre's accelerate program. These sessions introduced students to Barbara Cleveland's practice and the genre of performance art through viewings and discussions of video works from the Thinking Business exhibition and performance exercises responding to key themes. In the second session, students engaged in an online Q& A with Barbara Cleveland artists Kate Blackmore and Diana Baker Smith.
BARBARA CLEVELAND AND GINA MOBAYED | IN-CONVERSATION
A discussion between 'Thinking Business' curator, Gina Mobayed, and artist collective Barbara Cleveland. This conversation explores the development of the exhibition and their collaborative practice over the past 15 years.
Courtesy of the artists and developed in partnership with Penrith Regional Gallery, Home of the Lewers Bequest, 3 October 2021.
---
Engagement at Goulburn Regional Art Gallery
INTERVIEW
Q. Tell us a little bit about yourselves and the collective that is Barbara Cleveland
A. Barbara Cleveland is a collective of four artists – Diana Baker Smith, Frances Barrett, Kate Blackmore and Kelly Doley. We met at art school in the early 2000s and our artistic practice and friendship have been closely intertwined ever since.
We initially developed performances together, often in club contexts, as part of a larger network of artists living and working in Sydney. Over the last 15 years our work has focused on questions of artistic labour and authorship, often troubling the mythology of the singular artist-genius through forms of humour, collaboration and fiction. For instance, our early performances for the camera, such as The One Hour Laugh (2009) and Work in Progress (2010), present collective acts of endurance that draw on the history of conceptual art, absurdist theatre and experimental comedy. Whereas in our most recent video work, This is a stained glass window (2019), we turn the camera on our intimate working relationship to explore themes of female friendship, collaboration and artistic labour.
Q. So, who is Barbara Cleveland?
A. Barbara Cleveland was an Australian performance artist and feminist activist, who worked up until her mysterious disappearance in 1981. Despite her significant output of work, Cleveland's performances were rarely documented and she remains largely unknown in the history of Australian art. Through positioning Cleveland at the centre of our work since 2010, we have explored the potential for re-enactment to 'write' history, occupying a slippery position between artist and art historian. The story of Cleveland (the artist) is complicated by the fact that she is a fiction, constructed by Barbara Cleveland (the collective).
Since 2010, we have willed Cleveland into existence by (re)staging a range of live and recorded performances and re-enactments. In this process, we have both embodied and become Cleveland, constructing an imagined biography and back catalogue of her work. We have re-staged her imagined performances and lectures (Remembering Barbara Cleveland, 2011); directed a fictional documentary (This is Barbara Cleveland, 2013); turned her (fake) text pieces into choreographic scores (Bodies in Time, 2016); and finally, through inviting other artists and scholars to reflect on her work (Making History, 2016), we have extended the Cleveland narrative beyond our own grasp.
As a collective, and individually, you have exhibited and undertaken residencies throughout Australia and internationally. What has it been like preparing a show in regional New South Wales?
This our first solo show in a regional gallery and our first time showing our work at Goulburn Regional Art Gallery. Visiting Goulburn in the lead up to the exhibition has been a very special experience for us – Gina and the Gallery team have been really supportive throughout the process and the Gallery volunteers have been welcoming, offering us tips on what to see, do and eat (La Casa Italiana!). Being amongst the clean country air and the relaxed community feeling has provided a very welcome break from our Sydney lives, especially during the pressures of Covid.
Q. 'Thinking Business' is a survey exhibition, so we'll get to see five works that you've made over the last ten years. What themes and ideas link these works together?
A. The five works in 'Thinking Business' explore forms of female friendship, collaboration and artistic labour, and traverse our 15 year-long working relationship. The exhibition takes its title from Hannah Arendt's description of her friendship with Mary McCarthy. As Arendt wrote, "it's not that we think so much alike, but that we do this thinking-business for and with each other." This idea of an intellectual and creative connection between women resonated strongly with us and we felt that it provided the perfect framing for the works in this show. In presenting these works together, we hope to highlight our collective working methodology and inspire other ways of thinking and working together.
Q. What are you hoping our community gets out of the show, and your work?
A. We're excited to introduce our work to Goulburn audiences for the first time! Alongside ideas of friendship, collaboration and artistic labour, the five works in the exhibition are also connected by their sense of humour. We use humour as an interventionist strategy to challenge the well-worn cliché that women, especially feminists, can't be funny and to antagonize the seriousness of 'high' art forms including early performance art. We hope that the Goulburn community will find these works engaging and thought provoking but we also hope to make people laugh.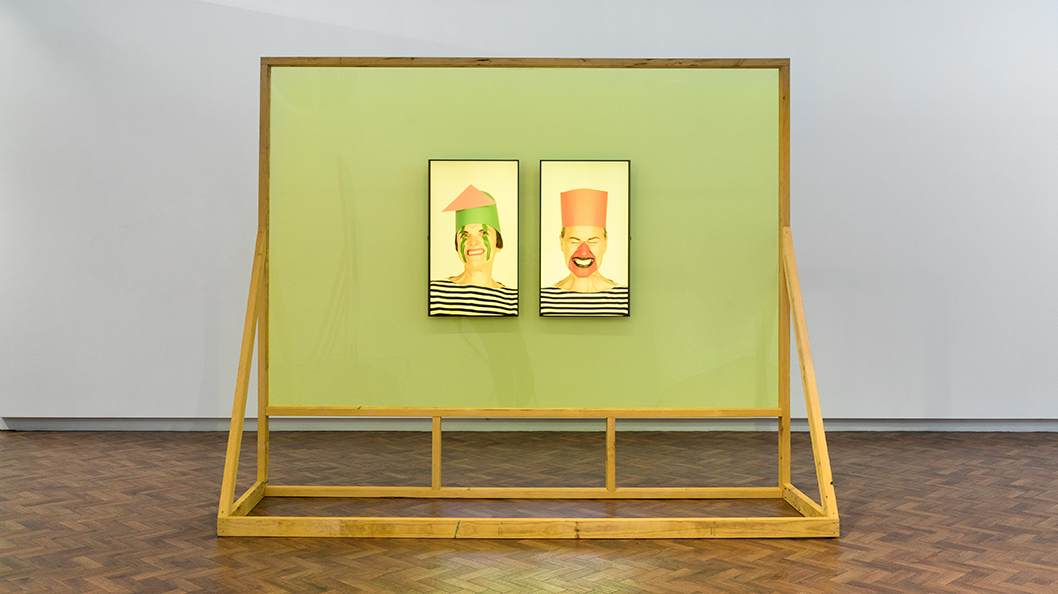 ART TEENIES: MOVING TO PERFORMANCE WITH PAULINE MULLEN
Five session of movement, making and yoga.
This round of Art Teenies is a Gallery based creative session lead by local yoga instructor, Pauline Mullen so you experience art in a way you never have before! Each week focuses on new themes and modes of expression through an experience of the five performance works showing in Barbara Cleveland's, 'Thinking Business'.
Use props and simple stage makeup to perform some fun voice warm-ups and face yoga centred on the work Performance art (15 actions for the face), 2014
Laugh until it hurts as you perform some stretching and laughing yoga all with brightly coloured props inspired by the work One Hour Laugh, 2009
Play some fun performance based games including 'What's the time Mr Wolf?', 'Hatch the Egg' and yarn bomb the courtyard in response to Work in Progress: Dawn till Dusk, 2010
 Explore what is funny and what misses the mark though performance based activities using fun props to create crazy characters inspired by Bad Timing, 2017
Work with a partner for partner yoga and chakras then explore the idea of perspective and friendship through a number of reflective exercises in response to This is a stained glass window, 2019
Open to young people 5 years old and under, and their carers. To view these programs, see the LEARN page.
---
A Goulburn Regional Art Gallery and Museums & Galleries of NSW touring exhibition. This project has been assisted by the Australian Government through the Australia Council for the Arts, its arts funding and advisory body. Supported by the Restart Investment to Sustain and Expand (RISE) Fund – an Australian Government initiative.