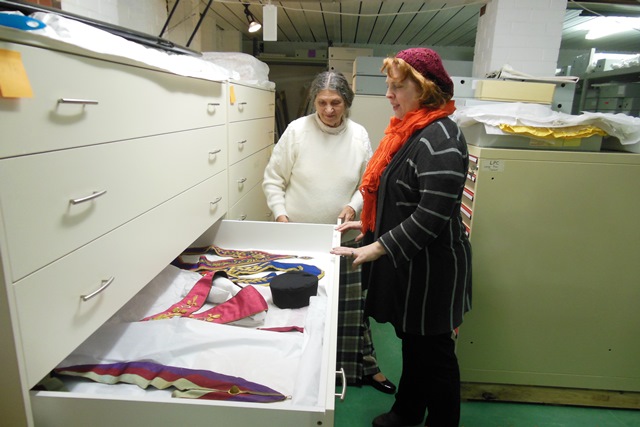 The Volunteer Placement Program is a great opportunity to learn new skills to share with your museum. It's especially designed for those who volunteer their time and expertise to small or volunteer-managed museums in NSW.
Spend up to 10 days in a large or specialised cultural organisation: develop your proficiency in collection management, hone your exhibition development and installation skills, acquire basic conservation techniques or learn how to deliver culturally and historically significant events.
In 2013 five volunteers participated in the program and here's a summary of what they achieved.
Working with staff at the Museum of the Riverina, Elaine Kaldy focused on how and why information is researched and collated and how it is best recorded in the MOSAiC data base. She explored best practice registration techniques through hands-on activities. Valuable time was spent in discussion about the value that research brings to a collection's significance. During the placement Elaine compiled an action plan for implementation on her return to Millthorpe and to share with her colleagues.
"… I came away from my placement with a very good understanding of the importance of research and linking objects to people and events… The hard copy way of recording information about an object can be very limiting when compared to the scope that MOSAiC provides. What a wonderful experience it was"
Samantha Friend spent a week with the Albury LibraryMuseum, mentored by the Museum and Society History Coordinator. Samantha developed a deeper understanding of museum practice, increased her knowledge of cataloguing, digitising, using the MOSAiC database and of object handling and storage. By spending time with senior staff, Samantha saw museum management theory and strategic planning put into practice.
Returning to Bathurst, Samantha said "The whole experience was very rewarding" and is keen to share her newly acquired skills with her fellow volunteers, as they embark on cataloguing the collection and developing strategic policies and plans.
Jenny Alder spent nine days with the State Records Authority of NSW. This placement provided Jenny with practical skills experience in handling, digitising and recording collection material. She was involved with hands-on conservation activities, researching collection items, creating consignment lists, cataloguing and storing items and creating metadata for the content management system.
Jenny discovered her favourite place was the conservation lab. "This was the greatest benefit of the time spent at State Records… it was an enormous crossroads for me. To discover something new and exciting that I can build on from here is a real gift. The generosity and assistance I was given was really quite extraordinary."
Lynne Spicer from the Denman Heritage Complex in Huskisson was hosted by Newcastle Museum. Jenny was interested in developing her social media skills to increase and diversify the Lady Denman Heritage Complex's social network and online presence. Jenny participated in the Museum's programs and activities and was given an opportunity to write about what she experienced. She learned about different writing styles required for writing for Facebook, a blog or a media releases.
"I got a lot from working at Newcastle Museum. To have the experience to work with such inspired passionate people on a topic close to my heart was instructive to say the least. I enjoyed all aspects of it from reading to the little ones on Tuesday Tales to the visits off-site at the storage facilities. "
Ewan Morrison, hosted by Hurstville City Library Museum Gallery is a volunteer with Clyde Rover & Batemans Bay Historical Society. His placement focused on marketing, fundraising and event management that required Ewan to review and participate in a variety of museum activities. As a result Ewan has produced a detailed, practical handbook to assist development of culturally and historically significant events in his the region.
"It was a wonderful experience and the insights I obtained from the team were at times inspirational. That they were so willing to give of their time is a wonderful gift to volunteers from small museums like ours in Batemans Bay."
This year M&G is offering volunteer placements with the following organisations:
The Australian Museum
Hurstville City Library
Museum & Gallery
McCrossins Mill Museum and Gallery
State Records of NSW
Museum of Sydney
If you are interested in applying, be sure to give us a call to discuss your ideas. It's important to know what you want to get out of your placement and which areas you would like to focus on—this will help us match your needs with a suitable organisation. We can also help if there's a particular organisation that you'd like to spend time with or a specific skill you'd like to improve.
Recipients of a Volunteer Placement receive up to $2,000 to assist with travel, accommodation and living expenses.
So start thinking about what your museum needs and how gaining new skills through a volunteer placement can help!
Application closing date is Friday 11 April 2014.