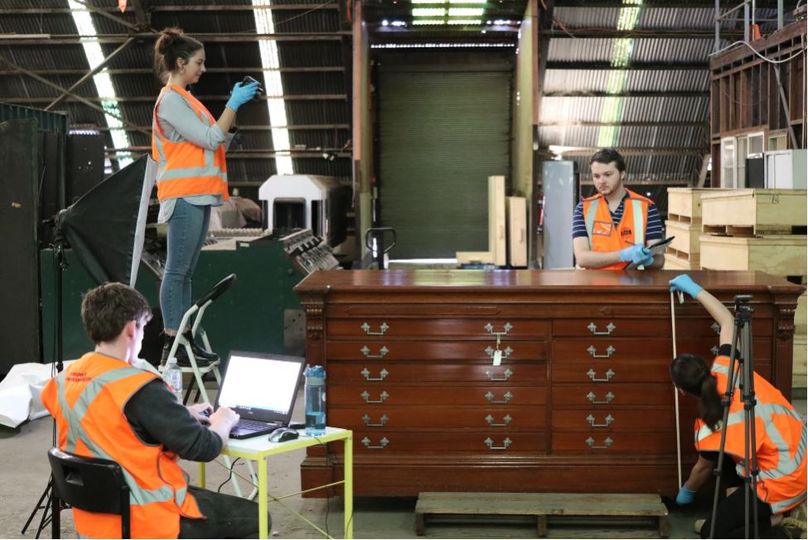 An exciting new opportunity to gain valuable museum collections and conservation experience working with Transport Heritage NSW.
The collections volunteer will be part of a small team undertaking a range of collection management activities to support the care and management of the movable heritage collection stored at the 'Igloo' building at Chullora, NSW.
The role works under the supervision of the Collections Officer, within Transport Heritage NSW's (THNSW's) Heritage & Collections Team.
Key to the success of this role will be the ability to follow instructions, a good level of physical fitness and be able to undertake manual handling tasks as required to carry out the duties and activities of this role (see below), the ability to work with others and develop strong, positive working relationships with all THNSW team members, and a strong 'safety first', 'can do' attitude.
Duties
Tasks and activities may include assisting with and undertaking:
Barcoding and rehousing of heritage objects.
Cataloguing of heritage objects
Condition assessment and reporting of heritage objects.
Assessment and auditing of the collection in regard to deaccessioning of items.
Use of a Collection Management System – (EMu).
Object research and photography.
Other general collections maintenance activities and tasks.
Other short-term specific projects related to collection objects.
Other reasonable tasks and activities as directed, within the scope of this role.
Training
THNSW will provide supervision and training for the role as required, including a WHS induction to the role and site.
Working Conditions
This role requires working in a non-standard working environment, including varying lighting, temperature and other conditions.
The use of personal protective equipment (PPE) will be required subject to the tasks and activities being undertaken. Individuals will need to purchase their own approved safety footwear, however THNSW will provide all other required PPE.
Commitment
This role requires attendance on site at Worth Street Chullora, NSW on negotiated weekday/s usually between the hours of 10:30am and 2pm. Commitment is flexible. A map to the site and other instructions will be provided upon application.
Selection Criteria
Essential
Must be at least 18 years of age
Must hold a current, valid NSW Working With Children Check clearance at all times.
Must be able to provide/arrange own transport to/from the Igloo.
Successful completion of THNSW WHS training required to fulfil the role.
Ability to follow instructions and directions, and complete tasks with precision and accuracy.
Be physically fit and able to carry out manual handling tasks and the duties, activities and tasks of this role without restrictions.
Use of PPE as and where required such as safety boots, gloves, safety glasses, coveralls, masks, etc..
All THNSW volunteers must meet the requirements of THNSW's volunteer program, including the ability to pass police, working with children, or other required checks relevant to THNSW's operating context with volunteers, youth, children and the public.
Not Essential, but desired
Museum object handling experience
Use of a Collections Management System (for example EMu)
A general knowledge of safety standards as they apply to the work environment.
Experience or awareness of the requirements of working in, and an enthusiasm for, heritage, cultural tourism, regional attraction management sectors, or not for profit organisations.
If you are interested in becoming a collections/conservation volunteer please email Chris Fielder at: chris.fielder@thnsw.com.au