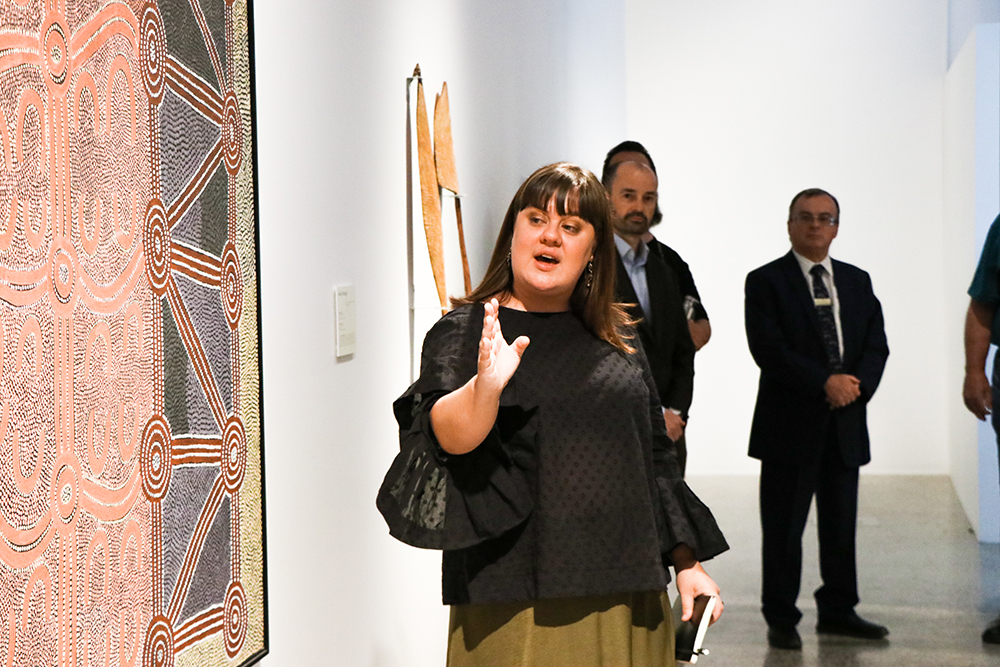 Featuring works by 14 contemporary First Nations artists across sculpture, painting, photography and video, Void offers insights into what can be found in unknown spaces, time and landscapes. The void is a multifaceted concept not defined purely by absence but as a place that exists between distinct worldviews, occupied by meaning and imbued with personal, historical and ancestral significance.
Years in development, Void is curated by Wiradjuri woman Emily McDaniel in conjunction with UTS Gallery and Bathurst Regional Art Gallery (BRAG), and will tour to 8 locations across Australia between 2019 and 2021, beginning in Bathurst. To launch the exhibition's tour, educators from the hosting venues in Canberra, Wagga Waggga, Geraldton, Bendigo, Newcastle, Murwillumbah and Mackay travelled to Bathurst for the Void Education Symposium. They were also joined by volunteer guides from BRAG and other gallery workers from the Central West NSW region.
The symposium program began with a Welcome to Country from Wiradyuri Elders Mallyan Uncle Brian Grant, Dinawan Dyirribang Uncle Bill Allen Jr, Yanhadarrambal Uncle Jade Flynn and Wirribee Aunty Leanna Carr-Smith. Activities then included a tour of the exhibition led by curator Emily McDaniel; an overview of the Void Education and Learning Resource developed by Alice McAuliffe, Amy Bambach, Stella McDonald and Annie-renae Winters; a discussion on cultural protocols from Wiradyuri Elders and Traditional Owners from Gunhigal Mayiny Wiradyuri Dyilang Enterprise and staff at Charles Sturt University; and a reflective yarning circle. These activities focused on developing and promoting appropriate talking points, activities and curriculum connections around the themes of Void and the aspects of Aboriginal culture the artworks speak to.
It was also a rare opportunity to meet the curator and professional staff involved in touring exhibitions of this calibre. The whole event was so well-planned and enjoyable. Thanks so much.
– Void Education Symposium attendee
After the symposium, public programming for the opening of Void commenced with a panel talk moderated by BRAG director Sarah Gurich and featuring artist Jonathan Jones, curator Emily McDaniel, UTS Gallery curator Stella McDonald and M&G NSW's Gallery Programs & Touring Exhibitions Manager Rachel Arndt. A smoking ceremony was then held by Wiradjuri Elders, which was followed by speeches. The show was officially opened by M&G NSW's Aboriginal Programs Manager Steve Miller.
The following day, some of the symposium attendees were taken on a tour of Bathurst with Elders Dinawan Dyirribang Uncle Bill Allen Jr and Wirribee Aunty Leanna Carr-Smith. The tour included significant places throughout the Bathurst town as well as atop Wahluu (Mt Panorama).
Click here to find out more about Void exhibition and tour
Photographs by Vanessa Low, Museums & Galleries of NSW