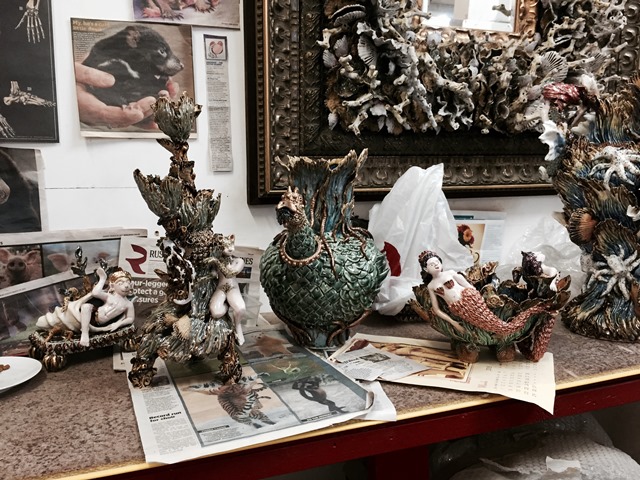 Alan Sisley (1952-2014) was a Director of Orange Regional Gallery and a past President of Regional & Public Galleries of NSW. The Sisley Fellowship, named in his honour, seeks to provide an opportunity for a NSW gallery worker to undertake a period of research or study to develop a project or program beneficial to their organisation. Toni Bailey from Casula Powerhouse Arts Centre was the inaugural recipient of the fellowship and we recently interviewed her about her placement.
---
M&G: Thanks for talking to us Toni. You are a curator at Casula Powerhouse Arts Centre and have recently completed your felllowship at Footscray Community Arts Centre (FCAC) in Victoria. Can you tell us why you chose FCAC?
TB: There are relevant similarities in what we do—both organisations are west of their cities with culturally diverse demographics; provide a program of community and contemporary arts; are multi-disciplinary with performance, public programs and education with workshops and exhibition spaces; and deliver culturally-specific festivals and projects. FCAC has a resident cat and CPAC has snakes that visit from time-to-time.
FCAC has been going for 41 years compared to CPAC's 21 years and I hoped that I might pick up some hot tips. FCAC is extremely well-regarded by its peers and its programming continually evolves to stay relevant to their communities, so I wanted to get an insight into their daily operations as well as the organisational structure to see how it compares to our own. Essentially, I wanted to learn a bit about what makes their programs such a successful model for community engagement.
M&G: We'd like to know a bit about the programming similarities and differences between Footscray Community Arts Centre and Casula Powerhouse Arts Centre?
TB: CPAC as a repurposed power station has three very large exhibition spaces, as well as a gallery space dedicated to local artists and a kid's gallery—our shows can accommodate around 70 works by 20 artists comfortably. FCAC's gallery spaces are smaller than ours and their approach to programing is very different to CPAC—mainly in that their exhibitions are outcomes of programing in other areas across the organisation and their creative producers are not artform specific.
FCAC has three core programs:
Their long-running program (23 years) for people living with a disability called Art Life fromwhich three ensembles have emerged and that tour nationally and internationally. CPAC's Access Program has been a focus over the past five years and is fast growing in popularity and scope.
FCAC's Indigenous Cultural Program is Aboriginal led, authored and delivered and the Elders in Residence and Indigenous Advisory Group advise on cultural protocol and are the spokespeople for the communities that they represent. CPAC has engaged Aboriginal Advisory Committees for specific projects and are working towards securing a permanent role on staff.
FCAC runs an Emerging Cultural Leaders (ECL) program, a five-month skill development and mentoring program that focuses on building networks in the arts and community sector to facilitate future roles in community development in creative industries. CPAC has an active and engaged youth committee whose members apply for grants for projects and events that they initiate and manage. CPAC Youth seek to identify what local young people who are interested in the arts need, and work towards filling those gaps in our programing. I think CPAC Youth could quite naturally and successfully evolve into a program that draws from the ECL program.
Alongside FCAC's core programs are industry initiatives—far too many to mention here—but they include Collaborate Asia, West Writers, Creatively Ageing and Call to Create which accepts submissions twice a year and focuses on creative developments, symposiums, presentations, sound art, performance, exhibitions and culturally-diverse artists engaging with the centre. CPAC similarly has a proposal register encouraging submissions from practitioners working in various art forms.
Our education and public programs are similar in structure and both have seen a rise in demand for workshops for pre-school age groups. However, CPAC is seriously envious of FCAC's computer lab, which hosts a range of workshops including in animation and gaming design workshops.
FCAC runs a company in residence program, and is currently working with Contemporary Pacific Arts Festival. Similarly CPAC works with different groups such as NSW Spanish and Latin American Association for Social Assistance to deliver the Afro Latino Festival.
M&G: While you were in Melbourne you visited 22 artists' studios and 16 galleries for which we think you deserve a medal since it amounts to 2.7 venues a day—nevertheless tell us what observations you gained from this survey?
TB: The studio visits were extremely valuable—I was doing general research without a specific show or outcome in mind. I retain information better when someone talks about their work as opposed to reading about it, so I endeavour to do as many studio visits as possible throughout the year. It's a privilege to be able to see an artist's studio and gain an insight into their working methods and I am always grateful that artists are generous enough to let me visit.
Nine years ago with a Gordon Darling Travel Grant I travelled to Tasmania, Darwin, Perth, Melbourne and Brisbane and met with over 120 artists. On this recent trip I noticed that many artists are now extremely articulate, highly-organised and deliver informative, interesting and often entertaining presentations about their work (whereas an observation I made was that I hadn't become any more articulate or interesting). Although I wasn't looking for specific work for specific shows, I met with four artists who will exhibit at CPAC next year as a result of the trip, which is great.
I saw a fantastic survey of Lisa Reid's work at Arts Project Australia, a great show at Margaret Lawrence Gallery The Material Turn, and Tully Moore's show at Caves was a highlight of my trip.
M&G: What were the main take-aways from the Fellowship?
TB: Spending two weeks with a like-minded organisation gave me an insight into the day-to-day operations, which reminded me just how hard we all work and how invested we are in this industry. Observing FCAC's organisational and reporting structure provided a much better understanding of the ways their core and associated programs are supported. It will take some time to digest and figure out how what I learnt can feed into what we do at CPAC.
One of the main take-aways was a reassurance that we are doing some things right: our focus on public programs and education; our access and outreach program; and the direction our youth committee is heading in are all working well. I might suggest in the near future that CPAC adopt FCAC's annual Planning Retreat—especially if it can be somewhere tropical! I think a recording studio would be a fantastic resource and will continue talk to FCAC about whether theirs is well-utilised and by who.
I am extremely grateful to Regional & Public Galleries NSW for the opportunity to undertake the Alan Sisley Fellowship and to FCAC for being so generous in accommodating me and my endless questions.
Toni Bailey
---
YOU MIGHT ALSO LIKE:
The Alan Sisley Memorial Fellowship information