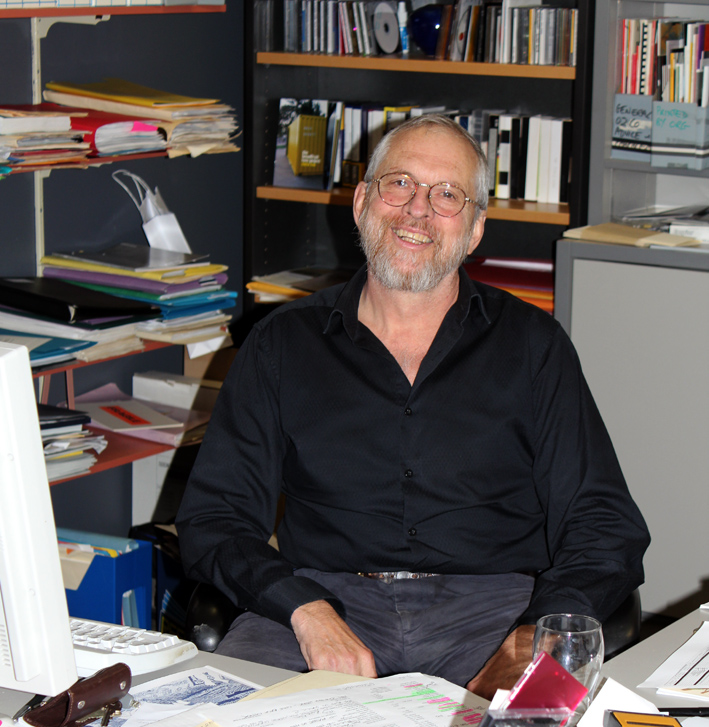 Alan Sisley at Orange Art Gallery 2011. Photograph by Kim V Goldsmith.
Alan Sisley (1952-2014) was Director of Orange Regional Gallery from 1991 to 2014 and was previously President of Regional & Public Galleries of NSW. A gifted communicator, he used his role to passionately advocate for the role art can play in peoples' lives. Sisley was widely acknowledged for his risk taking projects, but he always placed the artist and the audience at the centre of his concerns.
This Fellowship, named in his honour, and awarded biennially, seeks to provide an opportunity for a NSW gallery worker to undertake a period of research or study to develop a project or program beneficial to their organisation.
AIMS
Regional & Public Galleries of NSW (RPGNSW) understands the increasing pressure placed on staff in our sector. This pressure and infrastructure constraints often translates as insufficient time for staff to fully develop ideas or projects to full capacity; or to properly invest in establishing strong partnerships and collaborations.
The aim of the Fellowship is to provide funds for a professional gallery staff member to dedicate time to research and develop ideas that will benefit their organisation. RPGNSW will provide funds up to $3,000 to cover travel and accommodation costs associated with the program of activity, as well as toward staffing costs to replace the applicant at their home venue. Note: Applicant organisations must be current financial members of RPGNSW.
Projects and applications must address at least one of four core areas:
EXHIBITIONS / CURATORIAL PROJECTS
COLLECTIONS
PUBLIC PROGRAMS / AUDIENCE DEVELOPMENT
PARTNERSHIPS / SPONSORSHIPS
Examples of activity could include:
Researching other regional collections for potential display at applicants home venue;
Time to meet with artists or exhibition partners for a significant gallery exhibition;
Researching audience development, education or public program initiatives;
Establishing partnerships between institutions;
Establishing partnerships with non-art-based organisations.
Applications Close Friday 15 February 2019
Decisions advised by Friday 15 March 2019