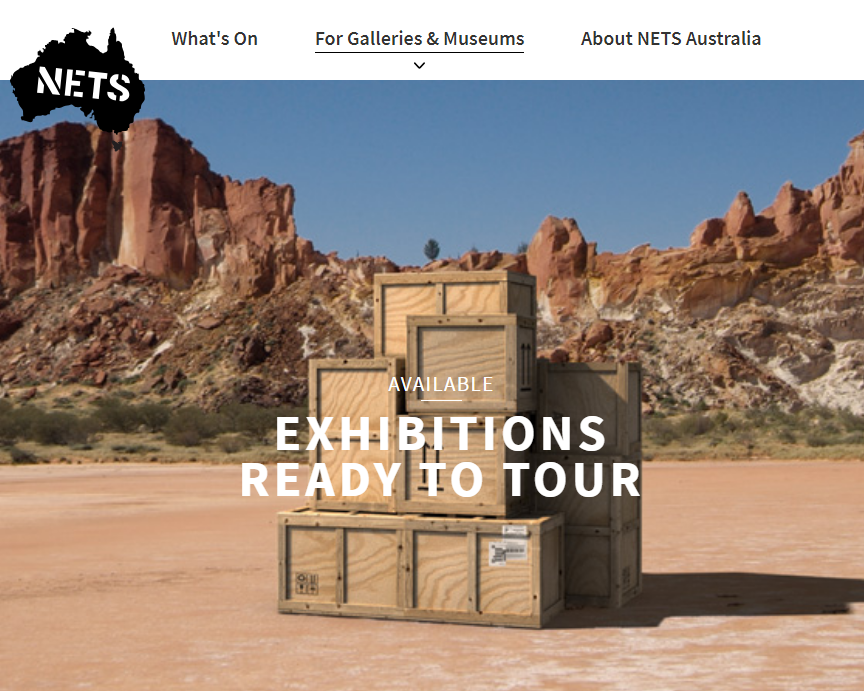 Australia's touring exhibition portal, the National Exhibition Register (NER), lists a diversity of exhibitions for venues of all sizes and capabilities. The NER is a free service that allows Australian organisations to promote, browse and book touring exhibitions of contemporary visual culture.
Galleries and venues across Australia are invited to submit their touring exhibitions.
The NER is supported by the National Exhibitions Touring Support (NETS) Australia, a national network of arts organisations who support and deliver high-quality arts programming to regions across the country.
The user-friendly search and sort functionality allows you to search touring exhibitions from around the country and filter according to your needs – cost, size and available dates. Browse the exhibitions on offer, select an exhibition and find out all you need to know such as artist and curator information, available dates, size, accompanying resources, cost, contact details and much more.
New exhibitions on the NER:
Suspended Moment: The Katthy Cavaliere Fellowship – Toured by Museums & Galleries of NSW, this exhibition, curated by Daniel Mudie Cunningham (Director Programs, Carriageworks), will comprise work by Giselle Stanborough, Frances Barrett and Sally Rees, the three recipients of this prestigious fellowship. A selection of work by Katthy Cavaliere will be presented alongside the three artists who have benefited from her generous legacy.
The Partnershipping Project – Developed by Burnie Regional Gallery and toured by Contemporary Art Tasmania, The Partnershipping Project will feature twenty regional visual artists, with local artists joining in or dropping out of the exhibition at each subsequent tour venue. The artists' work will be installed in eight small boats and the entire exhibition will travel up the east coast of Australia and back to Tasmania in a shipping container.
Great Movements of Feeling – is an in-depth group project, curated by Zara Sigglekow and initially supported by Gertrude Contemporary and the Next Wave Festival. The project considers emotion as a cognitive and bodily force that drives, circulates and sticks. With discursive and centrifugal ambitions, this exhibition observes human emotion through personal and historic lenses. Artists include Megan Cope, Helen Grogan, Nik Pantazopoulos, Stuart Ringholt, Sriwhana Spong and Sue Williamson.
Barely Wearable -This body of work is a continuation of artist Ruth Downes' passion for reappropriating everyday materials and objects to celebrate their intrinsic beauty. Materials for these thirty 'wearable' artworks have been gleaned from a diverse range of sources – from aircraft headsets to coffee capsules. Detritus from nature has also been salvaged to be re-born as a fashion statement.
A Secular View: Neridah Stockley -is an exhibition spanning twenty-five years of sustained practice by Northern Territory based artist Neridah Stockley and is curated by Gillean Shaw, Art Curator, University of Newcastle Art Gallery. Whilst Stockley is best known as a painter, this survey reveals the diversity of her practice including drawings, collage, dry point etchings and a growing body of ceramic work.
Captured: Portraits of Crime 1870 to 1930 – a NSW State Archives' touring exhibition, Captured: Portraits of Crime engages with photographic portraits and descriptions of prisoners sourced from the State Archives Collection of Gaol Photographic Description Books. These historic records have been digitised, and interpreted through research within and beyond the archives to illuminate events and contexts that led ordinary people to commit crimes. But as the ordinary unfolds, so, too, does the extraordinary.