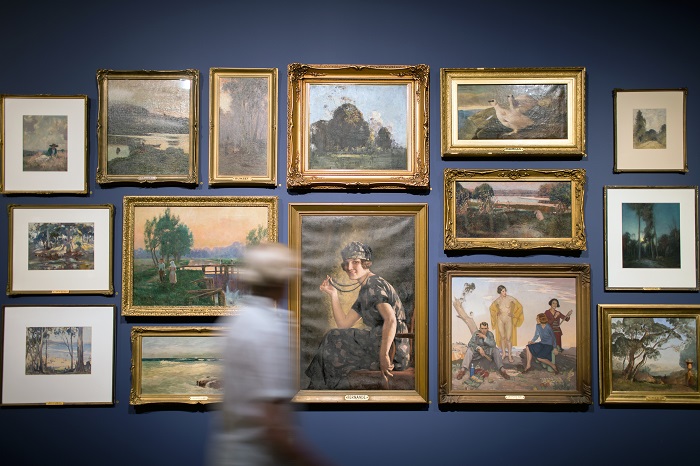 The New England Regional Art Museum's (NERAM) new exhibition HINTON: Treasures of Australian art was officially opened by Mr Edmund Capon AM, OBE, Trustee of the Margaret Olley Art Trust and former Director of the Art Gallery of New South Wales.
HINTON: Treasures of Australian art includes iconic works by well known Australian artists such as Tom Roberts, Arthur Streeton, Margaret Preston, Elioth Gruner, Julian Ashton and Norman Lindsay presented in a large-scale salon hang with that illustrates the work and lives of the artists and that of the donor Howard Hinton OBE (1867-1948).
The Howard Hinton Collection at the NERAM is the result of one of the greatest acts of artistic philanthropy and benefaction in Australian history.
Between 1928 and 1948 a collection of over 1000 artworks by leading Australian artists were donated to the newly constructed Armidale Teachers' College by the retired shipping agent, Howard Hinton OBE (1867-1948). Community concern about the collection led to it being relocated into the purpose built museum in 1983.
The collection provides a snapshot into Australian artistic practice in the early twentieth century as well as some insights into this 'modest and self-effacing' gentleman who lived in a boarding house in the north shore suburb of Cremorne.
Today it is one of the most significant collections of Australian art in regional New South Wales and the new exhibition HINTON: Treasures of Australian Art at the NERAM will provide an opportunity to experience a selection of these great artworks that belong to the community of Armidale.
The refurbishment of NERAM's East Gallery space to display these artworks was made possible through the generosity of donors across the New England district who gave over $65,000 towards NERAM's Building Improvement Fund as well as a donation of $25,000 from the Margaret Olley Art Trust and $6,000 from the Friends of NERAM.
---
Kelly Fuller from ABC New England North West spoke to Director of NERAM, Robert Heather about the new exhibition.
She also spoke to Michael Moignard a PHD Student at Latrobe University researching great Australian art collectors of early twentieth century.