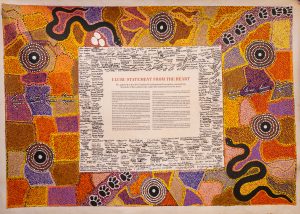 The Board and Staff of Museums & Galleries of NSW supports the First Nations Voice to Parliament and encourages those in our sector to vote Yes in the upcoming referendum.
As a cultural sector organisation, we prioritise First Nations peoples lead in decision making on their cultural representation, heritage and expression.
The Voice to Parliament has been developed by First Nations Peoples to provide input into policies and legislation affecting their lives and communities.
Voting Yes addresses historical injustices and ensures First Nations Peoples can finally have an effective voice on matters impacting their lives.
We have developed this statement as a contribution to positive and respectful discussions about the upcoming referendum.