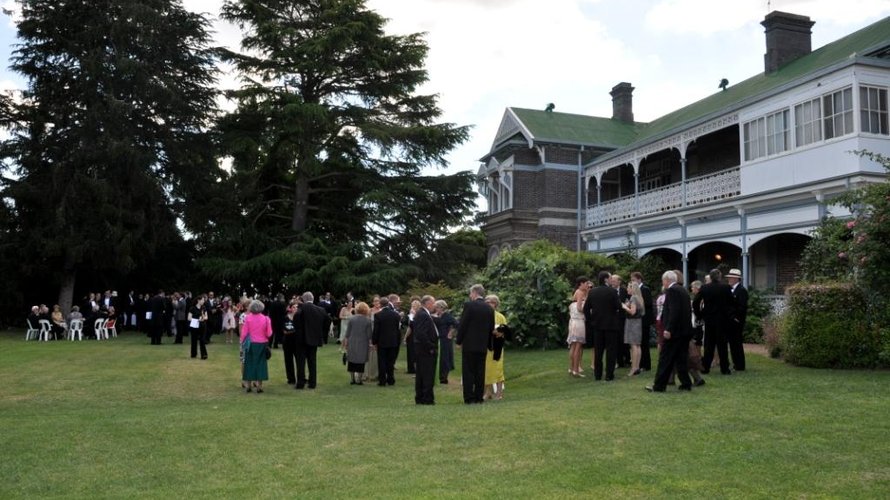 Saumarez Homestead functions in the gardens
We all know Australia has an insatiable appetite for renovation and everything 'home building'. While this has reached fervour pitch of late, our respect for our earliest buildings has not waivered since the Heritage Act of the 70s enshrined their protection.
In this, the National Trust holds a flush hand in real estate. Maintaining our national identity through the preservation of our built heritage, the National Trust is both fairy godmother and surrogate housekeeper for properties bequeathed to them.
Beautifully crafted furniture and interior décor makes every IKEA-junkie yearn for a simpler time.
Charged with the refurbishment of these sometimes sad and forgotten houses the National Trust nurses them back to their original state and ensures they're maintained for future generations. They're committed to telling their stories and hearing their histories, so often at risk of eclipse by our modern life, skyscraper and smog. Each site tells its own story; conveying the lives of the people who lived there and the social context in which these homes were built and occupied.
Aged architecture, elegant and untarnished, throws you back in time and when teamed with handcrafted design Australia's oldest houses prove popular with all. Beautifully crafted furniture and interior décor makes every IKEA-junkie yearn for a simpler time.
From April 12th – 20th, Australian Heritage Week celebrates NSW's heritage listed properties. It's run in conjunction with the Heritage Festival and will appeal to every 'Grand Designs' junkie, 'House Rules' fan or lover of 'The Block'!
So why not partake of an afternoon tea at Old Government House, head over to the Saumarez Family Farm Fair and enjoy a performance of 'The Government Inspector' at the Belvoir St. Theatre?
Australian Heritage Week finds the right balance of entertainment and education in celebration of Australia's past.
For more information and to find the events near you visit: www.heritage-week.govspace.gov.au
Why not try these two trails?
Better Homes and Gardens in Sydney
Chris Heaslip. M&G NSW's Digital intern