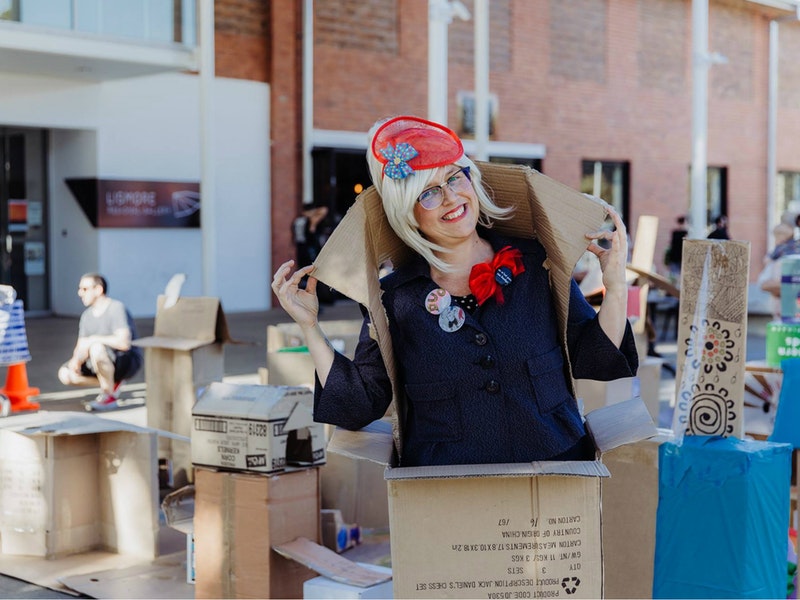 Public programs can be more than a one-off event related to a current exhibition, they can also take the form of a longer-term suite of engagements with storyline the driving element. Lismore Regional Gallery (LRG) has recently proved how successful this model can be with a new strategy for audience engagement during their challenging move to the new gallery space in 2017.
Utilising a fairly madcap storyline the program titled the Art Keepers Project was wildly successful with a reach of 44,818 people. The tale spun to launch the program was that Peggy Popart, the gallery's beloved tour guide, was missing! She was sucked into an 'art portal' in the unopened new LRG building along with some of the artworks from the permanent collection. Two agents Mona & Liza from the AKA (Art Keeper Agency, an interdimensional intergalactic art agency) were summoned to investigate the mystery and work with the community to bring Peggy and the artworks back. These fantastical activities were closely followed on social media, covered in the local paper and talked about in households and classrooms throughout the region.
A collaboration between Lismore Regional Gallery and Gabrielle Griffin, Valley Lipcer and Claudie Frock from 100 Wonder Place, the Art Keepers Project was a great example of how to engage a community and activate works from a collection – even without a gallery space open at the time – building momentum and maintaining an audience for the new venue.
The project was funded through a Museums & Galleries of NSW Audience Development Fund grant, which encourages galleries to create innovative public programs that engage artists and the community. The fund is designed to support galleries to develop and trial new models for engaging audiences that will increase immediate and future attendance, access and participation.
Audiences, especially children, were introduced to works from the collection through 'creative activations', for example enticing back a goanna that had faded from Uncle Digby Moran's painting Goanna Headland or raising the self-esteem of an undervalued apple in a Margaret Olley still life.
The stories and characters completely seized the imagination of local schools and families who followed the drama through a partnership with the local newspaper and via videos on social media –school teachers even reported their kids were mimicking the characters involved, pretending to be Peggy Popart by talking on their banana phones during snack breaks at school.
Attendance tripled for the first Peggy Popart tour in the new space with a record attendance of 66 participants. The overall response was also huge, with over 5000 people attending the performances and art activations and many thousands more following the stories in the paper and on social media.
'I just wanted to say how much I'm loving this Peggy Pop Art being sucked into a David Lynch style portal. It's fun, interactive, situating, kids and adults would be loving it! I wonder if Digby's painting went back to The Dreamtime? It's such a great way to make art gallery's friendly, community based fun places rather than white walls'. (Facebook comment.)
This long-term audience engagement program was the result of careful research and consultation with the Lismore community and a significant development phase. This resulted in a really strong creative narrative and media campaign bringing great success to the project and increased loyalty to and involvement with the new Lismore Regional Gallery development.
For more ideas on developing your own innovative public programming download our How to Develop a Public Program resource here: https://mgnsw.org.au/sector/resources/online-resources/visitor-experience/how-develop-public-program/
Find out more about the Audience Development Fund.