The Katthy Cavaliere Fellowship Recipients
---
SALLY REES
Sally Rees (b 1970, Burnie, TAS) is an artist based in Hobart. Working across time-based, static and experimental forms, Rees' work explores human frailty and revelation, looking to operate as an agent for social, cultural, political and personal change. Rees holds a PhD from the University of Tasmania, and has exhibited widely including at the Australian Centre for Photography, 2010; Artspace, Richmond, VA, USA, 2012 and Contemporary Art Tasmania, 2011, 2014, 2016, 2018.
In her new exhibition CRONE at Mona, Hobart Rees embraces the folklore character of the crone as an ideal incarnation of the older woman: unruly, wise, fearsome. She reverses the forced retreat into invisibility and diminished social capital as women get older; by saying 'I am a crone', Rees flips a derogatory term—a fairy tale caricature of hook-nosed terror and cantankerous truth-telling—into a different kind of statement altogether.
There is a recent history in Australian politics, of women who do not quietly comply with the status quo, being referred to as witches, To call a woman an old crone is supposed to be an insult, but I want it to become a badge of pride.
 – Sally Rees interview with Emma-Kate Wilson, Art Almanac, 27 March 2020
---
GISELLE STANBOROUGH
Giselle Stanborough (b 1986, Waratah, NSW) is an intermedia artist based in Sydney. Her works combine online and offline elements to address how user generated media encourage us to identify and perform notions of self, and the relationship between connectivity and isolation. Motivated by a curiosity in the increasing indeterminacy between the private and public spheres, Stanborough's work often addresses contemporary interpersonal experiences in relation to technology, feminism and consumer capitalism. Her work has featured in the Washington Post's Pictures of the Day and has been shown at major venues such as the Australian Centre for Contemporary Art, 2018; Museum of Contemporary Art Australia, 2017; Gertrude Contemporary, 2015 and Next Wave Festival, 2014.
Her commissioned work at Carriageworks, Sydney as part of the Fellowship is Cinopticon, which comprises Foucault's theory of the 'panopticon', a model of surveillance where the few watch and control the many. Today, with technology at our fingertips, we watch each other. Internet narcissism, corporate surveillance and the manipulation of social media algorithms are touch points for Cinopticon, an immersive performance installation in which audiences see their reflection in unpredictable ways.
These are the days of a strange inversion where to act collectively – which is to act politically – we need to occupy not the streets and the public spaces, but to remain in the private sphere of the domestic. The fact that we are now more visible than ever in our homes – due to working from home and socialising from home – gives this text a strange panoptic resonance: we are alone, and yes we can see each other, but only via the mediated and for-profit gaze of power (Zoom, Facebook, IG stories, FaceTime, etc).
 – Gisselle Stanborough – commenting on text from her wall drawings in Cinopticon, Carriageworks, 2020
---
FRANCES BARRETT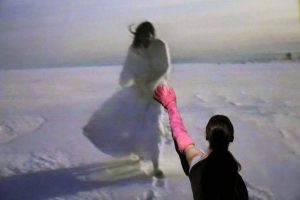 Frances Barrett (b 1983, Sydney) is an artist and curator who lives and works on Gadigal land. Her practice extends the paradigms of performance and conceptual art, meditating on issues of ephemerality, duration and historicity, as well as intimacy and care. Guided by a queer-feminist ethic, much of her work pivots around the modalities of listening and touch. Barrett's recent projects include All Ears: A listening party, Campbelltown Arts Centre, 2018; Into My Arms, Ace Open, 2018; and Handle, CCS Bard Hessel Museum of Art, 2018. She was a studio artist at 4A Centre for Contemporary Asian Art for the duration of 2018, and is one member of art collective Barbara Cleveland, who in 2019  present a new project, Thinking Business, at Sullivan + Strumpf, Sydney and then Goulburn Regional Art Gallery in 2020. Barrett is currently a PhD candidate in Curatorial Practice at Monash Art Design and Architecture.
Drawing on her background in performance, curating and collaborative models of making, Barrett has expanded the solo commissioning focus of the Fellowship to present new sonic compositions and live performances by multiple artists to be presented at ACCA, Melbourne. Alongside a major sound installation developed by the artist in collaboration with Hayley Forward and Brian Fuata, Barrett has curated three specially-commissioned sound compositions by artists Nina Buchanan, Del Lumanta and Sione Teumohenga, and invited a series of incursions by Debris Facility Pty Ltd.
'Last few years my work has been thinking about listening as a political practice and I feel like if we can think about deep listening practices then we can extend ourselves to practices of care and intimacy, that we can shift the forms of communication that can exist between us. Through listening we can connect to others, to our environment, to our histories – it is a really important mode today.
– Frances Barrett, in conversation with Gina Fairly, Arts Hub, 10 April, 2019
A Carriageworks and Museums & Galleries of NSW touring exhibition, curated by Daniel Mudie Cunningham, developed in partnership with the Australian Centre for Contemporary Art, Melbourne and the Museum of Old and New Art (Mona), Hobart. This project is assisted by the Australian Government's Visions of Australia program.