Exhibition & Public Engagement: Volunteer
Here are the 2012 Exhibition & Public Engagement nominees for volunteer run organisations.
The winner for this category was Port of Yamba Historical Society for their exhibition Ghosts of WW1 – 101 Local Heroes. Port Macquarie Historical Society and Museum received a highly commended award for There's a War On! exhibition.
Please note that all of these lovely images are courtesy of the nominees.
Australian Golf Heritage Society Museum
100 Years of the Professional Golfers Association of Australia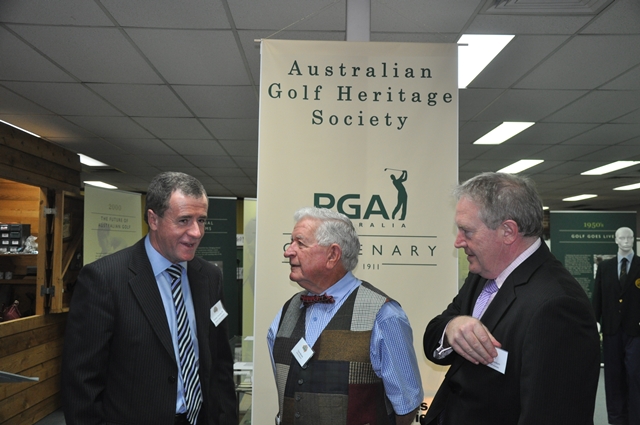 To celebrate the 100th anniversary of the formation of the Professional Golfers Association of Australia, the AGHS developed the 100 Years of the Professional Golfers Association of Australia exhibition. This was the first temporary exhibition developed by the Museum since 2007.
The exhibition included a large scale launch, opened by Graham Annesley, State Minister for Sport and Recreation and attended by Brian Thorburn, CEO of the PGA of Australia.
Visitors commented on the exhibition quality and the importance of AGHS. The project was also supported by positive media coverage. Since working with the PGA on this exhibition, AGHS has developed significantly closer links and are currently working with the PGA and other organisations to obtain a more suitable location for their museum and collection.
Gilgandra Rural Museum
National Trust Heritage Festival talk on the rotary hoe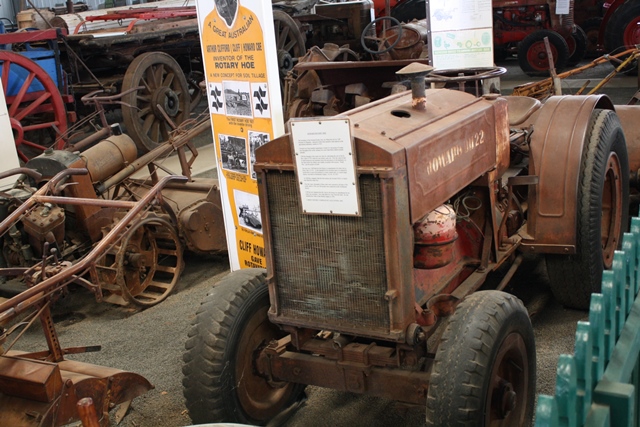 In conjunction with the National Trust Heritage Festival, the Society hosted a talk by Phil Howard, nephew of Cliff Howard, inventor of the rotary hoe. As this invention is strongly linked with the district, and this year's theme "Amazing Stories: Innovation + Invention," it was a natural choice for us to pursue.
After Phil's presentation to a capacity audience, guests asked questions, inspected displays and enjoyed afternoon tea prepared by the ladies of the Society. Mrs Betty Bartley, Cliff's niece, attended and was accompanied by her son, who came from Canberra to assist her. Betty has written a booklet on her famous relative.
Mt Kembla Mining Heritage Centre
Pit Ponies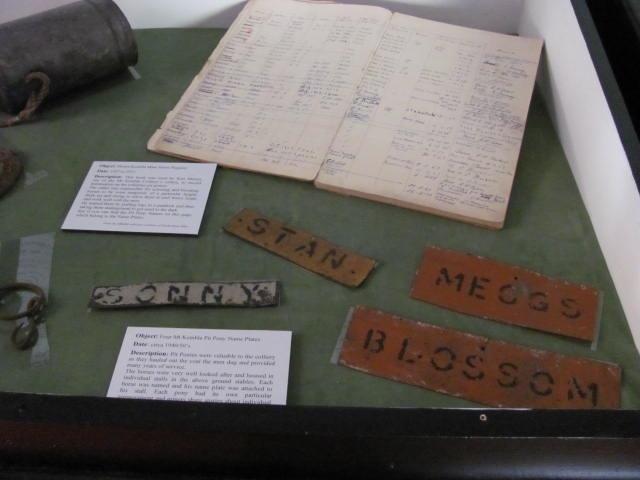 This project about pit ponies aimed to complement the Heritage Centre's display Thunder in a Cloudless Sky which focusses on the 1902 Mt Kembla Mine Disaster and subsequent community response. The display includes an informative panel explaining the collection of surviving objects related to the ponies and interactive educational activities to interest and engage children.
The launch was attended by 30 people, including non-locals who had a special interest. There was close interest from children, adults, horse-lovers and former miners involved with pit ponies. As a result of the display, there have been more donations of pit pony equipment directly related to Mt Kembla Mine, and a recognised need for oral histories from former miners.
Port Macquarie Historical Society & Museum
World War II at Home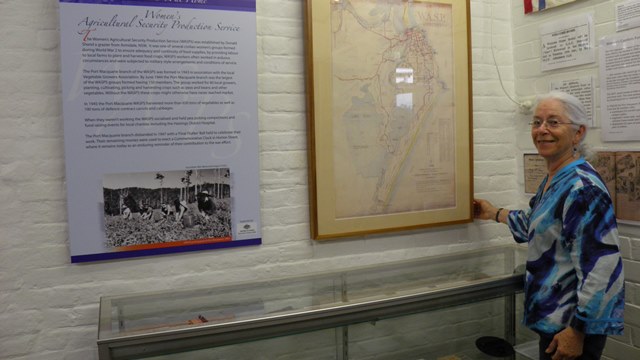 This project involved an exhibition about life at home during WWII and the contributions of the Hastings people to the war effort. It featured local stories, images and objects from the Society's collection.
With the M&G NSW touring exhibition There's a War On! World War II at Home on at Port Macquarie Library, the Society saw an opportunity to present the local perspective at their museum.
They successfully applied for a Department of Veterans' Affairs Saluting Their Service commemorations grant to provide funds for interpretive panels.
The significance of objects was conveyed with labels and some objects were placed on the M&G NSW wiki, www.tawo.org.au.
Port of Yamba Historical Society
Ghosts of World War I – 101 Local Heroes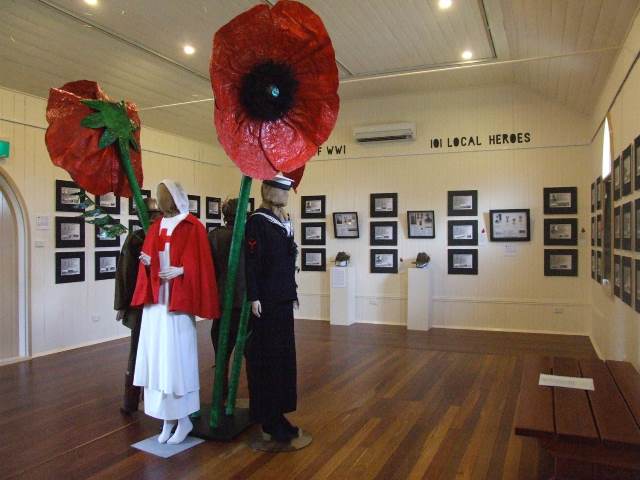 In 2012, a special exhibition, Ghosts of World War I – 101 Local Heroes was held involving service records of 101 local heroes (including local Aboriginal Diggers) and objects from WWI, loaned by local families, partner organisations and donations.
The exhibition was not designed to re-tell the Gallipoli story but the personal 'stories behind the names' inscribed on Yamba and Palmers Island honour rolls. Initial research revealed discrepancies between these names and those on local cenotaphs. One member, Peter Edmunds, undertook research using local records and interviewed families, which he subsequently verified at the National Archives and War Memorial.
Walgett District Historical Society
Wandering Jew Paddle Steaner & River History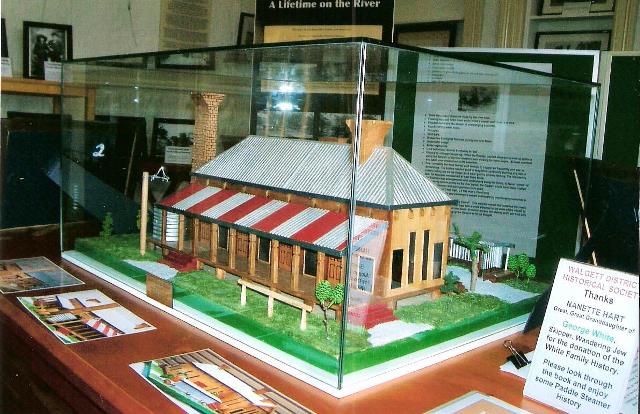 In 1861, the cry went up "a paddle steamer is here" and people in the developing town of Walgett, ran down to the river to see this amazing sight. 51 years later, the last steamer left Walgett whistle blowing, boiler chuff-chuffing, wheels turning and paddles water slapping as they waved goodbye. Walgett's romance with the Steamers was over.
This aspect of our history is not well-known and therefore may be lost. What better way to prevent this than to bring the story back to life using an excellent physical display with some interest for everyone. The Wandering Jew Paddle Steamer & River History project emerged to educate the community that up-river on the Barwon, a less publicised steamer adventure had occurred.
Willoughby Museum
That's Entertainment: Willoughby in the spotlight!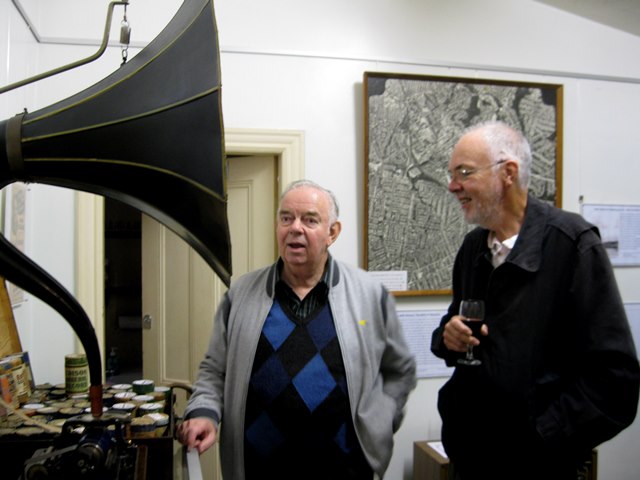 The exhibition That's Entertainment: Willoughby in the spotlight! was Willoughby District Historical Society's contribution to the 2012 National Trust Heritage Festival. That's Entertainment focused on the role Willoughby played in Australian entertainment including dance-halls, theatre, cinemas, radio and television. It highlighted community support for performing arts, culminating in The Concourse, one of Sydney's outstanding venues.
The various performing arts groups in Willoughby were contacted for information and objects with positive results, so much so, that space became a limiting factor.
In addition to the temporary exhibition room, the new exhibition also utilised the former breakfast room at the Museum. With the assistance of an M&G NSW VIM grant, the Historical Society purchased a professional hanging system, enabling panels to be hung more efficiently than previously.