Exhibition & Public Engagement: Over 20 staff
Here are the 2012 nominees for Exhibition & Public Engagement for organisations with over 20 paid staff.
The winner for this category was the Australian National Maritime Museum for their Nawi – exploring Australia's Indigenous watercraft.
Please note that all of these lovely images are courtesy of the nominees.
Art Gallery of New South Wales
Picasso: Masterpieces from the Musée National Picasso, Paris

Picasso: Masterpieces from the Musée National Picasso, Paris presented iconic works from every phase of Picasso's legendary career. Drawn from the collection of the Musée National Picasso —the most important repository of the artist's work in the world, it featured more than 150 extraordinary paintings, sculptures, drawings, prints and photographs.
The exhibition was unique in Australia as it came entirely from Picasso's personal collection—works that the highly self-aware artist kept for himself. They are 'Picasso's Picassos', personal works given to the French State only after his death.
The exhibition attracted people who had rarely or never attended the Gallery before. For many, this show was a once in a lifetime chance to see a comprehensive survey of work created by Picasso. It drew record-breaking numbers of visitors.
The Australian National Maritime Museum
Nawi – exploring Australia's Indigenous watercraft

Nawi involved initiatives which forged a meaningful dialogue about Australian watercraft among Indigenous communities, non-Indigenous stakeholders and cultural institutions that collect and interpret the history of Australia's first mariners. Initiated with a major national conference and gathering of canoe-makers, Nawi included the exhibition of never previously displayed historic photographs, technical drawings, Saltwater bark paintings and canoe rebuilding programs. The exhibition also displayed a return of Indigenous watercraft to Sydney Harbour after nearly 200 years – providing varied cultural and technological lenses to view watercraft, their people and cultures.     
It sought to broaden the role of museums and cultural artefacts from the recovery of community and historical knowledge to the importance of sharing knowledge across disciplines, communities, generations and cultures. It aimed to empower communities to regain or hand on traditional skills and knowledges.
Hurstville City Library, Museum & Gallery
Let Me Entertain You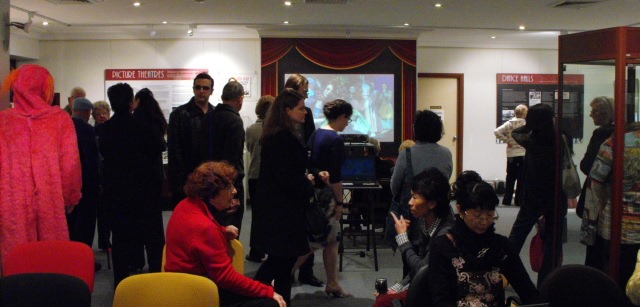 Let Me Entertain You was a celebration of the spaces in the St George region, which have nurtured the creativity of performing artists in the community.
The exhibition raised awareness of the Museum and collection to new audiences. As a result they received a number of permanent donations including a ballroom dancing costume and customised shoes from a local resident who has been dancing in the area for over 40 years. Rick Lum, base guitarist from Hush, loaned original costumes after he visited Hurstville Library, saw their magazine and himself in an archival photograph.
Museum of Contemporary Art Australia
Volume One: MCA Collection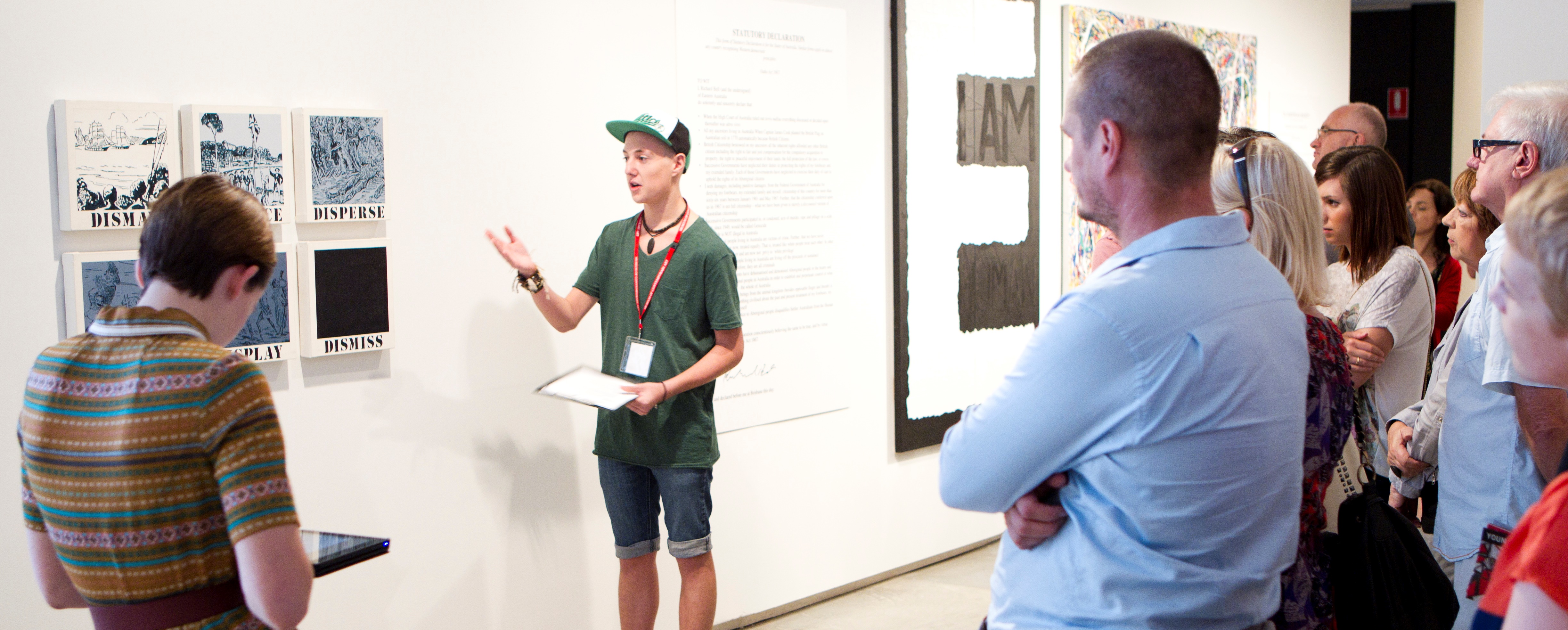 Volume One: MCA Collection features over 280 works by more than 170 Australian artists. It reflects the diversity of Australian contemporary art over the past 20 years, including work by Aboriginal and Torres Strait Islander artists, the consolidation of film and video practice from a marginal to central position; and the emergence of diverse cultural voices.
It includes both well-known and surprising works from their collection of Australian art. The selection encompasses the range of media used by artists today and comprises works by artists across generations . Artworks are not hung in chronological order or in themes, rather the hang creates opportunities for dialogue between works, artists and generations.
Powerhouse Musuem
Faith, fashion, fusion: Muslim women's style in Australia

Faith, fashion, fusion: Muslim women's style in Australia includes an exhibition, publication, website, Facebook page and public programs.
The project explores a new sector in the Australian fashion industry – one where faith and fashion form a new relationship in the emerging modest fashion market. It features a new generation of fashion designers, retailers and bloggers offering stylish fashion advice to Muslim women, meeting their desire to dress fashionably while observing requirements of their faith. It introduces a group of Australian Muslim women who relate their own stories and experiences of building understanding between Australian communities.
This project reflects the Museum's desire to present a broader discourse on the local fashion industry, one that provides new perspectives on Muslim fashion entrepreneurs, the Australian fashion industry and our culturally diverse communities.