Primavera 2023: Young Australian Artists | Engagement & Reach
Across M&G NSW's touring exhibitions there are in-built programs that promote community interaction, practical learning opportunities, professional development, and new tools for connecting with audiences. Our touring exhibitions and programs are designed to prioritise access and accessibility, particularly for regional audiences, as well as presenting creative practice that is reflective of the diversity of cultures and breadth of Australian experiences – two key pillars and principles of REVIVE – the National Cultural Policy. Our exhibition program is diverse in its offerings, making tech-heavy exhibitions accessible to regional areas, using live performance and dance to activate audiences and spaces, and ensuring that the content of the exhibitions reflects contemporary interests and concerns.
All M&G NSW touring exhibitions are accompanied by an Exhibition Information Pack, which includes artwork lists, promotional details, installation guides, marketing templates, education resources for school aged students, and a mediation handbook for staff and volunteers, among other useful details to aid with a successful exhibition. These packs are modified and adapted to suit the needs of individual tours, and for Primavera 2023 the MCA has developed a publication, audio guide and video interviews with the artists to increase engagement and value for venues and audiences.
---
PRIMAVERA | LETTERS OF SUPPORT
Our touring exhibitions are developed with the needs of regional and public galleries and their audiences in mind, these letters of support from venues and partners demonstrate the enthusiasm for this touring exhibition which will speak to varied communities and fulfill a need for increased access to emerging artists and independent curators.
Primavera Letters of Support

---
PRIMAVERA | EDUCATION AND LEARNING
All M&G NSW touring exhibitions are accompanied by an Exhibition Information Pack, which includes artwork lists, promotional details, installation guides, marketing templates, and education & learning resources, among other useful details to assist with a successful exhibition. Also included is a Mediation handbook with information, links, further reading and suggestions to help support staff, volunteers and councils to relate to and speak about the show with confidence. We also include video interviews with the artists and curators so that even if they are not able to travel to the venue to deliver public programs in person, their voice can be heard and engaged with by audiences.
Please see some recent examples of Education Resources and Mediation Handbooks below:
---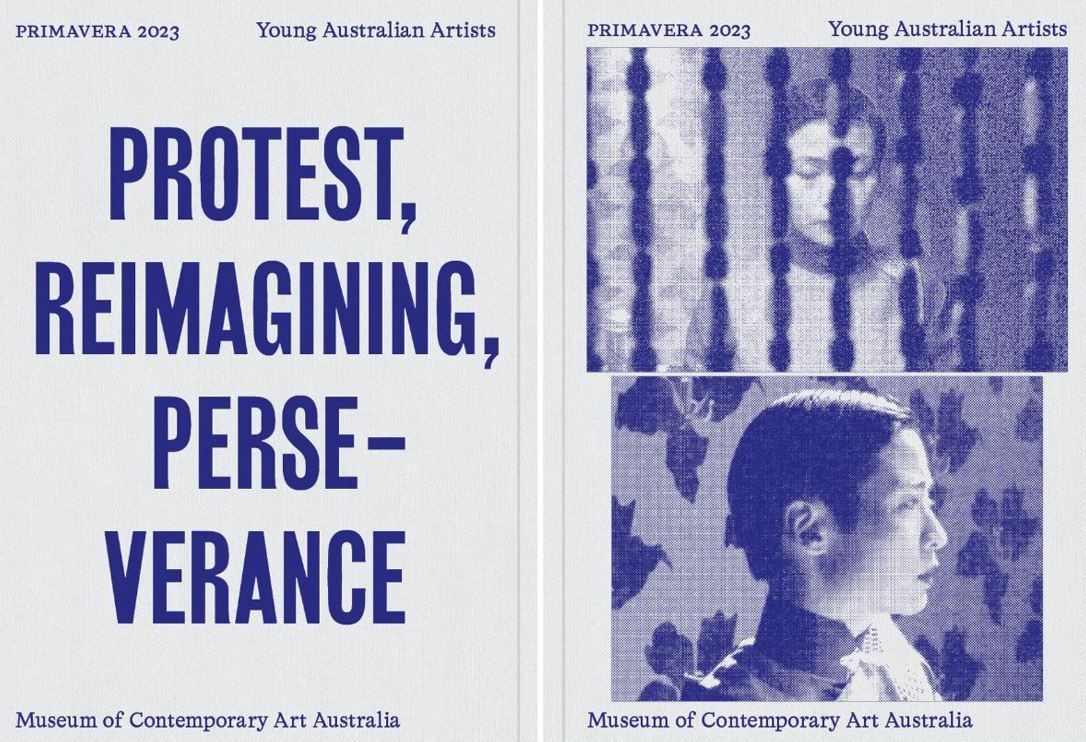 PRIMAVERA | ENGAGEMENT TOOLS
PRIMAVERA 2023 CATALOGUE
Softcover, 23.7 x 17 cm, 96 pages
Primavera 2023: Young Australian Artists is accompanied by an exhibition catalogue (see cover above), featuring contributions from MCA Director Suzanne Cotter, Guest Curator Talia Smith, Sarinah Masukor, June Miskell, Phuong Ngo, Rebecca Ray and Sarah Thomson, as well as a photo essay by Primavera 2023 artist Moorina Bonini. The catalogue will be available for audiences to purchase along the tour – continuing their engagement with this exhibition at home.
AUDIO GUIDE
A free audio guide developed by the MCA will be available for venues to use in the gallery and online. Narrated by curator Talia Smith, this tour also includes transcripts of the audio to increase access.
For 2023's Primavera, what really drew me to working with this group of artists was how, despite all of the failures of certain structures in the world, such as healthcare, cost of living, the government in general, that they still persevered and present different ways of thinking about how we can live together in this world.
Primavera Audio Guide Transcript
For me, it was incredibly important to include Moorina's voice in this exhibition, to have a female indigenous voice emblazoned over the walls of the white gallery space. It's a powerful statement and it challenges the viewer as they walk around to think about perhaps the structures that we benefit from and that we may also contribute, but only a few of us do compared to the majority.
Primavera Audio Guide Transcript
On top of these spinning tables, there are various objects, things that she may have cast, objects that she's found in $2 stores, soft toys. And on first glance, when you approach Truc's work, there's a lot of humour and it looks very fun and exciting. It's brightly coloured and there is a lot going on.
Primavera Audio Guide Transcript
So with Tiyan's work, she has taken this idea, and it's not a house at all, but she's created a skin, almost, for her computer, her hard drive. The hard drive and her computer are her connection to her culture and to her family.
Primavera Audio Guide Transcript
---
PRIMAVERA | PUBLIC PROGRAMMING
M&G NSW works with venues to develop public programs tailored to their audiences and needs. Primavera 2023 offers venues the opportunity to engage with 6 diverse artists and their exciting practice as well as with the curator Talia Smith.
Smith has chosen themes of Protest, Preservation and Reimagining in her development of this year's Primavera, with 2 artists aligned with each theme. These themes are a great starting point for developing public program ideas and relating them to issues or interests of local communities.
Some examples might be:
REIMAGINING YOUR WORLD: Learning a new skill with Sarah Poulgrain
Central to Sarah Poulgrain's practice is the potential of collaboration to address issues such as the inequality of access to education, the housing crisis and climate change. Poulgrains methodology often takes the form of learning a new skill, and then sharing this skill with others in a collective manner. This practice lends itself to rich programming opportunities and engagement with communities interested in collective workshops and making, a powerful way to bring audiences into the gallery and to build social cohesion and community ownership of cultural spaces such as regional and public galleries.
PRESERVING YOUR CULTURE : Art workshops and storytelling with Truc Truong
School-aged artist-led workshops that invite storytelling and sharing of cultural differences. Truc Truong is passionate about working with students to teach them traditional and contemporary techniques while engaging in enriching conversations. This workshop will engage students in critical thinking about global perspectives through art and artists, and for students to better understand the importance of diversity, allowing students to gain a broader and deeper understanding of the world in which they live.
---
PRIMAVERA | TOUR VENUES & REACH

---
A Museum of Contemporary Art, Australia exhibition touring with Museums & Galleries of NSW.