SPARK: Museums. Ideas. Connections.

19 Jul 2022.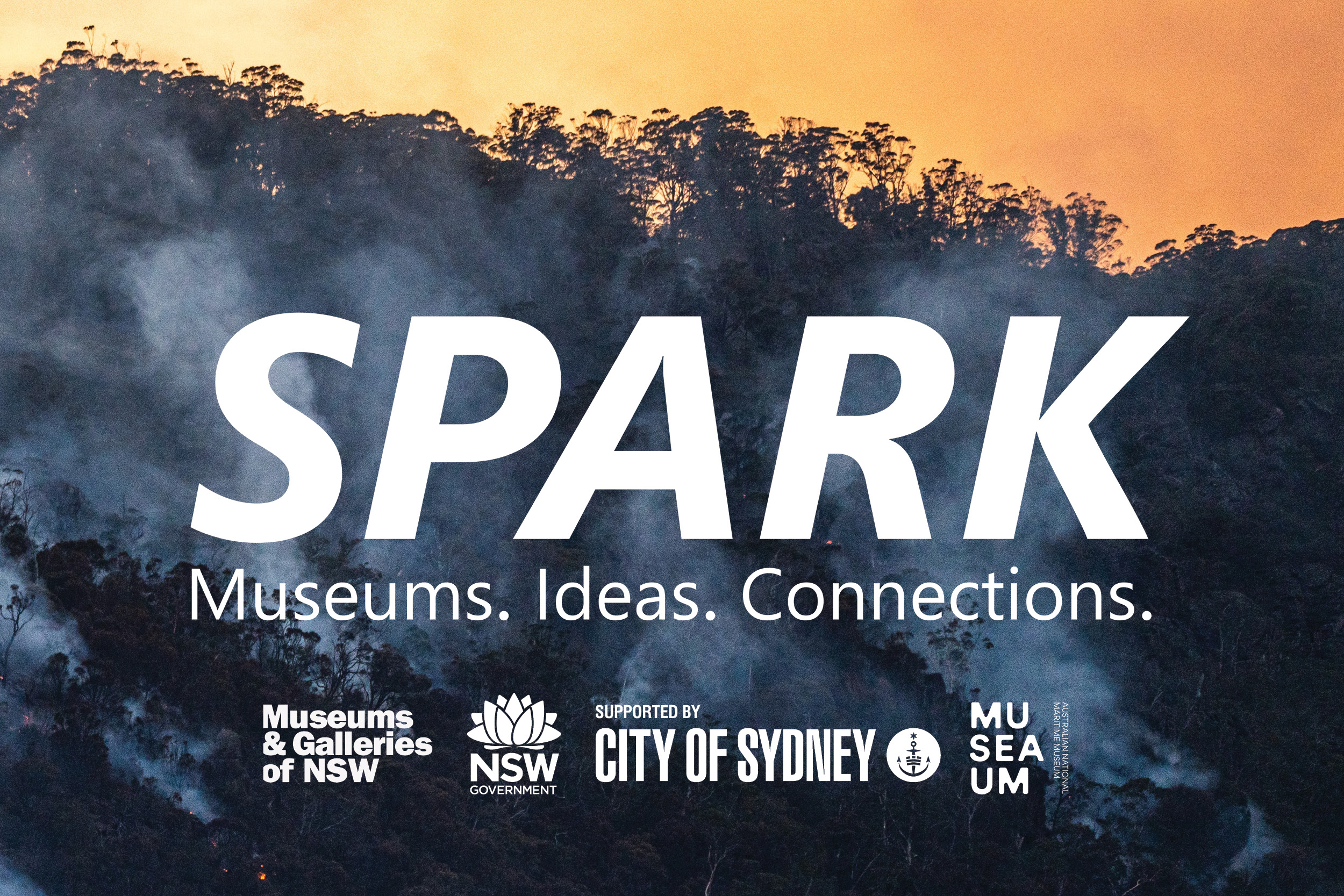 Tuesday, 19th July 2022, 5:30 pm – 8:30 pm
Australian National Maritime Museum
2 Murray St, Sydney NSW 2000, Australia
Are you a young museum professional looking to connect with others in the industry and share your ideas for energising and future proofing the sector? SPARK is an initiative from M&G NSW to bring together the next generation of cultural leaders.
The July event will feature a curated evening of provocative talks tackling the theme Taking up the Challenge: Culture in the face of climate change.
Whether it be as knowledge holders, educational organisations, voices for community, role models or rallying hubs in times of trauma, museums, galleries and Aboriginal keeping places all have a role to play as we face ever greater environmental challenges and natural disasters.
There are some amazing ideas, initiatives and a lot of passion out there so join us for an evening of sharing, discussion and connection.
The evening will feature the NSW premier of a recent film by artist, Adam Sébire.
anthropoScene IV : Adrift (∆Asea-ice) (2019)
The calculus of one's own contribution to a warming climate.
Citizens of developed countries are increasingly aware of correlations between our lifestyles and the climate crisis: witness the phenomenon of flygskam or "flying shame". Borrowing a groundbreaking scientific formula* the filmmaker-artist calculates and saws off the exact amount of Arctic sea-ice (15.69m²) that will be destroyed by his carbon emissions flying economy return, from Sydney to Greenland, to film it (5.23 tonnes of CO₂e).
Adrift (∆Asea-ice) visualises and mythologises the consequences of a Western way of life. It touches upon disconnects — of cause from effect; of emissions here & now from melting there & then — that underly our psychological responses to global warming. Disconnects that have perhaps kept the problem comfortably abstract for us — until now…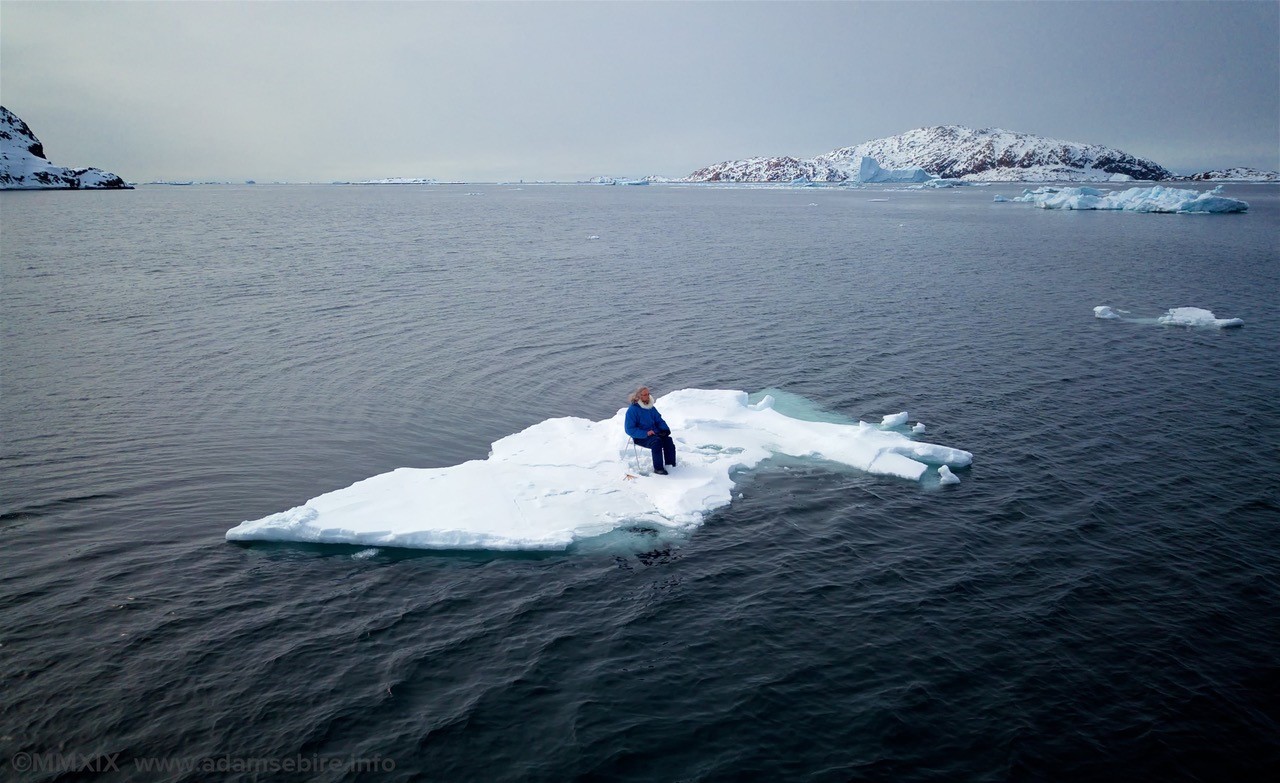 Still from anthropoScene IV : Adrift (∆Asea-ice) (2019).
Speakers include:
Adam Sébire
Adam studied documentary filmmaking at Australia's AFTRS & Cuba's EICTV before before making films for the Australian public broadcasters SBS & ABC. Since filming on the Pacific nation of Tuvalu for Film Australia in 2003 his work has focused on climate change, particularly sea level rise.
Reina Takeuchi
Reina is the curatorial Program Producer and manager of 4A Centre for Contemporary Asian Art's carbon neutral program. 4A is certified as a Climate Active carbon neutral organisation, set by the Australian Government Department of Environment and Energy. As a founding member of Climate Active, 4A is only the second arts organisation in NSW to be certified, along with the Sydney Opera House.
Sabrina Roesner
Sabrina is the Artistic Programs Manager at the Blue Mountains Cultural Centre and recipient of the 2021 Alan Sisley Memorial Fellowship. She is will present on her recent research and report into best practice approaches to embedding environmental sustainability principles into the operations and programming of the NSW cultural sector.
Lucille Martin
Lucille is a contemporary Australian artist with an established professional career in multi-disciplinary work which includes significant community development, higher education, pedagogy and policy advocacy. Lucille's application of iPhone-capture acts as an extension of the body in the merging of performative and documentary practices she captures while walking the Australian landscape. Her recent work, Right Fire, was created during an artist in residence program at Bundanon Trust in 2018, where she was welcomed by the local custodians and invited to observe fire initiatives and 'good fire' being introduced into the landscape.
More speakers to be announced soon…
Please contact us via dalem@mgnsw.org.au for more info.
SPARK 2022 is made possible through the City of Sydney Knowledge Exchange Sponsorship grants.  

Getting to: Australian National Maritime Museum
---
Opening Hours
Everyday
9:30 am to 5:00 pm
Open until 6pm in January
---
Yots café
Yots offers relaxed, open-air café dining and spectacular views of Darling Harbour.
---
Kiosk
Located on the right hand side of the main entrance.
---
The Store
Holds a wide range of specialist maritime publications, unique gifts and toys, and exhibition related products.
(02) 9298 3698
thestore@anmm.gov.au