Mediation in the Museum
10:00 am - 3:00 pm
15 Mar 2022.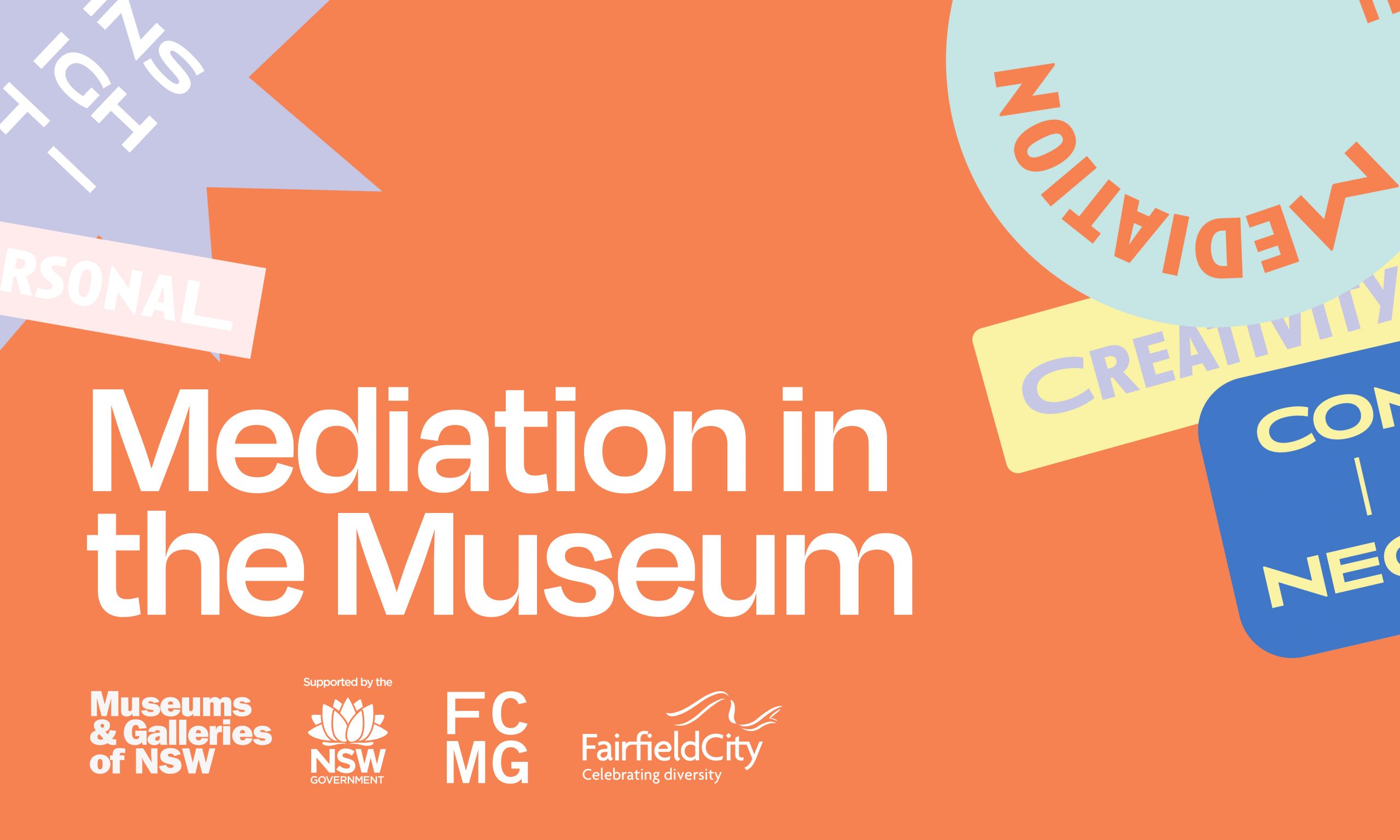 Aimed at audience facing staff such as front of house, education and volunteer staff members, this workshop will include accessibility training, group discussions and practical activities based on the guiding principles of cultural mediation as developed by M&GNSW and UQ Art Museum with a focus on what these practices can bring to a museum setting.
The workshop will draw on the Fairfield City Museum & Gallery's exhibition, Extra/Ordinary which presents a creative response to the museum collection through art installations and prose. Artists and writers reflect on the stories told and left untold by our objects, photographs and records.
9:30 Registration open
10am Welcome
10:10am – 11:25 Session # 1 
Mediation Practice & Access for All run concurrently
11:25 Morning tea (30 min, included in ticket price)
11:55am – 1:10pm Session # 2 
Mediation Practice & Access for All run concurrently
1:10 Lunch (45 min, included in ticket price)
1:55 – 2:55pm Session #3 
Sharing circle with artists and writers from the exhibition.
3pm Wrap up
Please be aware that COVID safety measures will be in place and you may be required to wear a mask, take a Rapid Antigen Test and /or socially distance over and above current health order requirements to ensure a safe environment for everyone to attend.
MEDIATION PRACTICE
Mediation empowers, celebrates, and honours the multiple viewpoints that audiences bring to an exhibition or collection. As an act of mutual exchange, mediation supports visitors in deeper explorations on a peer-to-peer level, empowering the visitor to exchange ideas, share knowledge, and build understanding.
This session will include an introduction to mediation practice and hands-on activities designed to build confidence and skills for creating meaningful encounters with visitors to the museum.
ACCESS FOR ALL
Everyone has access needs however these requirements vary from person to person – develop the confidence to make your space or event accessible and welcoming to everybody. Led by Accessible Arts, the peak arts and disability organisation in NSW this session focuses on:
Inclusive communication skills and policies,
Identifying and mitigating access barriers,
Best practice for customer service, language and etiquette, and
Creative solutions to delivering inclusive and accessible arts and culture programs
The session will also briefly cover Exhibition Content and Items, Label Text and Design, Audio-visuals and Interactives, and Accessible Tours
SHARING CIRCLE
The workshop will culminate in a safe sharing space to talk about the exhibition and more broadly, institutional authority, acquisitions and collection policies and the unconscious bias that exists in our collections as well as what place mediation practice can have in the museum context.
Hear from artists and writers from the exhibition, Extra/Ordinary about their experiences in working with the Fairfield City Museum and Gallery collection and what role museums can and should have in our communities.
Speakers: Dennis Golding (artist), Laura La Rosa (local designer and writer), Sheila Pham (local writer)
Extra/Ordinary will be open to view during the workshop and continues until 9 April 2022
Curators: Alinde Bierhuizen & Dana Guarnaschelli
Artists: Make or Break, Dacchi Dang, Jennifer Leahy, Re-Right Collective, Liam
Benson, M. Sunflower, Mary Nguyen, Ginette Morato and Gail Barclay
Writers: Sheila Ngoc Pham, Masako Fukui, Hajer, Deniz Agraz (Finishing School
Collective + Friends)
Designer, illustrator and writer: Laura La Rosa
For more information or to advise access requirements please contact:
Dale Maxwell-Smith
Training and Engagement Manager, M&G NSW
dalem@mgnsw.org.au OR 0412425047
Getting to: Fairfield City Museum and Gallery
Get directions
Corner of Oxford Street and The Horsley Drive
Smithfield
---
Opening Hours
Tuesday, Wednesday, Thursday, Friday
10:00 am to 4:00 pm
Saturday
10:00 am to 2:00 pm