10 AGENTS OVER 10 MONTHS #7 // THEFT, VANDALS, REPATRIATION

16 Sep 2021.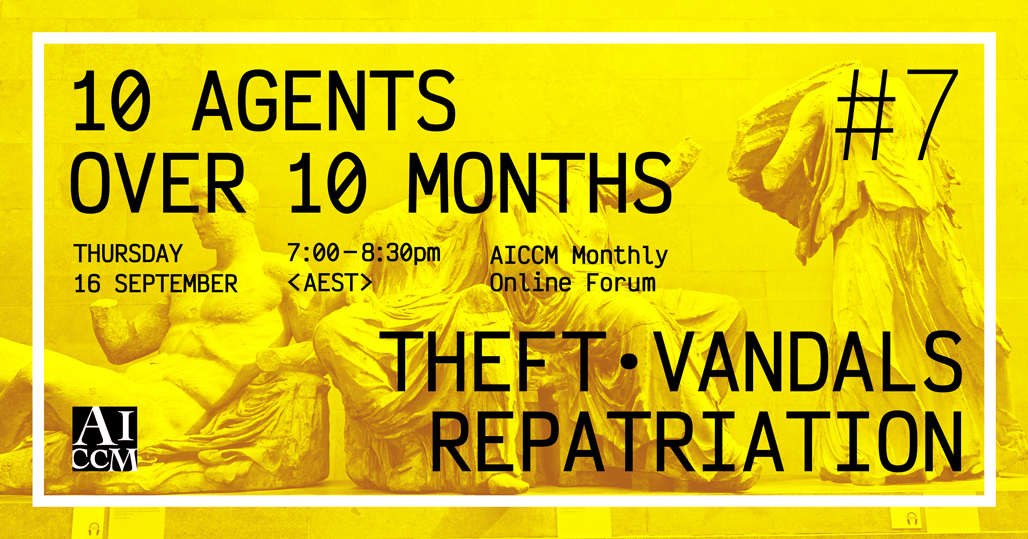 Join us at online forum #7 THEFT, VANDALS, REPATRIATION of our 10 AGENTS OVER 10 MONTHS series with guest speakers Dr Robyn Sloggett, Dr Lyndon Ormond Parker, Dany Williams and Dr Amber Aranui
This forum will be moderated by Dr Robyn Sloggett and will take the format of a panel discussion around provocations connected to Theft, Vandalism and Repatriation.
To ignore, dismiss or reject requests from indigenous peoples who seek the return of cultural objects that they require to assist in the processes of cultural renewal would suggest that museum professionals are more concerned with preserving artefacts than supporting communities in their efforts to perpetuate the distinct cultures, beliefs and practices that led to the creation of the artefacts. If the return of ceremonial objects can assist indigenous peoples in continuing or renewing the values and practices essential to their cultural and ceremonial life and can contribute to community healing as part of contemporary life, then the act of repatriation is surely the ultimate form of cultural preservation. (Simpson, Moira 2009 Museums and restorative justice: heritage, repatriation and cultural education Museum International No 241-242 Vol 61 No 1-2. Page 121 – 129. UNESCO Publishing and Blackwells Publishing Ltd.)
• Where do conservators fit in repatriation processes?
• Repatriation is going to empty our museums!
• Finders keepers – why should museums have to look after something that's only going to be returned?
• What does it mean for communities if conservators do not properly engage in repatriation?
• Leading to the question – so what does it then mean for repatriation to be done properly?
Thursday 16 September 2021, 7pm-8:30pm
FREE EVENT
Find out more