Grimwade Conservation Services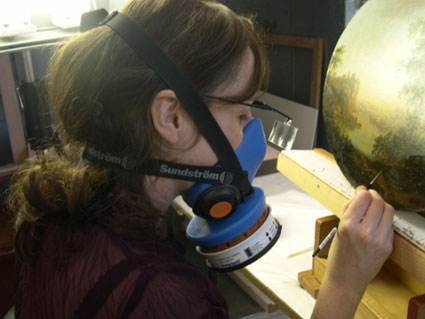 Profile
Grimwade Conservation Services has provided a range of commercial art conservation and restoration programs since 1989. Programs include conservation treatments and restoration of all types of materials: paintings; works on paper; photographs; books;frames; textiles; organic materials (such as leather, wood, plant fibres etc.) and inorganic materials (such as ceramics, metals, glass etc.); archaeological materials; architectural projects; collection surveys and development of conservation strategy plans and disaster preparedness plans; technical analysis; research and training programs.
Grimwade Conservation Services has one of the best-equipped commercial laboratories in Australia, with access to a wide range of analytical equipment and expertise at The University of Melbourne. The building is purpose built for housing cultural collections with temperature and humidity control and 24-hour on-site security, to ensure your artwork is in optimum care. Clients' objects are covered under the University's insurance while the objects are on GCS premises. With access to a loading dock and large goods lift, we are able to accommodate very large items for treatment, such as over-sized paintings and sculptures.
Projects
Restoring one of the world's rarest maps
Over 350 years ago, Dutch traders produced the first large-scale map of Australia, now it has been painstakingly restored.
Grimwade Conservation Services team prepare the Blaeu map for its return to the National Library of Australia. Picture: Supplied.
Bringing a fire damaged book from the brink
A new approach to restoring parchment has saved a WW1 Book of Remembrance commemorating local fallen soldiers that was badly damaged by fire and water.
CONTACT INFORMATION
Tina Kalliakmanis
Administrative Assistant
99 Shiel Street
North Melbourne VIC
Phone: (03) 9348 5700

---
---
OPERATION AND STAFFING
Year Commenced: 1989
Number of Staff: 20
Staff Basis: Permanent Contract
AICCM member: Yes
GST Registered?: Yes
ABN: 84 002 705 224