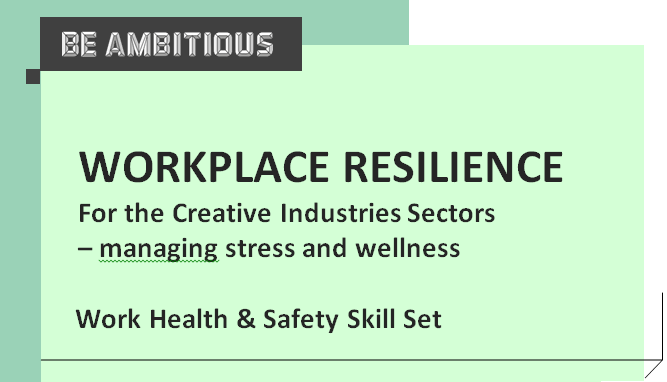 Developed by TAFE NSW Northern Sydney for the Creative Industries sectors in collaboration with ACFIPS, the NSW Creative Arts Industry Training Advisory Body.
This skill set addresses how to adapt to changing circumstances at work and to bounce back from challenges and stress. Work environment stress and mental health issues have a detrimental impact on both employee and organisational performance.
Manage the identification, review, development, implementation and evaluation of effective participation and consultation processes as an integral part of managing work health and safety (WHS).
Identify signs and sources of stress within job roles and strategies to aid recovery from stressful situations.
WHO SHOULD ATTEND:
Anyone involved in the creative arts sector who works alongside others.
COURSE OUTCOMES INCLUDING:
Contribute to scoping work- related health and safety measures and initiatives
Develop program plans
Develop and implement personal stress management strategy
Develop and Implement stress management strategies and techniques within a team
Develop team and morale building strategies
Location: The Arts Exchange
10 Hickson Road, The Rocks
Cost: TAFE NSW Funded Program
Date: 7 May 2018 : 9:30 am – 4:30 pm