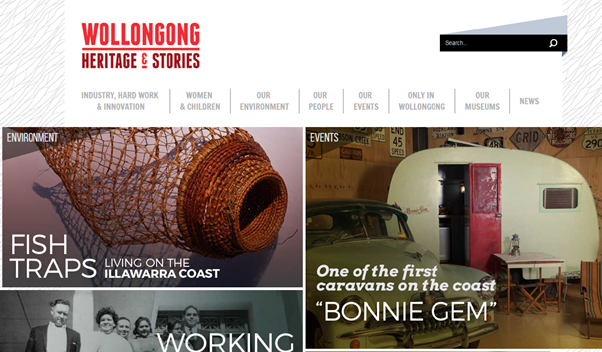 Earlier this month museums in the Wollongong region launched a website, Wollongong Heritage and Stories. The website, which showcases significant local objects and stories, is the result of a 12 month project funded through Arts NSW, as a Regional Museum Networking Grant, a devolved funding program administered by Museums & Galleries of NSW on behalf of the NSW Government.
A wide range of museums collaborated to provide content from their collections, they include:
Australian Motorlife Museum
Australia's Industry World (Blue Scope Steel)
Balgownie Heritage School Museum
Black Diamond Heritage Centre (Bulli Railway Station)
Breakwater Battery Military Museum (Port Kembla)
Illawarra Museum
The Mt Kembla Heritage Centre
The Old Mine Surgery Museum (Helensburgh)
Several other heritage organisations are linked to the website and have provided content, including the Illawarra Aboriginal Corporation Cultural Centre and Keeping Place, the Virtual Museum of Italian Immigration in the Illawarra, the Migration Heritage Project and Wollongong City Library Local Studies.
With such a massive collection of stories and objects to draw from, the website provides a broad overview of the history and heritage of the Illawarra. We love the story of Chips the Postie who delivered mail to the residents of Helensburgh by horseback and can't get enough of the amazing Aboriginal women's shellwork, especially those tiny baby booties!
Stories are grouped under broad themes—Industry, Hard Work and Innovation, Women and Children, Our Environment, Our People, Our Events, Only in Wollongong and Our Museums. It's easy to get lost in the collection and spend hours exploring its virtual rooms.
With objects dispersed across the many volunteer run museums, the website provides an entry point for discovering the rich history of the region and for planning museum visits to explore these stories in greater depth.