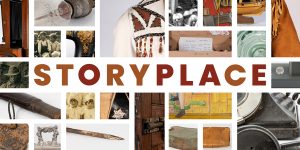 Museums & Galleries of NSW is delighted to announce that we have been awarded new funding for the Storyplace website.
Called Extending Storyplace, and funded through Create NSW's Creative Capital Fund, the project will fund a mobile digitisation 'Hub' to mentor small volunteer ('Spoke') museums in northwest NSW on collection digitisation. In addition, a select number of objects from small museums in the Inverell Shire, Glen Innes Severn Shire, Walgett Shire, and Narrabri Shire areas will be digitised and published to the Storyplace website – along with stories prepared by project storytellers.
Importantly, Extending Storyplace will build on the digital knowledge gained and documented by M&G NSW since 2018. By expanding our organisation's experience and knowledge of regional digitisation practices, and the differing environments and resources small museums operate in and with, we can better support the volunteer museum sector to 'join in' the opportunity available to large state-run cultural institutions to digitise and make their collections available to a global audience online.
Among the small museums that we will work with and support during the Extending Storyplace project are Inverell Pioneer Village, Old Gaol Heritage Museum (Narrabri), Namoi Echo Museum (Wee Waa), Lightning Ridge Heritage Cottage Hospital Gallery, and the Land of the Beardies History House (Glenn Innes).
M&G NSW thanks the NSW Government for supporting hard and soft cultural infrastructure across the state, and congratulate all the other successful organisations.
Full list of Creative Capital Minor Works and Equipment Round 2 projects