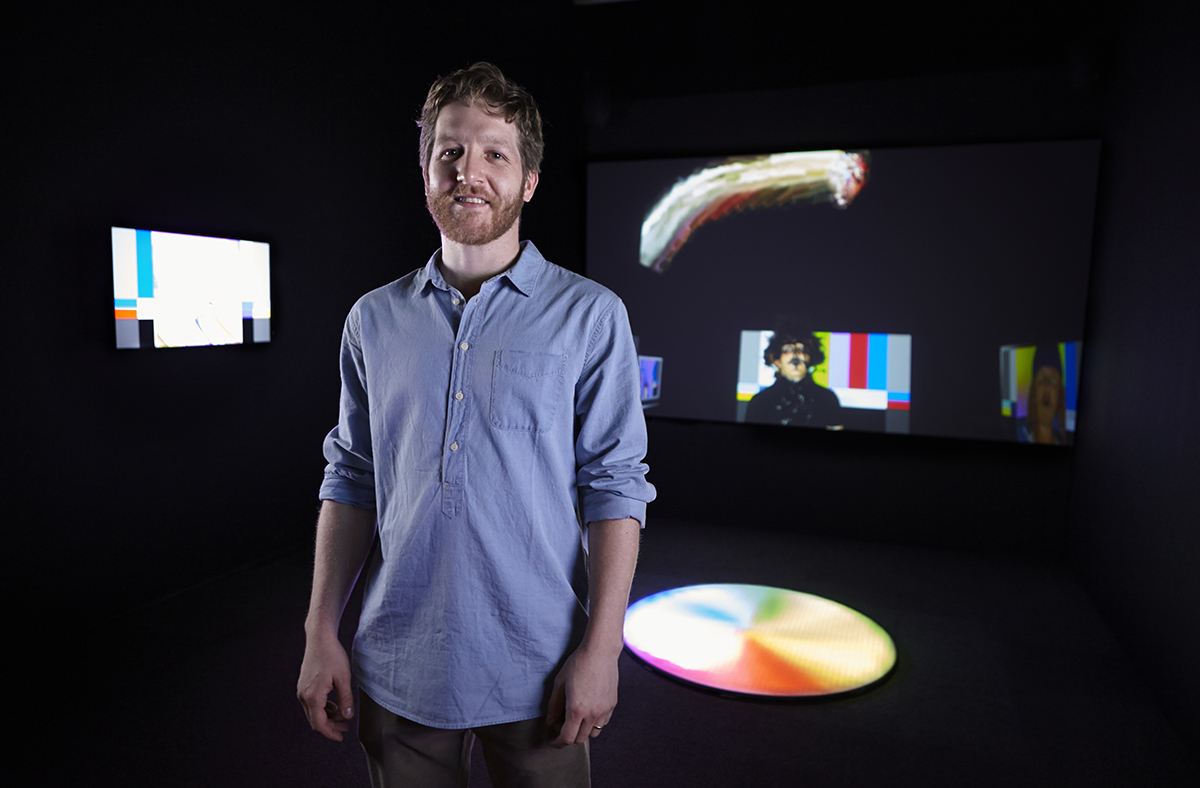 Heath Franco
The NSW Government's 2015 NSW Visual Arts (Emerging) Fellowship has been awarded to Western Sydney-based experimental video artist Heath Franco.
Franco was born in Cooma and currently lives in Parramatta. His practice largely takes the form of video, although the process of production and exhibition of his works are also concerned with photography, performance, sound, music, digital media, special effects and installation.
As the subject of his video works, Franco performs various absurdist-style costumed roles set within green-screened landscapes.
The fellowship's selection panel described Franco as "an exciting new voice in Australian art. His new work consolidates and develops his previous work, pointing to a stimulating new phase of his practice. He has an unconventional voice. He creates characters that are unsettling yet familiar and who subvert cultural stereotypes. His playful and fearless exploration of the materiality of the video medium is impressive."
Franco was honoured for his multi-channel video installation THE RAINBOW LANDS 2015. The prestigious $30,000 fellowship will see him undertake a mentorship with music-video creator Joel Kefali, research, create and perform new works in the US and deliver workshops at the Information Cultural Exchange in Parramatta.
THE RAINBOW LANDS 2015 is currently on show at Artspace, Woolloomooloo along with the work of 11 other shortlisted fellowship candidates. Co-curated by Artspace Executive Director Alexie Glass-Kantor and curator Talia Linz the exhibition illustrates the excellence and diversity of artists emerging from NSW.
The 12 featured artists are:
Heath Franco of Parramatta
Lucas Davidson of Coogee
Stevie Fieldsend of Leichhardt
Emily Hunt of Annandale
Biljana Jancic of Newtown
Leahlani Johnson of Katoomba
Sarah Mosca of Enmore
Tom Polo of Smithfield
Nicola Smith of Potts Point
Mason Kimber of Newtown
Angela Tiatia of Paddington
Justine Varga of Paddington
Glass-Kantor praised the high standard of work shortlisted in 2015. "Each finalist delivered an artwork that exceeded our expectations – astonishing in their ambition and originality…. Overall this is a bold and brave new generation of artists: watch this space!"
Find out more about the exhibition or the fellowship award.