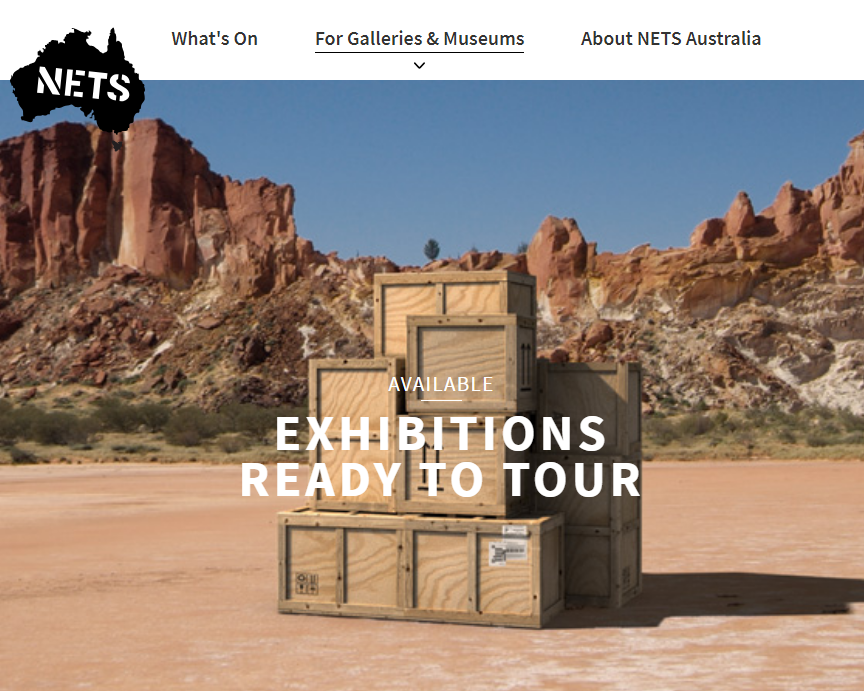 With the challenges of the last few months, many galleries and museums have had to re-arrange programming schedules and put exhibitions on hold – now that venues are opening up across the country it's time to get planning again! The National Exhibition Register (NER) is Australia's touring exhibition portal and brings together a diversity of exhibitions for venues of all sizes and capabilities.
The NER is a free service that allows Australian organisations to promote, browse and book touring exhibitions of contemporary visual culture. Galleries and venues across Australia are also invited to submit their touring exhibitions.
The NER is supported by the National Exhibitions Touring Support (NETS) Australia, a national network of arts organisations who support and deliver high-quality arts programming to regions across the country.
The user-friendly search and sort functionality allows you to find touring exhibitions from around the country and filter according to your needs – cost, size and available dates. Browse the exhibitions on offer, select an exhibition and find out all you need to know such as artist and curator information, available dates, size, accompanying resources, cost, contact details and much more.
New exhibitions on the NER:
A Portrait of Australia: Stories through the lens of Australian Geographic – this National Museum of Australia exhibition celebrates the bush, the outback, the coast and the people who live there. Featuring some of the most striking photographs from the Australian Geographic archive, it will transport your visitors to some of the most rugged and remote parts of the country where they will discover the remarkable stories of ordinary Australians.
Zanny Begg: These Stories Will be Different – This exhibition, curated by UNSW Galleries and touring with Museums & Galleries of NSW brings together the Zanny Begg's most significant works to date including The Beehive (2018), City of Ladies (2017) and a new work Kannagi, (2019). Once described as an advocate for women and marginalised communities, Zanny's work uses humour, understated drawings and found cultural artefacts to explore themes of gender, activism and migration and the ways in which we can live and be in the world differently.
New York Rambling – New York Rambling is Miriam Innes' large scale drawing project which came out of a desire to cultivate an intimate experience and spark escapism. It's a chance for the viewer to escape the day-to-day and project themselves into the iconic city of New York – to get lost in its layers and feel safe in its storied architectural features.
I Love a Sunburnt Country – Touring from Albury LibraryMuseum I Love a Sunburnt Country is a series of colour photographs reminiscent of holiday, snap-shots and postcards. With snippets of text, Tim Rowston fuses imagery, history and poetry in order to portray Australia's simplicities and complexities.
Dobell Drawing Prize #22 – The Dobell Drawing Prize is one of the leading drawing exhibitions in Australia and an unparalleled celebration of drawing innovation. This touring exhibition presents an outstanding opportunity to bring a prestigious drawing prize to new audiences, and to deliver an engaging program that facilitates public participation in contemporary drawing.
Robyn Stacey: as still as life – This exhibition leads audiences into the tantalising world of the still-life tradition. The exhibition opens with an exploration of still-life photographs drawn from Monash Gallery of Art's collection, placing the genre and Robyn Stacey's work into context. Stacey is one of Australia's leading photographic artists whose fascination with the still life genre inspired the magnificent works in this exhibition.
Shaun Tan: Rules of Summer – Featuring a set of original paintings from Shaun Tan made for the picture book of the same title, the exhibition explores the friendship of two young boys as it is challenged by many difficult and irrational situations, each one a metaphor for familiar childhood experiences. This is a unique collection of rarely seen original works from Shaun Tan, including working drawings and artist's notes from this dynamic and enchanting series.