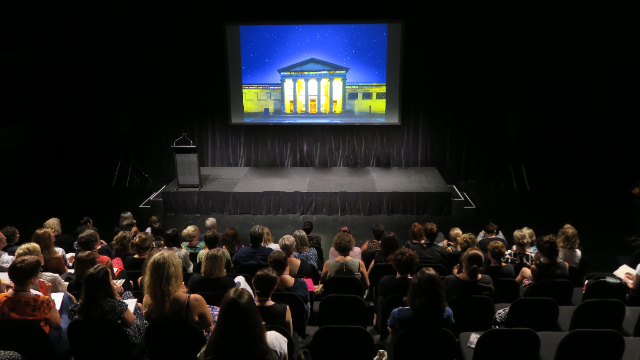 Over the last two months you may have been contacted by M&G NSW to participate in the Museums & Galleries of NSW 2018 Sector Census. The purpose of the census is to gather basic information from organisations to provide an overview of the sector and to assist us in providing services and advocating on your behalf.
We'd like to extend our thanks to the 256 organisations that have participated by contributing their data. We would like to see that number double before the census closes on Friday 31 August!
Why is collecting this information important to us? It will be used to build a 'snapshot' of venues and visitation, analyse trends and track progress from year to year. The data will inform our future policies, services, programs and directions and help us advocate to local, state and national government bodies on your behalf. The final report will be made available on our website as a valuable resource for other service organisations, government and for you to promote the value of museums and galleries as vital organisations within our communities.
Below is a list of museums, galleries and Aboriginal Cultural Centres that we have not yet collected any data for.
If your organisation is listed and you have not received a link to complete the census or if you think you have already completed the census please contact us by email or call 9252 8300.
12th/16th Hunter River Lancers & 24th Light Horse Memorial Museum
4A Centre for Contemporary Asian Art
Aboriginal Heritage Office
Age of Fishes Museum
ALASKA Projects
Amusu Theatre & Manildra Movie Poster Museum
Armidale Bicentennial Railway Museum
Art Arena Gallery Inc
Artbank
Artspace
Ashford Local Aboriginal Land Council, Keeping Place & Art Gallery
Australian Army Infantry Museum
Australian Army Museum of Military Engineering
Australian Aviation Museum
Australian Fossil & Mineral Museum
Australian History Museum
Australian MOTORLIFE Museum
Australian Tennis Museum
Bahtabah LALC
Balgownie Heritage School Museum
Ballina Naval and Maritime Museum
Balmain Watch House
Baradine Lalc
Barellan Museum
Bathurst Goldfields
Batlow Museum
Belgenny Farm Trust
Berrima Courthouse Museum
Berrima District Museum
Bingara Museum
Blacktown Arts Centre
Blacktown City Bicentennial Museum
Boggabri Museum
Bondi Pavilion
Boolarng Nangamai Aboriginal Art and Culture Studio
Bradman Museum & International Cricket Hall of Fame
Bradman's Birthplace Museum
Braidwood Museum
Breakwater Battery Military Museum
Brewarrina Business Centre
Brewarrina Visitors Information and Cultural Centre
Broadway Museum
Bulahdelah Courthouse Museum
Bunker Cartoon Gallery
Burnside Museum
Campbelltown Arts Centre
Canowindra Historical Museum
Cape Byron Lighthouse Maritime Museum
Carcoar Historic Village
Carisbrook House Museum
Casino Folk Museum
Casula Powerhouse Arts Centre
Centenary Cottage Museum
Centenary Museum
Cessnock Regional Art Gallery
Chrissie Cotter Gallery
Clarence Town & District Historical Museum
Colonial Inn Museum
Coolamon RSL Museum
Coomaditchie Aboriginal Corporation
Coonamble Museum Under the Bridge
Cootamundra Heritage Centre
Cowra Regional Art Gallery
Cumberland Hospital Museum
Davidson Whaling Station
Dhiiyaan Indigenous Unit of the Northern Regional Library
Dobell House
Don Bank Museum
Down / Under Space
Dubbo Regional Museum
Dundullimal Homestead
Dunedoo Historical Society
Dunghutti-Ngaku Aboriginal Art Gallery
Dungog Museum
Eugowra Historical Museum & Bushranger Centre
Euraba Paper Aboriginal Corporation
Eurunderee School Complex
Everglades Gardens
Experiment Farm Cottage
Factory 49
Fairview Artspace
Firstdraft
Fitzroy Falls Visitor Centre
Frank Partridge V.C. Military Museum
Friends of Trial Bay Gaol
Gallery Lane Cove
Gallipoli Memorial Club
Ganmain Historical Society Museum
Garroorigang Historic Home
Giriwa Garuwang, Arts & Craft Gallery
Glasshouse Regional Gallery
Glen Innes Art Gallery Inc.
Gomeroi gaaynggal Centre Art Studio and Gallery
Goondee Keeping Place and Co-op
Goulburn Roundhouse
Grafton Regional Gallery
Griffith Pioneer Park Museum
Griffith Regional Art Gallery
Grossmann House
Gulgong Pioneer Museum
Gundagai Historical Museum
Gunnedah Rural Museum
Gunnedah Water Tower Museum
Harden Murrumburrah Museum
Harper's Mansion
Harrington St. Artists Co-operative Gallery
Hay Gaol Museum
Hazelhurst Regional Gallery & Arts Centre
Henry Bolt Museum – in development
Henry Lawson Centre
Henry Parkes Museum & Antique Machinery Collection
Hillston Historical Museum
Hornsby & District Historical Society Museum
Illawarra Aboriginal Cultural Centre & Keeping Place
Illawarra Light Railway Museum
Incinerator Art Space
Interlude Gallery
Inverell Art Society and Gallery
Inverell Pioneer Village
Jambama Art Gallery, Casino
Jenolan Caves Historical & Preservation Society
Junee Roundhouse Museum
Kandos Returned Services Community Club
Kari Yalla Aboriginal Artists Co-operative
Kempsey Museum and Cultural Centre
KNULP
Ku-ring-gai Arts Centre & Gallery
Land of the Beardies History House Museum
Lightning Ridge Heritage Cottage Hospital Gallery
Liverpool Regional Museum
Lord Howe Island Museum
Macquarie University Art Gallery
Macquarie University Sporting Hall of Fame Museum
Maronite Heritage Centre
Mary Boulton's Pioneer Cottage & Museum
Mary MacKillop Place Museum
May St Gallery
Mehi Artists
Merriwa Colonial Museum
Mid North Coast Maritime Museum
Mid-Richmond Historical Society
Mid-State Shearing Shed and Railway Museum
Minjungbal Aboriginal Museum
Miromaa Language and Technology Centre
Monaroo Bobberrer Gudu Aboriginal Cultural Centre
Morpeth Museum
Mulwala Pioneer Museum
Murrook Cultural Centre & Djapa Bush Tucker Cafe
Murrurundi Museum & Pioneer Cottage
Muru Mittigar Aboriginal Cultural Centre
Museum of Ancient Cultures
Museum of Antiquities (UNE)
Museum of Clothing
Museum of Education
Museum of Freemasonry
Museum of Pathology
Museum of Printing
Museum of the Rock
Muurrbay Aboriginal Language and Culture Co-op
Nambucca Headland Museum
Nandewar Historical Society
Narrabri Art Gallery
Narromine Aviation Museum
Narromine LALC
National Art School Gallery
National Motorcycle Museum
Nelson Head Inner Lighthouse & Rescue station reserve trust
New Italy Museum
New South Wales Toy & Railway Museum
Newcastle Art Space
Newcastle Printmakers Workshop Inc
Norfolk Island Museum
Norman Lindsay Gallery & Museum, National Trust
Northern Rivers Community Gallery
NSW Hall of Champions, State Sports Centre
NSW Midwives History Collection
NSW Schoolhouse Museum of Public Education
Oberon Military Museum
Oberon Museum
Old Casino Station Museum
Old Courthouse Museum
Old Dubbo Gaol
Old Gaol Heritage Museum
Old Wentworth Gaol Museum
One Plus 2 Studios
Orange Regional Gallery
Orange RSL Museum
Outback Mosque
Oxley Museum
Parkes Motor Museum
Parramatta Artist Studios
Parramatta Heritage Centre
Peacock Gallery & Auburn Arts Studio
Penrith Museum of Printing
Peppin Heritage Centre
Pine Street Creative Arts Centre
Pioneer Cottage & Bicentennial Museum
Port Macquarie Observatory
Portuguese Ethnographic Museum of Australia
Pye Cottage
Pylon Lookout and Landmark Exhibition, Bridgeclimb
Quambi Schoolhouse & Stroud Courthouse Museum
Queanbeyan & District Historical Museum
Queanbeyan Printing Museum
Quirindi Rural Heritage Village
RAAF Wagga Museum
Rail Journeys Museum
Red Chief LALC
Revesby Public School Centenary Museum
Richmond Main Mining Museum
Roxy Greek Museum
Royal Australian Navy Heritage Centre
Royal Prince Alfred Hospital Archives and Museum
Rugby League Central
Saumarez Homestead
SCA Galleries
SCG Museum
Science Centre and Planetarium
Scone Museum
Sexton's Cottage Museum
Shear Outback, Australian Shearer's Hall of Fame
Silverton Gaol and Historical Museum
Silverton School Museum
Singleton Historical Museum
Singleton Sisters of Mercy Convent
Sir Samuel McCaughey Homestead
Sketchley Pioneer Cottage and Museum
Slim Dusty Centre
SNO
Snowy Scheme Museum
St Clair Museum
St Raphaels School & Parish, Heritage Museum Group
St. Ignatius Convent School
Station House Museum
Sturt Gallery
Sunnyside Historic Home & South Sea Islands Museum
Sydney Bus Museum
Sydney Heritage Fleet
Sydney Printmakers Group
Synagogue of The Outback Museum
TAEM Gallery
Tarella Cottage Museum
Temora Aviation Museum
Temora Rural Museum
Tenterfield Railway Station Museum
The Bakehouse Museum
The Cross Art Projects
The EM Lane Nurse's Museum
The Entrance Military Museum & Library
The Great Synagogue & The A M Rosenblum Jewish Museum
The Lock-Up
The Old Goods Shed (Museum and Gallery)
The Old Schoolhouse
The Rocks Discovery Museum
Throsby Park
Timbertown
Tin Sheds Gallery & Art Workshops
Tobwabba Art
Tocumwal Railway Heritage Museum
Trainworks
Transport Heritage NSW
Tumbarumba Historical Museum
Turkish Bath Museum
Tweed Byron LALC
Ungarie Museum
University of New England Heritage Centre
University of Sydney Museums
Up To Date Store
Valley Heights Locomotive Depot Heritage Museum
Verge Gallery
Veterans Recreation Centre Museum
Walgett Historical Museum
Walka Water Works
Wallarobba Arts and Cultural Centre/Verahanda Gallery
Warialda Heritage Centre
Watt Space: University of Newcastle
Weethalle Whistle Stop Arts and Crafts and Museum
Wells Gem & Mineral Collection
West Wallsend High School and Community Museum
Western Goldfields Museum
Western Plains Cultural Centre
Whitton Museum
Wilcannia Atheneum Museum
Wing Hing Long Museum
Wiradjuri Condobolin Corporation
Wollombi Endeavour Museum
Wollondilly Heritage Centre
Workshop Arts Centre
WUPA Art Gallery
Yarkuwa Indigenous Knowledge Centre
Yass & District Museum
Yass Railway Museum
Zoology Museum, UNE