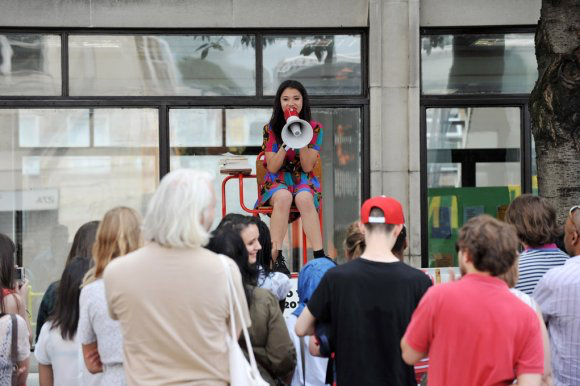 Jo Higgins is the Marketing and Regional Engagement Coordinator at Kaldor Public Art Projects. She penned us this piece to explain the inspirational work they are doing with young audiences in regional areas.
In 1977 Richard Long walked 100 miles across the Australian desert in what was then the 7th Kaldor Public Art Project (KPAP). Next weekend we head west again – but this time thankfully not on foot – for the launch of our 2015 Pilot Regional Engagement Program in partnership with the Western Plains Cultural Centre, Dubbo.
Nearly 12 months in the making, this pilot is an important strand of the Public Engagement Program for our 30th project – Marina Abramović: In Residence, which opens next month at Pier 2/3 in Sydney's Walsh Bay.
The regionally focused project is a natural next step in KPAP's investment in the development of innovative, world-class education and outreach programs, and in finding and supporting new audiences for contemporary art.
Envisioned as a productive and ongoing dialogue with key stakeholders in the region – including the teams at Dubbo Regional Gallery and Orana Arts, Dubbo City Council, local art teachers, artists and young people – it's also an opportunity for us to explore the development of a sustainable model of regional engagement, exchange and future partnerships.
We approached Western Plains Cultural Centre (WPCC) and began discussions with them about the pilot last July. We wanted to work with an organisation whose programming and vision reflected our own; who had established connections in the community and a strong school network; and who had the resources and facilities to support the project on a logistical level. Thankfully they didn't take much convincing.
In February, along with Sue Saxon, Kaldor's Education and Public Programs Manager, we made our first visit to Dubbo. The two days of meetings, conversations and planning with the teams at WPCC and Orana Arts, the Mayor and the Chairperson of the Council's Youth Committee were a fantastic introduction to the region.
It's an opportunity to explore ... a sustainable model of regional engagement, exchange and future partnerships.
Crucially, we also met with a large group of art and drama teachers, to whom we had reached out to with help from WPCC in the weeks leading up to our visit. This information session and the resulting feedback served to reinforce the value of piloting a project dedicated specifically to young people.
It also clearly demonstrated the enormous energy and commitment of this special group of teachers in supporting their students to access opportunities such as this one. The buy-in and support of teachers, and regular communication with them since has been critical to this stage of the project, and especially for the recruitment of participants.
The pilot project focuses on young people aged 16-20; a demographic often under-represented in public programming. The peer-led model of learning we are using has proven to be successful overseas in building young people's confidence, creativity and critical thinking skills, and is designed to facilitate the development and realisation of the participants' own ideas in collaboration with each other.
It demonstrated the enormous energy and commitment of this special group of teachers in supporting their students to access opportunities such as this one.
Over four weekends from May to late July the group will work with regional and Sydney-based artists and curators, including director Imara Savage and artist Lottie Consalvo, to explore their own ideas around performance, audience, public space and contemporary art.
On Friday July 3, the participants will experience Marina Abramović: In Residence in Sydney and, we hope, contribute to the dynamic public program at Pier 2/3 with Dubbo Regional Gallery Curator Kent Buchanan. We're looking forward to their ideas.
The project culminates on Sunday 26 July with a day of talks and performances led by the group at Dubbo Regional Gallery.
While we hope the participants will create a compelling series of works that reflect both their experiences as teenagers living in regional Australia and their own understandings of performance art, what we really looking forward to is seeing what they make of this pilot experience, in every sense of the word.
Editor's note: There are a few places left in the program – if you are interested you'll need to have your application in by 8 May, so be quick!
Need more information? Please see: kaldorartprojects.org.au

Kaldor Public Art Project's Regional Youth Engagement Program has been supported by the Australian Government through the Ministry for the Arts, Attorney-General's Department and Arts NSW. Kaldor's Regional Engagement Collaborators are Western Plains Cultural Centre and Orana Arts.