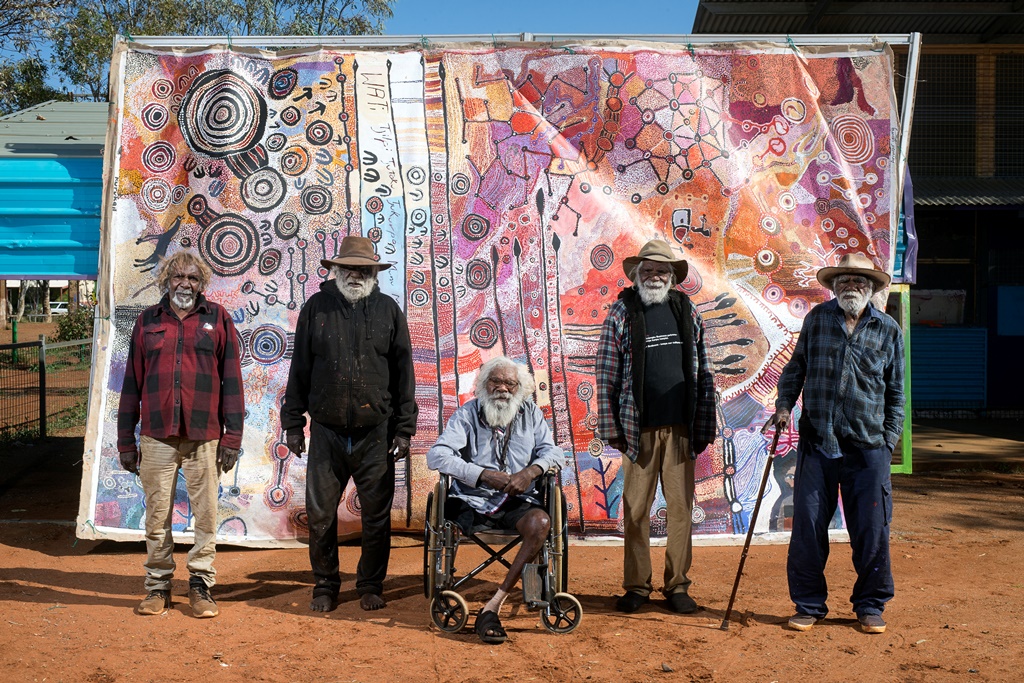 The Traditional Owners of the APY Lands welcome you to experience a tiny bit of our world. This exhibition is our culture, our law, it lives in our blood and our country. You will experience a celebration of this culture today. Welcome!!!!
This message greets you on entry to Nganampa Kililpil: Our Stars at Hazelhurst Regional Gallery & Arts Centre along with smiling portraits of the artists. Featuring over 50 works by 100 artists the exhibition is the first major survey exhibition from the seven art centres of the Anangu Pitjantjatjara Yankunyjatjara (APY) Lands. Paintings from the APY Lands region are celebrated for the artists' strong use of colour and dynamic movement and for their specific way of transforming their stories – Tjukurpa (Law), Country, and inma (ceremony) – into vibrant articulations on canvas. The work presented in Nganampa Kililpil: Our Stars is certainly no exception.
Along the typical painted canvases the exhibition also features works on paper, weaving, traditional woodwork and ceramics. The undoubted stars of the show, however, are four collaborative works, two created by the women and two by the men. Artists from each of the featured Arts Centres contributed to these large scale works, representing the first time many of these artists have worked together.
Puna Kutjara (Two Trees), an elaborate woven fibre installation, dominates the main gallery. Created by 38 weavers it depicts the trees as the spirits of life surrounded by an abundance of animals, birds and bush tucker. The large scale women's collaborative canvas telling the story of the Seven Sisters, acts as a backdrop for the work. The women's work explodes with colour creating a truly joyous celebration of country and of culture.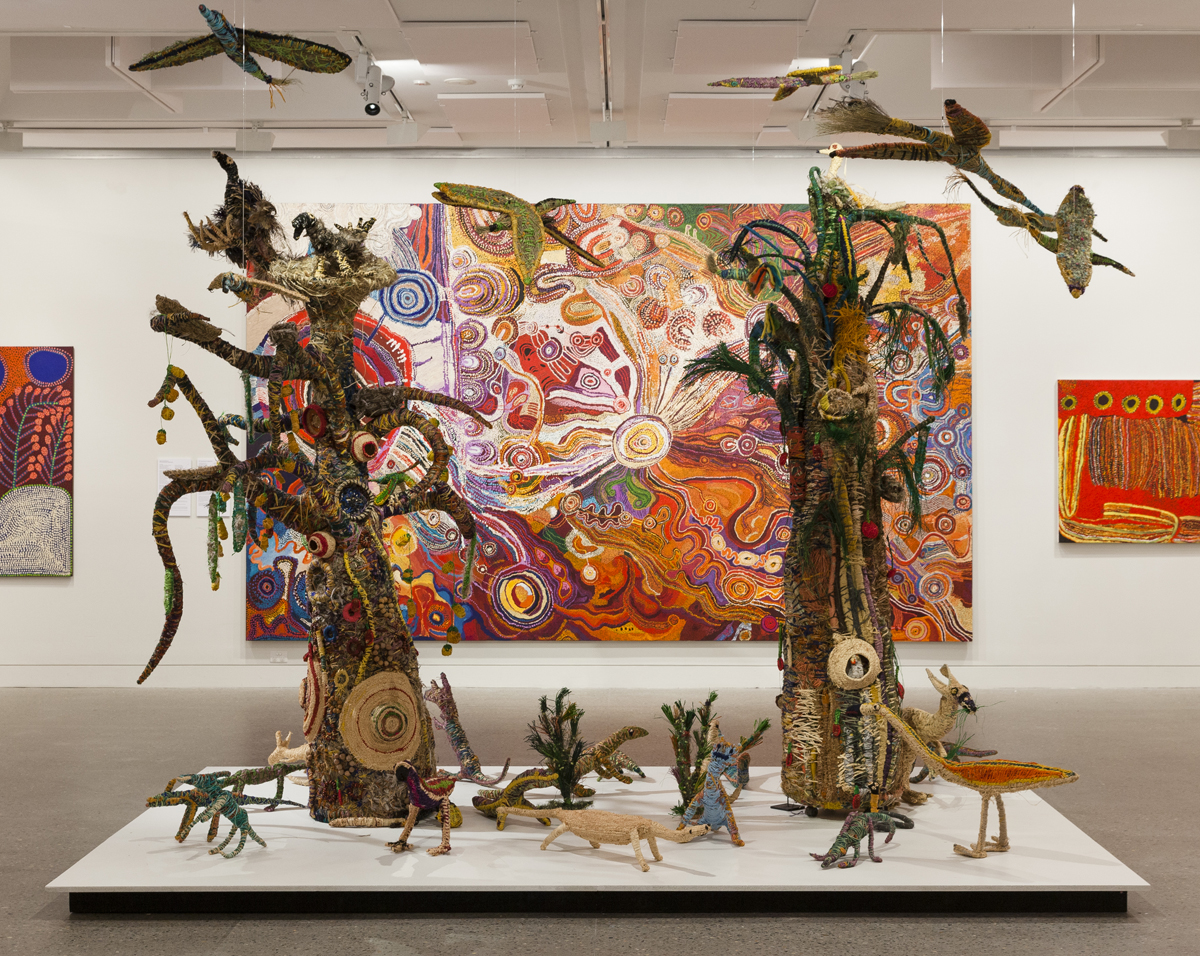 Awari nganana alatji tjungungku waarka palyara walytjapiti pukulpa nyinanyi uwa ka tjukurpa nyangatja nganampa anangu maru uwankaraku kampatjangka unngu ngaranyi.
Nganana unngu kututungka tjukurpa tjuta kanyini munula palulanguru kunpu ngarany.
Nyangatja nganampa titji malatjaku ngaranyi tjana kulu kunpugku kanyintjaku nganana purunytju
Of course when we come together to work like this as family we are happy.
This story is for all of us, all Anangu.
In this canvas is our story.
We have these stories in our heart and inside us.
This makes us strong.
This is for the next generation, so they can strongly hold the stories like we do.
Artist Nyurpaya Kaika Burton, from Tjala Arts about the significance of the women's collaborative canvas.
An installation of traditionally made spears and shields lays in front of the men's collaborative canvas. Dedicated to a recently deceased senior artist and lawman the canvas pays respect to respected men of the community who worked to preserve and share their knowledge. More sombre than the women's work the men's collaboration is a powerful and moving tribute.
The APY lands occupy a vast area of 103,000 square kilometres, located in remote South Australia, near the tri-state border with the Northern Territory and Western Australia and is home to some of Australia's best known and most innovative Indigenous artists. The Art Centres include Tjala Arts at Amata; Ernabella Arts at Pukatja; Mimili Maku Arts at Mimili; Tjungu Palya at Nyapari; Ninuku Arts at Kalka; Kaltjiti Arts at Kaltjiti, and Iwantja Arts at Indulkana.
Each of the art centres are 100% Anangu owned and operated and provide essential services to the artists and greater community. They act as community hubs where knowledge and culture can be practiced and shared with younger generations as well as supporting the ethical production and sale of artists' work.
This is an ambitious undertaking for a regional gallery and we are pleased to showcase some of Australia's leading Indigenous artists from some of Australia's remotest areas at Hazelhurst Regional Gallery. - Belinda Hanrahan, Director, Hazelhurst Regional Gallery.
The exhibition is a partnership project between Hazelhurst and the artists and art centres of the APY Lands. The idea for the exhibition at Hazelhurst began in 2014 when the five Ken Sisters from Tjala Artists, Tjungkara Ken, Yaritji Young, Freda Brady, Maringka Tunkin and Sandra Ken, produced their first collaborative painting, a work depicting the country belonging to their father and celebrated artist Mick Wikilyiri, for Hazelhurst's exhibition Sublime Point: The landscape in painting which brought together Indigenous and non-Indigenous painters from across the country.
Hazelhurst Curator, Carrie Kibbler, then began the initial discussion about the survey exhibition with Tjala Arts to bring a major exhibition of artists work to Sydney, and to make it accessible for audiences outside of South Australia. As the exhibition developed the artists proposed and developed significant new works specifically for the project. Other works have been loaned from national and state gallery collections as well as those from private collections.
Anangu is the Pitjantjatjara word for an Aboriginal person.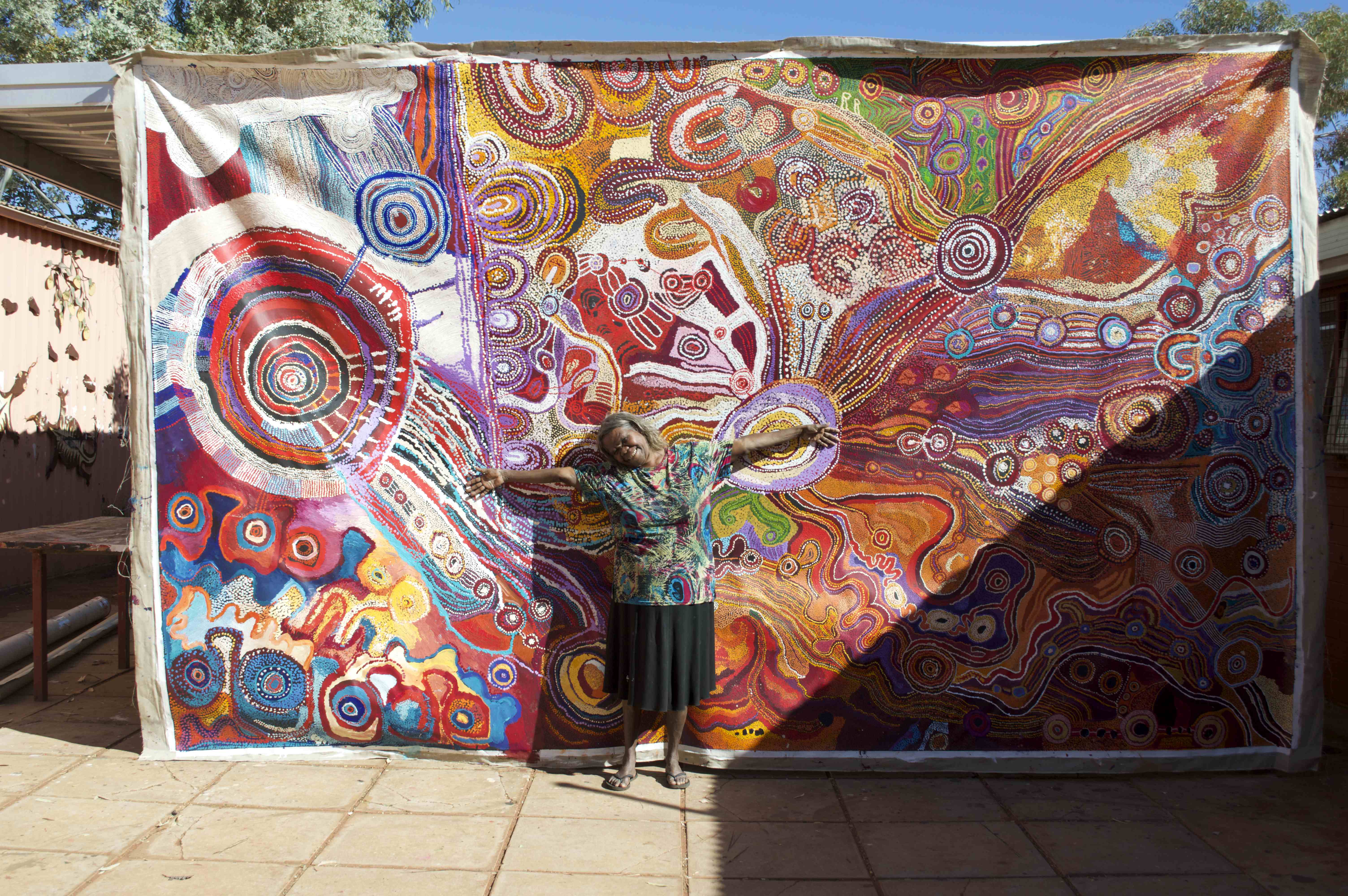 Hazelhurst Regional Gallery & Arts Centre is located in Gymea, a 30 minute drive from Sydney's CBD. Nganampa Kililpil: Our Stars runs until 11 December 2016.