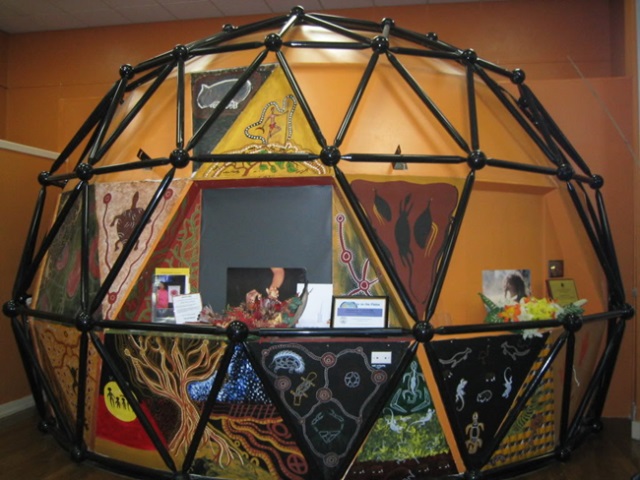 The future of the troubled Dhiiyaan Indigenous Knowledge Centre in Moree appears to have been secured with a $495,545 Clubgrant for renovations to the building housing it.
The funds will be used for a total refurbishment of the Moree War Memorial Hall including purpose-built archival rooms, a new common entrance foyer, new offices and galleries, carpets, painting, furniture and fittings.
The existing amenities will be upgraded to include disabled facilities and an access ramp.
Moree Plains Shire Council has also kicked in with $306,900 to the project for first stage capital improvements and ongoing management costs.
The hall, a product of the Moree and District War Memorial Centre Educational Centre Act of 1962, will eventually also house the Moree and District Historical Society collection and a military history collection.
The building previously housed Moree's public library with Dhiiyaan as part of its facilities. Dhiiyaan was developed over many years by Noeleen Briggs, Moree Elder and former Indigenous Librarian Auntie, who bartered for people's family documents, obtained grants to buy books on Indigenous history and culture and arranged for object loans from the Australian Museum.
When the library moved into a purpose built space several years ago, the local Aboriginal community feared the Dhiiyaan Centre would be dismantled with the books dispersed to regional libraries and the objects returned to the Australian Museum.
The grant will help preserve 100,000 genealogical records of local families including databases, significant objects, photographs and burial records.
The stress of losing the centre took a personal toll on Auntie Noeleen who has since retired but not before intensive lobbying that eventually saw Arts NSW provide the State Library with $200,000 towards collection evaluation and preservation and assistance with transition to an independent organisation with the support of Moree Shire Council.
Chris Binge started this month as Manager of the centre and expects the staff to grow to five in the next few months.
They will oversee 100,000 genealogical records of local families including databases, significant objects, photographs and burial records. The team will also begin negotiating with the Australian Museum for the return of the historical objects.
Museums & Galleries of NSW is supporting the Dhiiyaan Centre with its Travelling Places program this year, which seeks to embed skills for the development of a digital Keeping Place within the community.
Clubgrants are administered by Clubs NSW, the peak body for registered clubs in NSW and are available to community groups, charities and sporting teams across NSW. Last year, more than $100 million was allocated to worthy causes by Clubgrants and since the scheme began close to $1 billion has been disbursed.
The Moree Champion published this article about the pending upgrade.
Steve Miller. Aboriginal Program Manager, MGNSW.