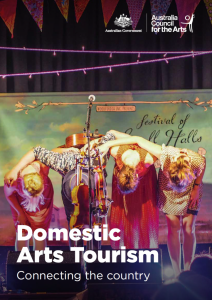 The latest Australia Council research report, Domestic Arts Tourism – Connecting the country, finds that arts tourists are high-value tourists: they travel further, stay longer and spend more than domestic tourists overall.
Confirming research published by Museums & Galleries of NSW, (Adding Value!), tourists making day trips or longer overnight visits to regional towns are more likely to visit their local museum and art gallery than stop at wineries or theme parks.
The findings suggest what many of us already know, that the arts are an under-recognised economic driver of regional Australia and could help fast-track bushfire recovery.
While Ballarat and Bendigo are identified as some of the biggest arts tourism hotspots, NSW's North Coast and Hunter Valley, the Central West and the state's fire-ravaged South Coast are also identified for their unique offerings and visitor attention.
The report also highlighted Broken Hill's strong history of art made popular by artist Pro Hart and the Brushmen of the Bush brought many tourists to the old mining town, according to Tara Callaghan, manager of the Broken Hill Regional Art Gallery.
With national attention on the drought and the Darling River, travellers were also interested in artists such as Uncle Badger Bates, whose work depicted Indigenous Australian views on water management, animal and plant life, she was quoted as saying.
"Tourists are also drawn to the dramatic landscape and light; a lot of this is thanks to the strong history of cinematography and film-making in and around Broken Hill with Mad Max and Wake in Fright, both having been filmed here".
The report comes as the Australia Council mounts the case for more federal government funding of the arts sector, which has not yet recovered from a decision by former arts minister George Brandis to controversially strip out $105 million in funding.
Arts experiences have a growing role as a driver for tourism in Australia and are increasingly part of visitors' itineraries. This report presents trends and insights on how Australians connect with the arts as they travel around the country, whether on short day trips or longer overnight stays. It helps build the picture of Australians' willingness to travel for the arts, of the value of the arts in helping us understand the place we are in, and the great capacity of the arts to support local economies and build stronger regional communities.
---
Key insights:
Domestic arts tourism is growing: Greater numbers of Australians are travelling than ever before. Along with population growth and overall growth in domestic tourism, the numbers of Australians engaging with the arts while exploring their own country are growing.
There are unique offerings in different parts of Australia: There is no one-size-fits all for arts engagement on a domestic trip – Australians connect with the arts in a broad range of ways. The most popular and fastest-growing arts tourism activities vary across the country. Each state, territory and region offers unique arts and creative experiences, and this is reflected in the data.
First Nations arts and craft are a strong and growing area of domestic arts tourism: First Nations arts tourism is increasing, reflecting Australians' strong and growing interest in engaging with First Nations arts for their beauty, strength and power, and to understand who we are as a nation. The regions where tourists are most likely to engage with First Nations arts and craft are in regional Australia, and particularly regional areas of the Northern Territory where First Nations arts and craft are driving arts engagement by tourists.
Arts tourism tends to align with travelling further, staying longer and spending more: Arts tourists are high value tourists – they are more likely to stay longer and spend more when travelling than domestic tourists overall. Australians are more likely to engage with the arts when they travel further afield – those who take overnight trips rather than daytrips, and those who travel outside their home state. The areas where tourists are most likely to engage with the arts are often outside the large east coast capital cities.