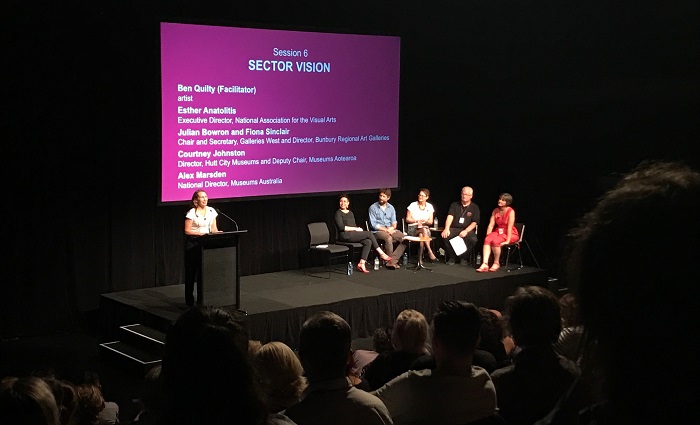 One of the highlights of the Art & Artists Summit for me was listening to Courtney Johnston's contribution to the Sector Vision plenary on Day 2.
Courtney is Director of the Dowse Art Museum and the Petone Settlers Museum Te Whare o Whakaaro o Pito-one, and she manages the Community Art portfolio for Hutt City Council, Wellington, New Zealand.
Originally programmed to provide delegates with a bit of an overview of what's happening in Aotearoa New Zealand, visual arts and museum sector wise, in Courtney's own words, when she sat down to write that piece, 'it didn't feel very urgent'. So the focus changed and to my mind became one of the more memorable Summit deliveries. Not a bouncer or leg-break, more a yorker aimed at delegate toes, designed to really get your attention.
'2017 and the beginning of 2018 saw a series of controversies play out in contemporary art galleries – situations where artists, activists and indigenous groups protested museums' activities and decisions. These events have given rise to freshly invigorated discussions about censorship, cultural appropriation, and the power imbalances that pervade society and museums'.
In recent times, many in the sector and in our audiences have struggled with heightened community responses to artworks that present challenges to established moralities and community standards. There have been several instances where institutional power, artist's lives, their images, behaviours and messaging, and misuse of first nation protocols, have caused real offence. Many readers would be familiar with relatively recent concerns expressed about the public exhibition of artwork by Donald Friend, one such local example of the broader issue Johnston sought to unpick.
In all the instances she highlights, public outrage and demands for artwork to be removed from the walls, floors and spaces of our galleries and their publications, from public sight, have been expressed urgently and sometimes angrily.
Of course for many of the people who challenge, the issues are real and should not be dismissed. The question is; how do we respond? And the answer/s to that aren't easy. As Courtney suggests, I also think that this is one of the most pressing issues for us to grapple with at this time.
My inclination is to oppose censorship and to argue the line in Courtney's blog posited by Johnathon Jones, an art critic for The Guardian – it's just a painting, even when the content and style seem utterly offensive, you can walk away, leaving it to gather dust on the museum wall.
Does anyone want to start a conversation?
You can read Courtney's presentation here.
https://best-of-3.blogspot.co.nz/2018/03/on-safe-spaces-public-galleries-summit.html