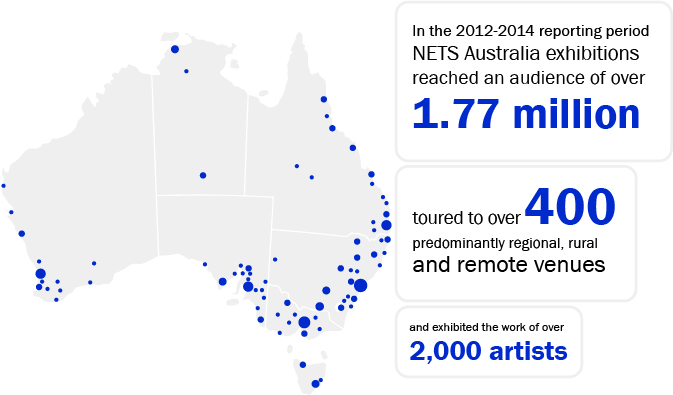 NETS Australia is the national exhibition touring network for the presentation and promotion of contemporary art, craft and design to regional audiences across Australia. We work with the extensive public gallery network in each state, and in the Northern Territory directly with communities, presenting the work of Australia's leading curators, artists and crafts practitioners.

Over the last three years, our exhibitions were seen by 1.77 million people, Australia wide—the majority of whom live in regional and remote areas. We employ more than 650 artists annually.
The Australia Council for the Arts' recent announcement revealed that four of the organisations that comprise the NETS Australia network, servicing Western Australia, New South Wales, Queensland and Victoria, would no longer receive operational funding, has jeopardised scores of projects set to tour to regional Australian galleries in the coming months and years. Affected organisations include ART ON THE MOVE (WA), Museums & Galleries of NSW, Museums & Galleries Queensland and NETS Victoria.

Michael Rolfe, Chair, NETS Australia, elaborates "The abolition of our respective organisations' principal source of funding for NETS activities through the Australia Council has seriously compromised our ability to deliver over 100 planned tours to regional and remote audiences from the end of 2016 onwards, a significant cultural loss for the 590,000 people who visit our shows each year."

The Australia Council's funding decision will result in reduced capacity for the four organisations, fracture the network and have an ongoing effect on Australia's regional gallery sector. Of the 128 organisations to receive funding the only regional gallery supported with direct funding was the multi-artform Campbelltown Arts Centre. Regional galleries are among the most important and accessible cultural institutions in Australia and form a vital network, supporting artists and contemporary arts practices while nurturing audiences across the nation. This essential part of Australian arts infrastructure and programming has been passed-over for direct funding and the announcement raises major questions regarding the overall direction and intent of national arts funding.

John Cheeseman, President of Regional and Public Galleries NSW (RPGNSW) and Director of Mosman Art Gallery, notes "The defunding of NETS agencies across the eastern states also comes as a shock to regional galleries and their audiences. For over twenty years NETS agencies have toured affordable and exciting contemporary visual arts to regional galleries. This decision is disappointing not only for what has been lost but it also represents a further diminution of Australia Council support for regional Australia."

NETS Australia exhibition tours are planned 2-3 years in advance to meet the strategic planning and programming needs of many of the smaller and regionally based galleries, museums, arts centres and Aboriginal art centres. The removal of operational funding past 2016 for these crucial organisations will result in the inability to deliver planned tours or to pay the artists, curators and arts professionals NETS Australia employs across the country.

In addition to the impact on program capacity and our ability to deliver planned tours, the loss of ongoing operational funding places many NETS Australia jobs in an extremely vulnerable state. The loss of specialist tour management staff will result in the loss of entire NETS agencies in many instances, effectively rupturing the national network and national coverage.

As a respondent to the NETS Australia National Touring Survey in 2013 attests "Touring exhibitions are a vital component to Gladstone's program of exhibitions and events. They offer opportunities to show diverse, innovative, inspirational ideas that would not otherwise be available to the central Queensland communities."

We call on the Federal Government to reinstate funding to the entire network through the Australia Council in order to maintain the stability of contemporary visual art touring nationwide and ensure the continued delivery of this vital service to regional, remote and metropolitan audiences.

For full results of the National Touring Survey