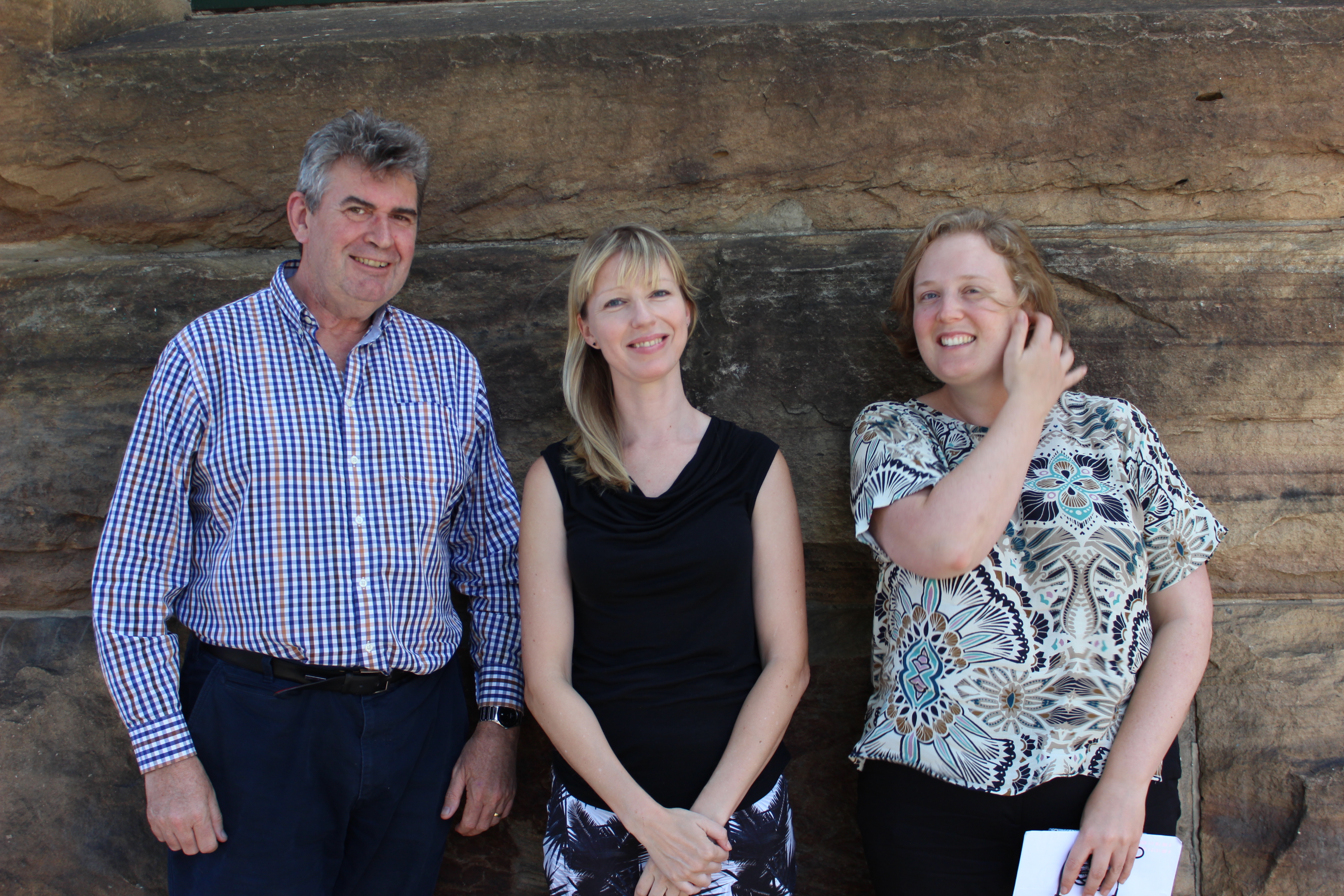 John Thompson, Susan Wacher, Margot Stuart
A new year always brings with it change, and as this is our first ALERT for the year I thought an update on staff changes at Museums & Galleries of NSW wouldn't go astray.
Late last year we said farewell to Elizabeth Swinburn. Elizabeth worked at M&G for the past 6 years, as Coordinator of Finance and Administration. Many readers would've had contact with Lizzy over that time and perhaps more recently as she acted in our new Finance and Administration Manager role. For family and personal reasons she decided to return home to New Zealand and it was with some fanfare that we bid her farewell in recognition of a wonderful contribution made to the running and organisation of our office and programs.
John Thompson commenced in early December as our new Finance and Administration Manager. We welcome John as I'm sure all of you will. He comes to us highly recommended by staff at the Royal Australian Historical Society and has already cast a forensic eye over finance and admin procedures in order to keep our well-oiled services and support focused on sector needs
Speaking of which, this week we welcomed back from maternity leave Margot Stuart, thank you to Owen (and Nick) for allowing mum out. Margot will be returning 4 days per week—3 days in the office and working 1 day at home—resuming her connection to and encouragement of the volunteer museum sector. Conni Lord acted in Margot's position for most of 2016 and we again thank Conni for the wonderful contribution she made while at M&G.
Finally, Susan Wacher also returned this week as Coordinator of our new Visual Arts Craft Strategy (VACS) funded Audience Engagement Initiative. For most of 2016 Susan filled Jasmin Dessman's maternity leave position (now dissolved as part of our 2016 restructure). So we welcome Susan back as well and you will hear more about her new role in the next edition of ALERT, so stay tuned as we all warm up for the year ahead.
PS… Jasmin (and family) moved to the far south coast, near Bega. It was great to recently receive word that she has been employed by Bega Valley Regional Gallery – congratulations Jasmin!