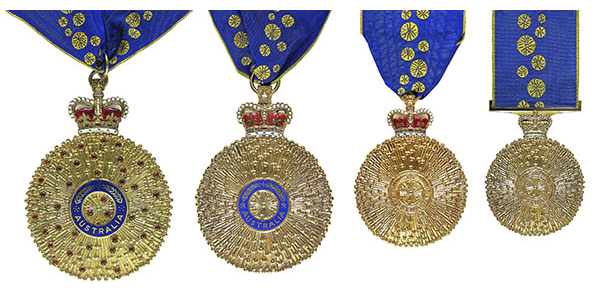 The 2016 Governor General's Australia Day awards recognised the contributions of seven passionate advocates for NSW arts and cultural heritage. Acknowledged for a range of endeavour including entrepreneurial talent, technical skills and dedication to local communities, we are all the beneficiaries of their commitment.
David Handley AM and Judith Neilson AM were appointed Members of the Order of Australia for significant service to the visual arts and museums and galleries sector for their work in establishing Sculpture by the Sea and White Rabbit Gallery respectively. Handley was honoured for his advocacy in helping people with disabilities engage in the arts.
Adrian Newstead OAM, Founder and Executive Director, Coo-ee Aboriginal Art Gallery was recognised for service to the museum and galleries sector, particularly through the promotion of Indigenous arts.
Newstead has been supporting Aboriginal artists and their work for over 40 years. Coo-ee, established in the 1980s, represents artists from as far as the Spinifex Artists of the Great Victoria Desert in Western Australia.
Newstead approaches his work as an act of reconciliation and promotes both traditional community-based work and contemporary Indigenous practice.
But it was local historians who came out on top.
Dr Leah Day OAM, for service to community history.
Day has been a member of the Berrima District Historical and Family History Society since 1987 when she coordinated the Mittagong Bicentennial Celebrations. In addition to her work at the society Day has a significant publishing record, authoring a number of books on the region's local history.
In 2015 Day coordinated and prepared the interpretive signage for the Iron Works Heritage Circuit in Mittagong and the surrounding area. In describing the project Wingecarribee Shire Mayor, Councillor Duncan Gair said "without doubt the lion's share of the kudos belongs to local historian Dr Leah Day who toiled countless hours to ensure the spirit of our Shire's early pioneers is never forgotten."
Leslie Tod OAM, for service to the preservation and conservation of heritage theatres.
As Vice President and founding member of the Australian Theatre Historical Society Tod is a regular contributor to society journals. His writing and research includes several books about the architecture, ownership, history and social history of theatres in Australia.
Tod played an integral part of the campaign to save the Capitol Theatre from demolition and restore it to its former architectural glory. In 2016 he will turn his attention to the Roxy Theatre in Parramatta, eager to snatch it from the hands of developers and give it a dose of restoration love.
Robert "Bob" Cook OAM, for service to heritage preservation, and to the community of Newcastle.
Robert "Bob" Cook has been involved in Newcastle's community for most of his adult life. Starting work at the BHP Steel works nearly 40 years ago, he has served as a local councillor and is President of the Newcastle Industrial Heritage Association.
As project manager, Cook oversaw the restoration of a working replica of the William the Fourth, Australia's first coal-powered ship. The ship was built and launched as part of Newcastle's Bicentenary celebrations but had been neglected and left stranded for over a decade. Through tireless fundraising and hand's on labour volunteers ensured the ship's pride of place in Newcastle Harbour.
It would be remiss of us not to acknowledge Lynne Dalton OAM, who was honoured for service to volunteering in NSW. As former CEO of the Centre for Volunteering in New South Wales Lynne has made it her mission "to see [volunteers] treated fairly, with respect and equity."
We know how important volunteers are to the small museums and galleries.
Congratulations to all awardees, we salute you.
Across NSW local governments acknowledge people making significant contributions to their communities with their own Australia Day awards. Local museum volunteers and gallery workers were among those honoured around the state this year. Have a look at just some of the winners from the Riverina and Clarence Valley.