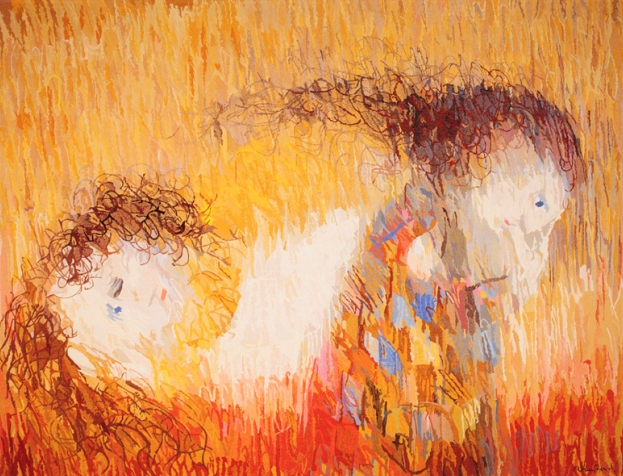 Currently at the National Gallery of Australia is an exhibition featuring one of Australia's most acclaimed and inventive artists. Arthur Boyd: agony and ecstasy takes in 43 years of the artist's career, with selected works from the NGA's collection of over 4000 pieces.
Many of the works that have not been exhibited before. The centre piece is The prodigal son, a two-metre fragment of a mural originally 20 metres long that adorned the dining room in one of the Boyd family homes. Boyd undertook the mural in 1948 when he was 28 years old, and worked diligently while playing Beethoven's 7th Symphony 'very loudly'. The result reveals Boyd's considerable technical versatility and mastery with a lush landscape on a grand scale, and figures painted in deep, rich colours.
'The prodigal son' fragment was still attached to the four-tonne concrete wall on which it was painted, and it has taken considerable effort . . . to find a way of safely moving it.
When the home was demolished in 1967, four relatively large components and a few small pieces were salvaged and eventually came into the national collection. The prodigal son fragment was still attached to the four-tonne concrete wall on which it was painted, and it has taken considerable effort from a Gallery team, with the advice of external conservators and engineers, to find a way of safely moving it. According to curator Deborah Hart, who spent years putting the show together, "It looks so simple now, and so beautiful, like it's meant to be there, but I had to work with a team of engineers to work out how to build a load-bearing structure. So there's a lot concealed behind that wall that you can't see."
To whet your appetite further, the NGA are hosting a range of public programs to celebrate the passionate life and art of Arthur Boyd.
In October Chris Latham, former Director of the Canberra International Music Festival, will direct a stunning concert Invocations: eight meditations on paintings by Arthur Boyd responds to Boyd's imagery with the help of Canberra's finest performers: Louise Page (soprano), Alan Hicks (piano), David Pereira (cello), the Sculthorpe String Quartet and others. Composers include Wagner, Strauss, Schubert, Rachmaninov, Silvestrov, MacMillan and the late Peter Sculthorpe.
For those who wish to learn more about Boyd's work and legacy, join scholars, artists, writers and curators on Saturday 11 October for a one-day symposium, Radical visionary: Arthur Boyd. The program will feature experts on Boyd and a keynote by leading art historian Patrick McCaughey.
Lovers of all things literary are welcome to Boyd and his generation: a tribute in poetry, a reading of eminent Australian poets of Arthur Boyd's generation as selected and performed by Canberra poets. Enjoy a glass of sparkling and a Q & A with the poets following the readings.
You can book for any of these programs through the Gallery's online calendar.
Arthur Boyd: Agony & Ecstasy is showing at the National Gallery of Australia from September 5 until November 9. Tickets are available through Ticketek.
If you're traveling from Sydney drop in to one of the many museums and galleries on the way. Follow our Goulburn and Surrounds trail.
Story sourced from the NGA website and Sydney Morning Herald.