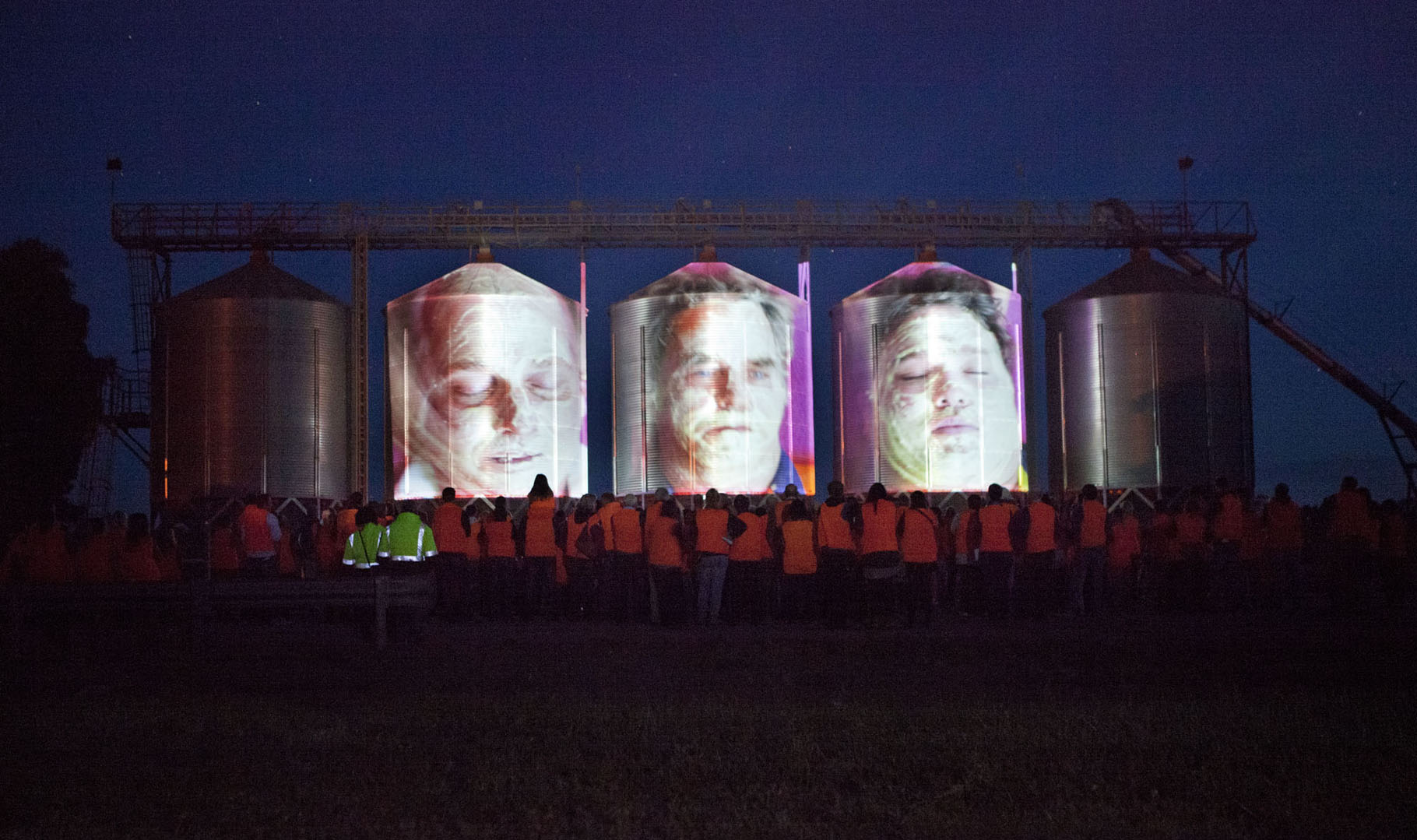 Coming up next month is ArtChat: Art + Space the third in our series of PechaKucha style talks held in partnership with Regional and Public Galleries of NSW. The night will focus on space and how it relates to contemporary art practice, presenting insights into how artists and curators think about space as integral to creation, presentation and collaboration.
We've lined up some exciting contemporary artists and arts leaders to give us their perspectives including Riverina based artist Vic McEwan. Vic is an interdisciplinary artist working in sound, video and installation, with a particular interest in landscape, communities and remote spaces. He also has a strong interest in cross art form collaborations creating large scale site specific projects that often involve dance, projection, installation and sound.
Vic wears many hats – in addition to being an artist, composer, producer and director, he is also the Artistic Director of The Cad Factory, an artist run initiative based in the agriculture town of Birrego, just outside of Narrandera. Established in 2005, The Cad Factory was originally an inner city warehouse in Sydney which presented live music and art exhibitions. The initiative has since developed into an organisation which now presents engaging and innovative contemporary practice to and with regional communities.
The Cad Factory utilises the unique spaces and infrastructure of regional towns to tell local stories. In 2013, the organisation invited six artists to the Grong Grong Motor Inn, in the Western Riverina town of Grong Grong, for an intensive week of creativity and collaboration. This 'arts laboratory' culminated in one-off event where the motel was brought to life with installation and performance.
As a recipient of an M&G NSW Artist in Residence grant in 2013, Vic embarked on a year-long exploration of a community in recovery, actively seeking the stories from the town of Yenda in the wake of the devastating 2012 floods. The residency resulted in a public event which featured projections and installations throughout Yenda, and an exhibition at the Griffith Regional Art Gallery.
Vic has received significant recognition for his work, including being awarded the inaugural Arts NSW Regional Arts Fellowship. This involves him working as the 2015 Artist in Residence at the National Museum of Australia, undertaking a major arts/health project in the UK, and creating a case study on the SunRice and Cad Factory Contemporary Arts Partnerships, looking at the value that contemporary artists can bring to business and communities.
To hear Vic's talk about The Cad Factory's work in person, make sure you reserve your spot at Freda's Bar and Canteen for ArtChat on Monday 13 July via Eventbrite.
To find out what other great speakers we've got in store that night, visit mgnsw.org.au.
Vic's project was supported through an Artist or Curator Residency grant.
The Artist or Curator Residency Program is supported by the Copyright Agency Limited's Cultural Fund, and is managed by Museums & Galleries of NSW.