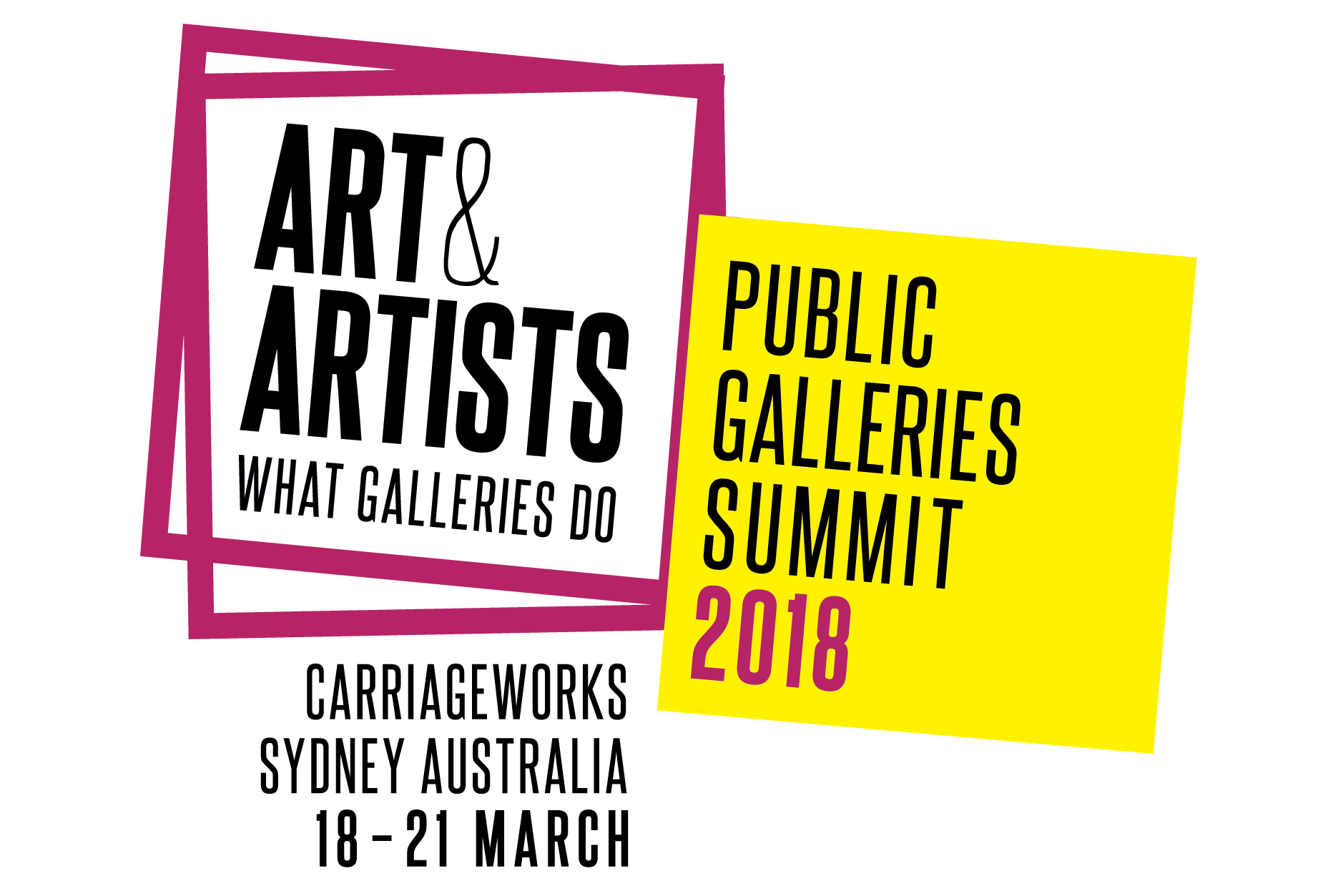 Don't miss the opportunity to network with your peers during Sydney's busiest month of art and culture.
Registrations are now open for Art & Artists: Public Galleries Summit 2018 presented by Carriageworks and Regional and Public Galleries of NSW in association with Museums & Galleries of NSW. Taking place between 18-21 March Art & Artists will bring together staff from galleries throughout Australia and New Zealand. The sector is diverse, covering major cultural institutions, regional galleries, artist run initiatives, contemporary art spaces and of course, most importantly, artists themselves.
Held concurrently with the 21st Biennale of Sydney, Art & Artists will focus on the distinction that the visual arts and artists bring to the cultural space. The Summit will present a lively program including panel discussions, workshops and networking events over four days at Carriageworks and other venues across the city.
Summit speakers include:
Esther Anatolitis, Executive Director, National Association for the Visual Arts
Brook Andrew, artist, Melbourne
Julian Bowron, Director, Bunbury Regional Art Galleries, Bunbury
Grainne Brunsdon, Director, Engagement, Partnerships and Development, Create NSW
Lisa Cahill, CEO and Artistic Director, Australian Design Centre, Sydney
Rebecca Coates, Director, Shepparton Art Museum, Shepparton
Justine Cogan, Development Manager, Octapod, Newcastle
Michael Edwards, Director, Contemporary Art Tasmania, Hobart
Reuben Friend, Director, Pataka Art + Museum, New Zealand
Jim Geddes, District Curator, Eastern Southland Gallery, New Zealand
Alexie Glass-Kantor, Executive Director, Artspace, Sydney
Channon Goodwin, artist and Director, Bus Projects, Melbourne
Courtney Johnston, Director, Hutt City Museums, New Zealand
Mami Kataoka, Artistic Director, Biennale of Sydney
Deborah Kelly, artist, Sydney
Elizabeth Ann Macgregor OBE, Director, Museum of Contemporary Art Australia, Sydney
Daniel Mudie Cunningham, Senior Curator – Visual Arts, Carriageworks, Sydney
Brigid Noone, artist and Director, Fontanelle Gallery & Studios, Adelaide
Juilee Pryor, artist, Sydney
Ben Quilty, artist, Sydney
Jacquie Riddell, Director, Public Engagement, Art Gallery of NSW, Sydney
Oliver Watts, artist and curator, Sydney
Dominic Willsdon, Curator, Education & Public Practice, San Francisco Museum of Modern Art, USA
Stay tuned for further speaker announcements and the draft program. To take advantage of the Early Bird registration offer please visit the Eventbrite page.
For more information about this event visit the M&G NSW event page or contact Jane Gillespie, Program & Events Coordinator, Museums & Galleries of NSW on 02 9339 9914 or janeg@mgnsw.org.au.
#pgsummit2018
Art & Artists: Public Galleries Summit 2018 is presented by Carriageworks and Regional and Public Galleries of NSW in association with Museums & Galleries of NSW and the Biennale of Sydney. This project is supported by the NSW Government through Create NSW and the City of Sydney.