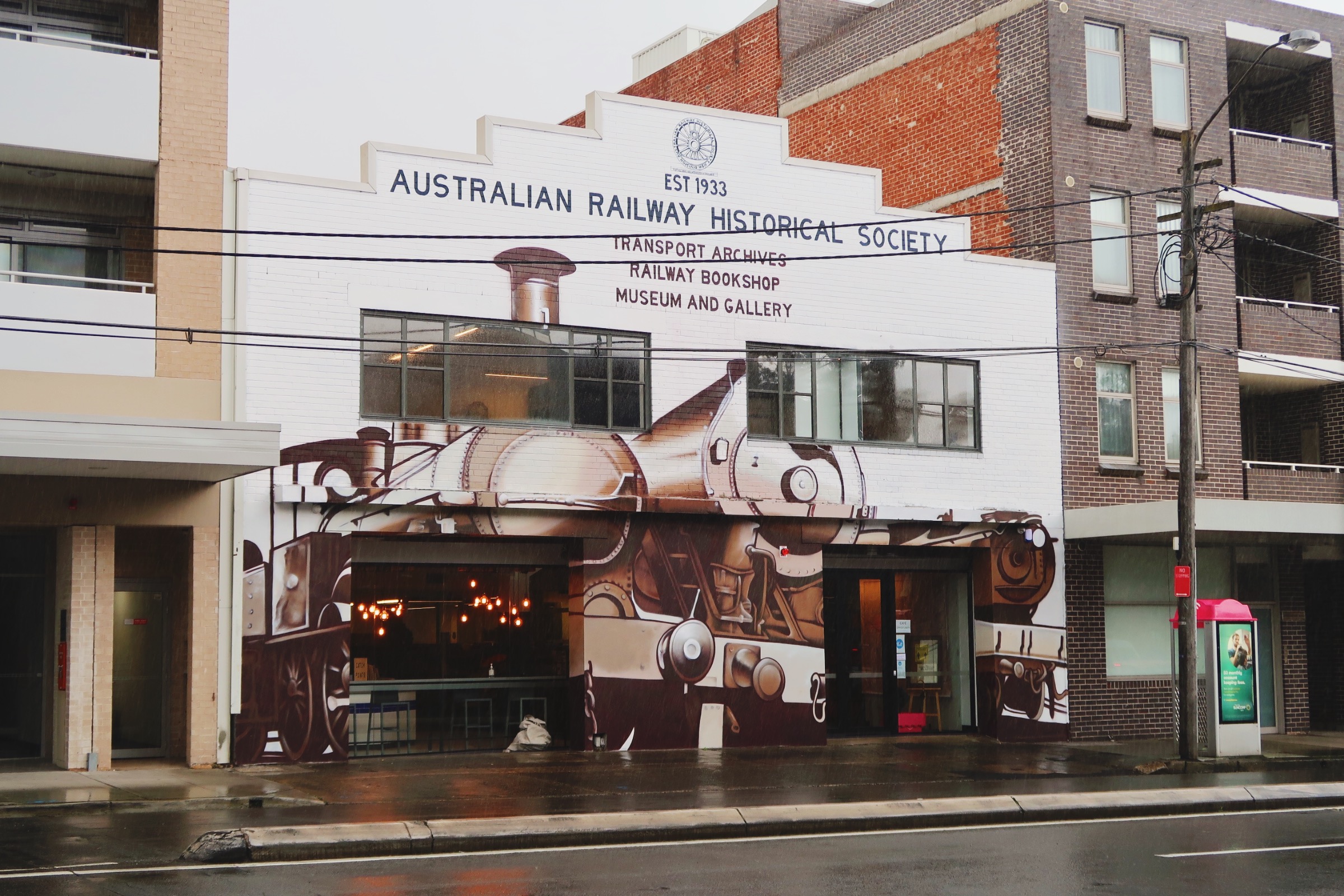 Fronted by a two storey larger-than-life wall mural, the new home of the Australian Railway Historical Society (ARHS NSW) in Alexandria, Sydney can't be missed. Situated within a 10 minute walk from Redfern Train Station and just across the road from the under-construction Waterloo Metro Station (slated to open in 2024), the Society hopes that its newly refurbished premises in this inner-city location will make its collection and book shop easily accessible to train enthusiasts, researchers and public visitors alike.
The ARHS' archives and activities were previously held in two locations in Redfern and Alexandria. Here, the collections were mostly in storage, with little opportunity for public interaction. The ARHS identified that they needed to "create a space that actually invites the public in" explained General Manager, Paul Scells. Thus began an 18-month search for a new location.
The new space is sprawling, compared to the facilities that staff and volunteers previously worked in, and consolidates the Society's collection, archives, book shop and office space (its book shop in Central Station will also remain open). Upon entry, visitors are greeted by spacious bookshelves for browsing and purchasing; a floor to ceiling display of books and objects; and a cafe space (which is yet to be tendered).
Also on the ground floor is a spacious area for research and digitisation. The ARHS (NSW), which was established in 1933, has approximately 40 active volunteers who carry out extensive digitisation work. Connecting this ground area to the top floor is a flight of stairs and a newly-installed elevator.
The building, which was previously home to a camera-hire and studio space business, was extensively renovated. Many aspects of the building's original structure have been kept and add character alongside the contemporary fit-out. The upstairs area now includes a temperature-controlled collection and archive room; stock area (for publications); packing area (for online orders); kitchen area; meeting room; and open-plan office area.
The ARHS is now open to the public Tuesday-Thursday
5 Henderson Road Alexandria
Find out more
The ARHS cafe space is currently vacant; if you are interested, please get in touch with General Manager Paul Scells paul.scells@arhsnsw.com.au or (02) 9699 4595.