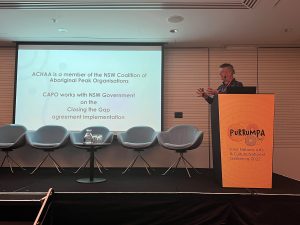 The most important Aboriginal arts and culture gathering in decades, Purrumpa was held on the lands of the Kaurna people at the Adelaide Convention Centre for five days last week.
Convened by the Australia Council for the Arts, Purrumpa meaning "to flourish or blossom" to Kaurna people, celebrated the achievements of First Nations Arts and Culture with important conversations about self-determination and priorities for Aboriginal and Torres Strait Islander peoples, their art and culture.
Both celebration and reflection of 50 years of the Aboriginal and Torres Strait Islander Arts Board of the Australia Council, it was also an opportunity to discuss the future with a focus on youth and what a potential self-determining First Nations Agency might look like and achieve, separate to what is now the First Nations Arts and Culture Strategy Panel at the Australia Council.
M&G NSW's Aboriginal Programs Manager and ACHAA General Manager, Wiradjuri man Steve Miller attended Purrumpa as part of a delegation of NSW Aboriginal artists and arts workers, just some of the more than 300 delegates from across Australia. Create NSW supported a selection of NSW artists/arts workers to attend. The MCA also sent a team led by Keith Munro.
Steve presented on two panels at Purrumpa, on 'the Role of First Nations Visual Arts Peak Organisations' and 'Arts, Culture and Community: How Cultural Centres in NSW Do Things Differently', where he shared the stage with Alison Williams from Yarrawarra Aboriginal Cultural Centre, Corindi Beach, Rose Lovelock from Armidale Cultural Centre and Di Smith from Wungunja Cultural Centre, Trangie.
The team at M&G NSW are incredibly proud to see Steve present on behalf of ACHAA at a national conference, advocating for greater awareness of Southeast Aboriginal arts, heritage and culture. ACHAA stands for Aboriginal Culture, Heritage & Arts Association, and was established with facilitation by M&G NSW to develop New South Wales' network of Aboriginal-owned cultural venues.
Finally – a big congratulations to Steve who was asked to compose and present the Purrumpa Statement at the conclusion of the event at the invitation of Professor Larissa Behrendt, former Museums and Galleries of NSW Board Member and now Chair of the Australia Council's First Nations Arts and Culture Strategy Panel.
Assisted by Lydia and Marilyn Miller, the statement honoured the strength of culture and warm generosity of the host the Kaurna People, paid respect to the incredible legacy of the artists and activists who had served on the arts board and called for all levels of Government to support the Australia Council's work in First Nations arts and culture.
Steve Miller and ACHAA members Alison Williams, Rose Lovelock and Di Smith attended Purrumpa with support from the Australia Council for the Arts