Dennis Golding | POWER – The Future is Here
POWER – The Future is Here is the result of a collaboration between artist Dennis Golding and Aboriginal and Torres Strait Islander students from Alexandria Park Community School. The superhero capes were created during a workshop in 2020, led by Golding who was an artist in residence at the school through Solid Ground. Students from Kindergarten to Year 12 designed their capes with iconography informed by their lived experiences and cultural identity.
As superheroes, Golding and his young collaborators are empowered and reminded of the strength of their culture in forming their identity and connection to Country. Individually and together, the capes critique social, political and cultural representations of contemporary First Nations experience. This series of capes were first presented in POWER at Blacktown Arts Centre (2021) and then at Carriageworks in The Future is Here (2021).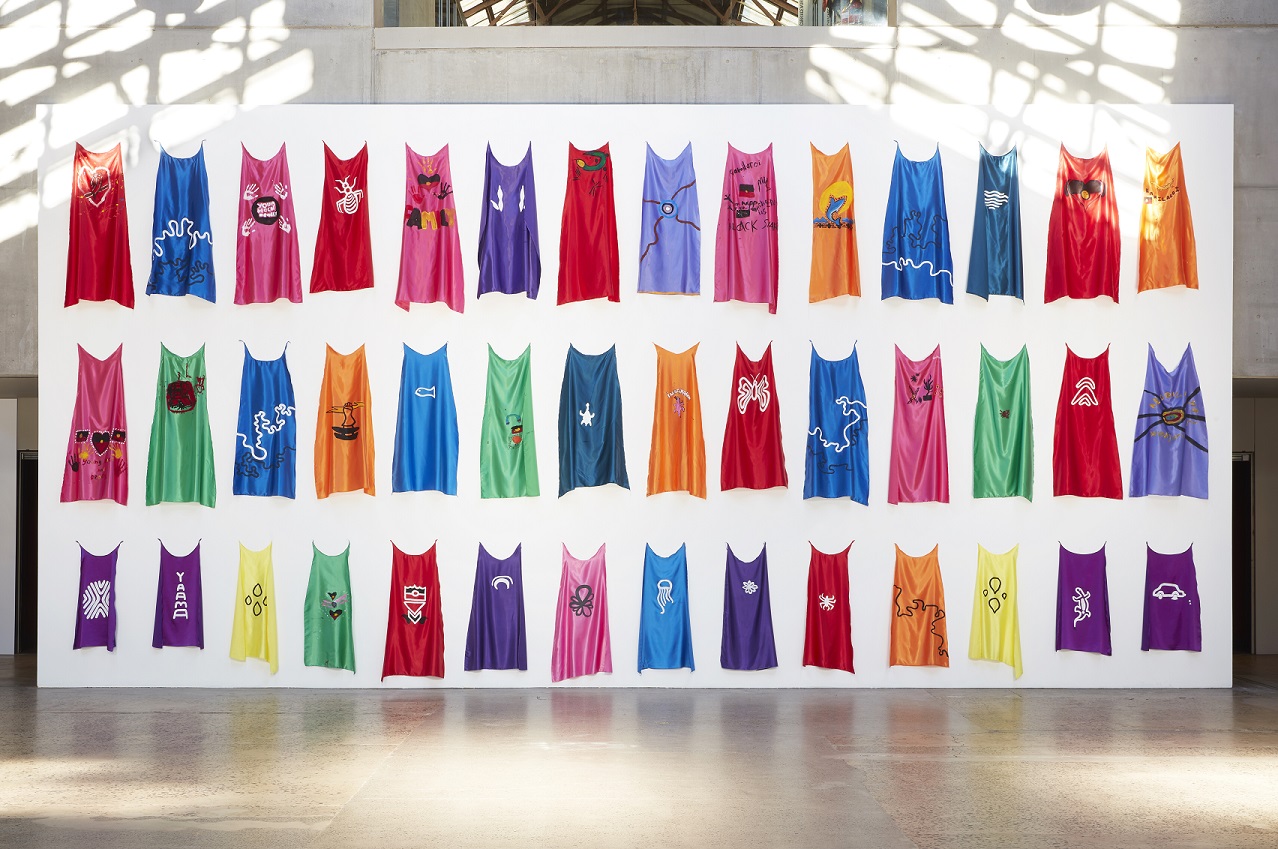 About the Artist
Through his artistic and curatorial practice, Dennis Golding aims to present powerful representations of contemporary Aboriginal cultural identity that inform narratives of history and lived experiences. Golding is a Kamilaroi/Gamilaraay artist from the north west of NSW and was born and raised in Sydney. Working in a range of mixed media including painting, video, photography and installation, Golding critiques the social, political and cultural representations of race and identity. His practice is drawn from his own experiences living in urban environments and through childhood memories.
Golding was surrounded by art from his urban upbringing living in an Aboriginal community in Redfern (often referred to as 'The Block'). As a young child, he often watched his mother and grandmother paint on large canvas and sheen fabrics depicting Australian native plants and animals, cultural motifs and human figures.
Before entering his formal art training, Golding worked as an administrative trainee at Nura Gili Indigenous Programs UNSW. He later developed his professional practice in art school through mentorships with leading curators, educators and artists. Golding graduated with a Bachelor of Fine Arts (Honours) at UNSW Art & Design in 2019 and now works independently as an artist and curator.
– bio from Artereal Gallery.
About the Curator
Kyra Kum-Sing is a Malera Bandjalan, Mitakoodi woman. Kyra has paved a unique and important path within the arts as both an artist and curator. Kyra is the curator at Boomalli Aboriginal Artists Co-operative and has curated a number of significant and acclaimed exhibitions.
– bio from Boomali Aboriginal Artist Cooperative
About Solid Ground
Solid Ground provides education, training and employment pathways for Indigenous Australian youth in Redfern, Waterloo and Blacktown. Established in 2015, it is a major initiative from Carriageworks and Blacktown Arts Centre. The program includes three key strands: an Artist-In-Residence Program at select secondary schools, a Tertiary Skills Program and Paid Internships.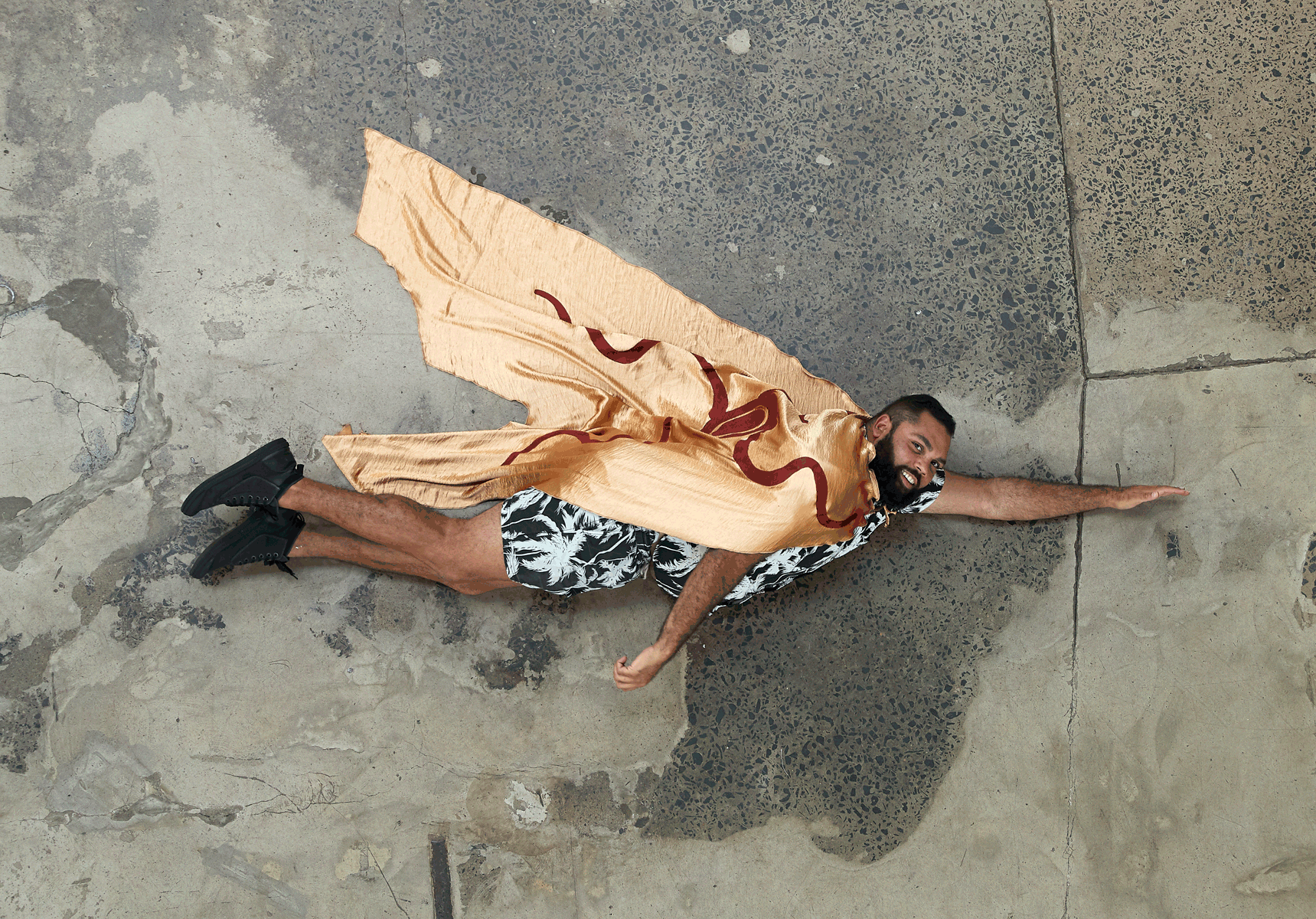 ---
Itinerary
South East Centre for Contemporary Art, NSW
7 October – 20 November 2023
Batemans Bay Heritage Museum, NSW
13 January – 10 February 2024
Wagga Wagga Art Gallery, NSW
22 March – 23 June 2024
Maitland Regional Art Gallery, NSW
6 July – 13 October 2024
Bank Art Museum Moree, NSW
26 October – 7 December 2024
Grafton Regional Gallery, NSW
20 December 2024 – 9 February 2025
Moreton Bay Galleries, QLD
22 February – 17 May 2025
Mulga Lands Gallery, Charleville, QLD
30 May – 1 August 2025
Hyphen Wodonga, VIC
August – November 2025
---
Exhibition Available
POWER – The Future is Here comprises fabric capes made by artist Dennis Golding and his collaborators from Alexandria Park Community School. This exhibition will be accompanied by a curatorial guide devised by Kyra Kum-Sing. Every cape will not need to be included in each iteration, making this exhibition scalable and adaptable to suit the needs of specific spaces and audiences, or be presented across spaces.
In partnership with Solid Ground, Dennis Golding and Kyra Kum-Sing, M&G NSW will commission an education resource with curricular links; create video resources that speak to the workshops, educator-led sessions and non-facilitated activities; and provide a pack of workshop materials.
This exhibition is available to host in 2026. If you would like further information or to discuss dates, please contact our team:
Olivia Welch
Exhibitions Manager
oliviaw@mgnsw.org.au | 0437 172 451
Susan Wacher
Funding & Programs Manager
susanw@mgnsw.org.au | 0411 530 006
Ashleigh Reardon
Exhibitions Coordinator
ashleighr@mgnsw.org.au | 0408 642 470
---
A Solid Ground project with Dennis Golding and Alexandria Park Community School, curated by Kyra Kum-Sing and presented by Carriageworks and Blacktown Arts. This project has been assisted by the Australian Government's Visions of Australia program.