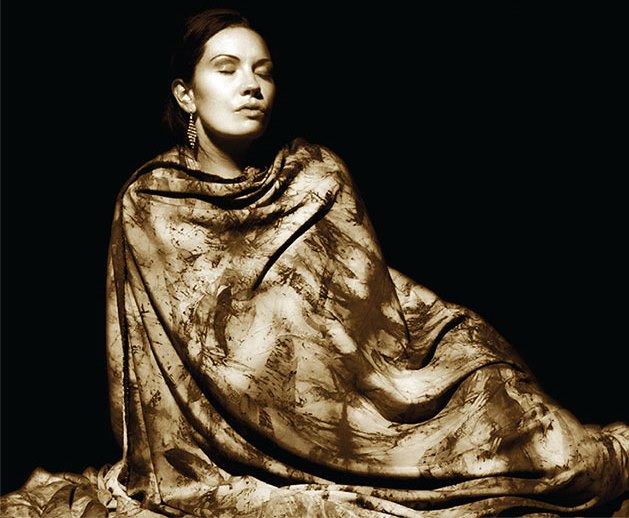 On Wednesday night it was announced that Wiradjuri Sydney-based artist Nicole Foreshew is the receipient of not one, but two major Aboriginal arts prizes.
Foreshew was awarded $40,000 by the 2014 Parliament of NSW Aboriginal Art Prize for her photographic work It comes without seeking 1 at a ceremony at Parliament House. In the sculptural image, a woman with long straggly black hair stands with her back to the viewer, a red and yellow-dyed robe draped around her shoulders.
The Parliament of New South Wales Aboriginal Art Prize is an annual acquisitive art award presented to an Aboriginal visual artist over the age of 18, born in New South Wales or living in New South Wales.
Foreshew is also the recipient of the NSW Aboriginal Arts Fellowship: the award, offered every two years, is open to all New South Wales-based Aboriginal artists from any discipline with funding provided by the state government. The $30,000 grant for her project titled Grounded: Earths' materials, processes and structures will result in an exhibition at Albury Regional Art Gallery in 2015.
If you've heard of Foreshew before it's probably because of several very famous works. She's responsible for her monumental projections that graced the Australian Museum during the inaugural Corroboree Sydney, a festival celebrating indigenous culture that's starting again very soon in late November.
"It is very important that artists, and particularly Aboriginal artists, have that opportunity to create new work." Nicole Foreshew.
born in darkness before dawn addressed the subjugated women of colonial Australia and reinscribed them into history. The projections of larger-than-life, sepia-drenched, Aboriginal women draped in cloth were imbued with the architectural power and history of the Australian Museum and stateliness evoked by the textured folds of the women's cloth-garments.
She was also co-curator, with Object Director Steve Pozel, of Menagerie a touring exhibition shown at the Australian Museum. Menagerie comprised of 52 works from 33 artists and draws from all states and territories. Using connections that both curators had with indigenous groups across Australia, Parkes and Foreshew offered audiences an incredible range of animals crafted from materials that got to the real essence of the animals.
For Grounded, Foreshew will collaborate with the University of New South Wales Art & Design and geologist Ross Hobson from the Australian Museum to conduct research into plants and minerals to explore the meaning of land, space, and identity.
Foreshew is thrilled to receive funding from both prizes: "It is very important that artists, and particularly Aboriginal artists, have that opportunity to create new work."
For more information: www.smh.com.au
PNSWAAP is organised by the Parliament of New South Wales in partnership with Campbelltown City Council, the New South Wales Government, through Arts NSW, the College of Fine Arts, UNSW and Coal & Allied.