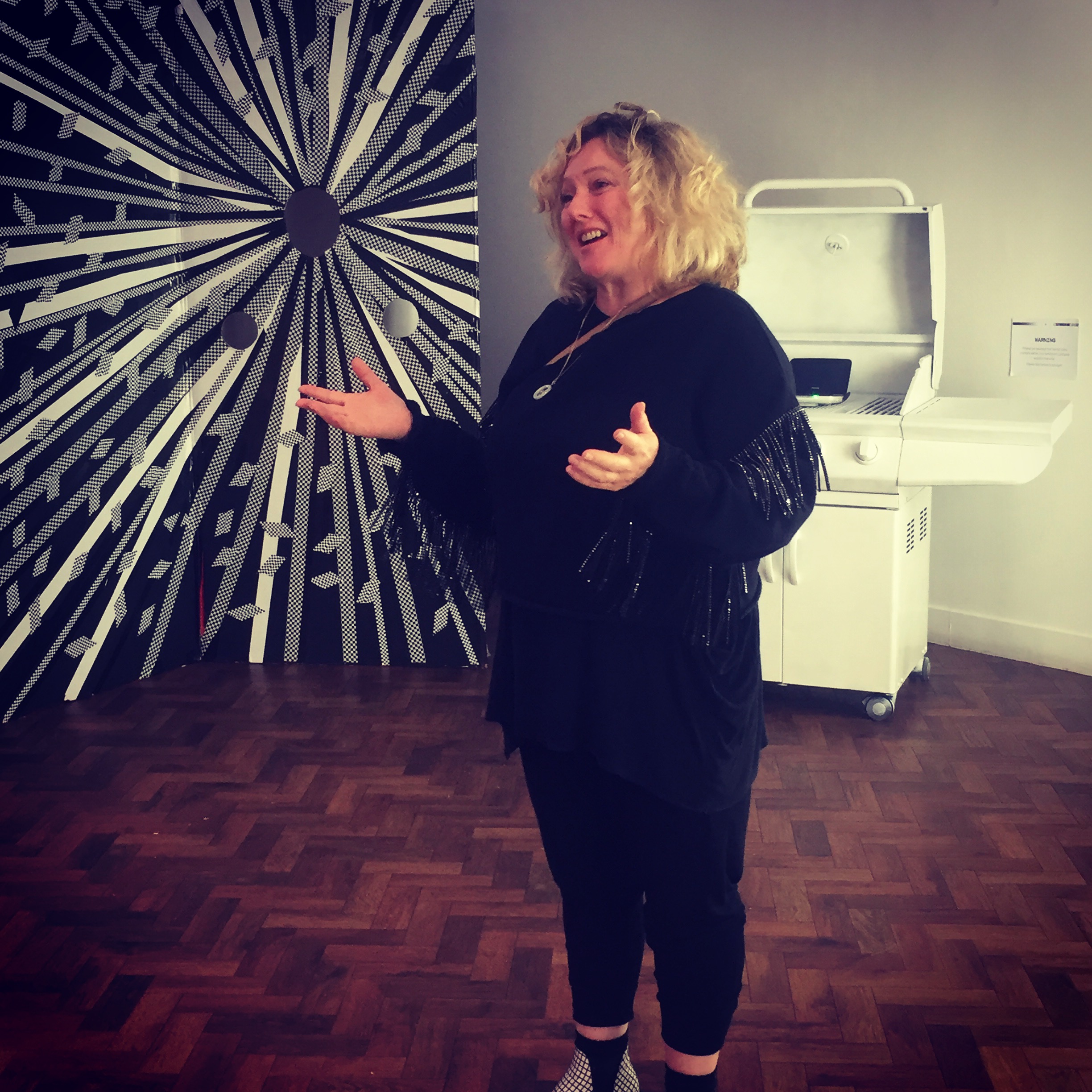 SHOWCASE highlights the contemporary artists and curators we work with and whose work you will see in galleries and museums across NSW and beyond in the near future.
Justene Williams (b. 1970) lives and works in Western Sydney and has exhibited widely throughout Australia and internationally.
Selected solo exhibitions include: Handbag Hammer Meditation, La Centrale Galerie Powerhouse, Montréal, 2013; Static Ballet, Sarah Cottier Gallery, Sydney, 2013; She came over signing like a drainpipe shaking spoon infused mixers, a public work for Christchurch Art Gallery, 2013; Turnstile Heaped on Pour Down, St Paul St Gallery, AUT Auckland University, 2012; and BIGHEAD GARBAGEFACE GUARDS GHOST DERR SONATA, Contemporary Project Space, Art Gallery of New South Wales, Sydney, 2009.
Selected group exhibitions include: The National: New Australian Art, Carriageworks, Sydney, 2017; The future is already here – it's just not evenly distributed, 20th Biennale of Sydney, 2016; and Before and After Science: 2010 Adelaide Biennial of Australian Art, Art Gallery of South Australia, Adelaide, 2010.
Her work is held in numerous collections including the Museum of Contemporary Art Australia, National Gallery of Australia and the Art Gallery of New South Wales. She is represented by Sarah Cottier Gallery, Sydney.
Rachel Arndt, M&G NSW's Gallery Programs and Touring Exhibitions Manager spoke with Justene about her work in The Curtain Breathed Deeply, curated and developed by Artspace, Sydney and on show at Goulburn Regional Art Gallery until 8 July.
RA: The Curtain Breathed Deeply draws on many references, some art historical and esoteric and others from pop-culture and suburban Australia, but universal themes of familial love, death and sexuality feature strongly. Does your work resonate with your personal life and experiences?
Yes it does. I believe that the unreal and the real can come together, that everything is at once unreal and real, melding together. Art can make magic, it is transformative, meditative, full of ritual and hypnotic. Sometimes things you want in your personal life can be made real. I wanted things to happen in my personal life so I made it in the artwork – a boyfriend and a baby. And they happened.
RA: You've said in the past that your work in The Curtain Breathed Deeply is divided into 'rooms', red being the bedroom, green being the backyard and that you live in the garage – what does the garage mean to you and why do you 'live' in this space?
I literally live in the garage, yet now it is called the flat. It's circumstantial. Seriously I do live in the garage!
But pop culture is full of references to 'hanging out' in the garage or the 'man cave'. These are places of transformation and change, where things are made, a place to potter, a space to make and create, to fix and tinker. Garages are important social and spiritual places for kids, men and women alike.
RA: Pamela Hansford writes in the catalogue "In the artist's suburban spectacular, dance, gesture and sound are designed to mobilise the known to attract the unknown." What interests you in the underbelly of suburban life – the ghosts, psychopomps, mediums and exorcisms?
On the surface suburbs are places of manicured lawns, picket fences, kit homes but what goes on behind these veneers is often very different. The weirdest things happen. So this work has holes, peeping and peering holes in the 'cheeses' and the curtains. This alludes to the voyeuristic nature of suburban lives and the temporary structures of concealment that are put up to hide the unusual, atypical or seemingly abnormal.
The tarps and the curtains in this work also reference systems and structures of belief and social rites such as weddings and funerals where certain conventions take place. My Dad was a Mason so I'm interested in the symbolism and ritual in that tradition.
RA: The installations and sets in The Curtain Breathed Deeply are constructed from recycled or reused materials or readily available hardware and variety shop supplies, what drew you to found or repurposed materials?
My Dad owned a wrecking yard and many of my childhood memories are weekends and holidays spent playing games in the discarded, disused cars – pressing buttons, playing with the gears, the dual role of play and work. Dad would also never throw anything out. If the toaster broke, Dad would fix it. Objects have a history, a life and an energy that resonates from the patina or the way it has worn. I like the overlooked, the redundant and the no longer used and am interested in reanimating that energy and 'assisting' these objects or relics through performance. I somehow bring new life to them –they are assisted ready mades. The titles for my work originate from these concepts.
RA: Where can we see your work next?
The National: New Australian Art is on at Carriageworks, Sydney until 25 June 2017 and following the exhibition at Goulburn Regional Gallery The Curtain Breathed Deeply, will tour to Griffith, Lismore, Tamworth and Penrith in NSW and Ipswich in QLD.
The Curtain Breathed Deeply was curated and developed by Artspace and is touring nationally in partnership with Museums & Galleries of NSW.
The generous bequest of the Catalyst: Katherine Hannay Visual Arts Commission has enabled Artspace to support Justene Williams in the development of this major new work at a pivotal moment in her career. This project has been assisted by the Australian Government through the Australia Council for the Arts, its arts funding and advisory body.