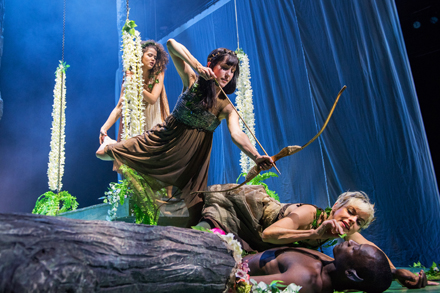 Over 100 recipients will share in more than $4 million as part of Round 2 of NSW Government's Arts and Cultural Funding Program for 2020/21.
More than one third of the recipients are in Western Sydney and regional NSW.
Minister for the Arts Don Harwin said this funding will build on the State Government's support for musicians and live music venues this year, with $635,542 being provided to contemporary music projects and programs including $308,104 to 14 individual musicians.
The funding will support the state's talented artists, workers and organisations including 12 Aboriginal-led projects and 20 projects with a focus on First Nations communities to deliver strong arts and cultural outcomes for NSW audiences.
"Investing in our artists helps to build our economy and strengthen our arts and cultural offerings for local audiences and visitors to our great State. The extraordinary projects funded through Round 2 will employ over 8,300 artists and reach more than 3.4 million people across the State," Mr Harwin said.
"I am excited by the depth of talent and creativity represented in this round, including a significant investment in contemporary music and musicians, and a considerable number of First Nations, Western Sydney and regional NSW initiatives."
Funded projects include Sport for Jove's Shakespeare Carnival and their annual program of performances and in-school workshops; the return of the Electronic Music Conference with a Festival that will feature 100 artists performing at 25 events over 9 days; and Bach Akademie's Weddings and Funerals over Coffee concerts of J. S. Bach's classic works.
All applications were assessed against published criteria and ranked in order of merit by the Artform Advisory Boards.
Museums and History recipients
Millthorpe & District Historical Society Inc, A corner of Millthorpe History ($18,060)
Millthorpe & District Historical Society will develop a Welcome to the Museum history corner, including a local Wiradjuri exhibition, and work with elders to create an audio-visual element. The museum will also create a village display, incorporating pioneers and businesses. The funding will contribute to the construction of an archives corner to allow storage and access to the museum's collection of paper archives.
Port Macquarie Historical Society Inc, New Journeys, Broad Horizons ($7,420)
An artist-in-residence program at the Port Macquarie Museum with artist Lucy Frost will explore new interpretations of historic objects through a mix of visual arts practices and unlock new and exciting ways for the Museum to speak to broader and new audiences through creative workshops, new works and an exhibition.
The City of Greater Lithgow Mining Museum Inc, Western Coalfield Pit Horse Memorial ($30,000)
The Western Coalfield Pit Horse Memorial is a public art project that will create a memorial and focus for celebration of the horses that worked in the mines of the NSW Western Coalfield. It has been conceptualised to complement and strengthen museum interpretations and enhance the visitor experience.
Museum of Chinese in Australia Limited, Tea Salon Sessions (working title) ($60,000)
Tea Salon Sessions is a collaborative curatorial development program. Museum of Chinese in Australia Limited's (MOCA) curator will work with community and professional sector specialists to develop four new curatorial streams. Board member and highly regarded celebrity Adam Liaw will subsequently host a public program event on each theme during Lunar New Year 2022.
Lithgow Small Arms Factory Museum Inc (LSAFM) staged program of exhibits and digitising of archives ($69,300)
The Lithgow Small Arms Factory Museum will upgrade and design new exhibits highlighting the significance of the Small Arms Factory in pioneering precision engineering as well as undertake the progressive digitisation of archival records dating back to 1908.
Visual Arts recipients – Organisations
Southern Highlands Gallery at Retford Park Ltd, The Dingo Project ($40,000)
The Dingo Project is curated by Djon Mundine OAM and will be presented as part of Ngununggula's inaugural program (8 January – 6 March 2022). It will include commissioned works responding directly to the stories of Mittagong and connections to Dingos.
Newcastle Historic Reserve Land Manager, Expand The Lock-Up Artist in Residency Program ($23,350)
The Lock-Up will expand the Artist in Residency Program, enable new work and presentation opportunities, while expanding connections to Hunter Based audiences through partnerships.
Studio A Limited, Painting the Future – Studio A's Creative Leaders ($60,000)
Studio A artists will produce new artworks/resources showcasing their creative practice that are relevant to the school curriculum for use within the education system. This positions Studio A artists as creative leaders, demonstrating the creative talent of artists with intellectual disability, opening new markets and income streams for their work.
National Association for the Visual Arts Ltd, NAVA NSW: Professional Practice Program ($40,000)
NAVA's professional practice program aims to promote the development of a robust arts ecology which can sustain and support artists' careers while preparing organisations for working with and for artists in financially transparent, culturally competent, and ethical ways. NAVA will achieve this through collaborative workshops, forums, resources, skill-sharing, and mentorships.
Pari Incorporated, P2P Summer School ($47,000)
P2P is a program of virtual sharing between Pari and artist-run collectives and spaces around the world. In this new iteration of the program, arts collectives The artists will create a series of workshops, discussions and activities for emerging critical writers and arts collectives.
Centrehouse Inc, Diversitas et Experimentas – Gallery Lane Cove's 2021/2022 program of exhibitions ($15,000)
Diversitas et Experimentas is Gallery Lane Cove's 2021/2022 curated program of four exhibitions consisting of Presence of Mind with Australian and Singaporean artists; Lunar North Confluence II, the multi-venue collaborative project; The Mysteries of Orpheus – The Turning by Transturm and Networked: Vegetal-Techno Ecologies, an XR and AR exhibition.
View a full list of Round 2 recipients
For further information on arts and cultural funding, including targeted support opportunities, visit the Create NSW website at www.create.nsw.gov.au.