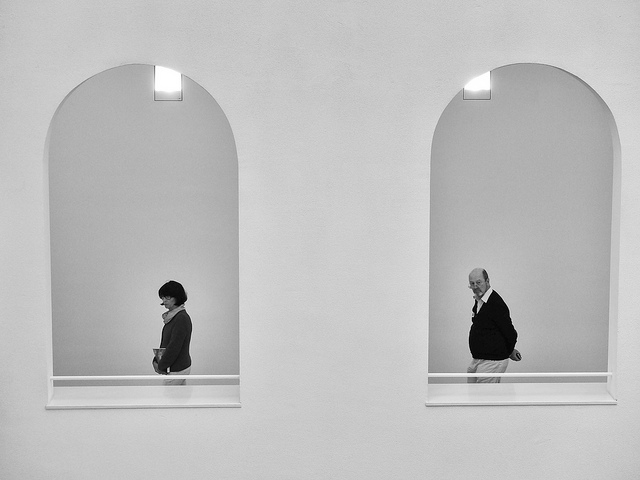 A trip to the gallery is typically a visual experience, but there also exists the sheer enjoyment of overhearing what other punters say as they ponder paintings, inspect installations, and survey sketches and sculptures.
Here's a few snippets overheard from impressed and less impressed gallery goers at two shows recently; the always entertaining Archibald Prize and the more challenging fare at the MCA–Tabaimo: MEKURUMEKU and Annette Messager: motion / emotion exhibitions.
Child on entering the Archibald Prize exhibition: "Do we have to look at every single painting, or just one of them?"
Woman examines the winner of the Archibald Prize, Penelope Seidler's portrait by Fiona Lowry: "Is she dead or alive, she looks like a ghost!"
Man who has seen one painting too many: "I can't read anymore of the descriptions, they're just too informative!"
Woman after staring at a painting for several minutes: "Is that really a painting? I don't believe it."
Man assesses a portrait: "This is reasonably … competent!"
Man grapples with Cate, take 1 and Cate, take 2 by Tim Maguire: "I don't get what the point is of having two the same next to each other but in a different colour."
Woman to friend at mistaking a contemporary sculpture of packing boxes as rubbish left by the gallery installation team: "Gosh, how come they left all that stuff here – this used to be a really good gallery."
Unsure parent to child amidst the work of Annette Messager: "No, I don't think it's for playing with."
Woman inspects an installation: "It's the subtext of this piece I really appreciate."
Child is bamboozled by contemporary art: "What is this? What is this? MUMMMMYYY!"
Next time you are at a gallery, forego the audio tour, the real-life narration is far more entertaining!
Meet Kat Crossley; law graduate, writer, florist, and museum and gallery lover. We call her Gallerina, and she's one of our Roving Reporters. She'll be giving us her insights every month in M&Gazine as she flounces around the state from museum to gallery, so stay tuned.
You can find her on Twitter at @kat_crossley or exploring an exhibition near you.