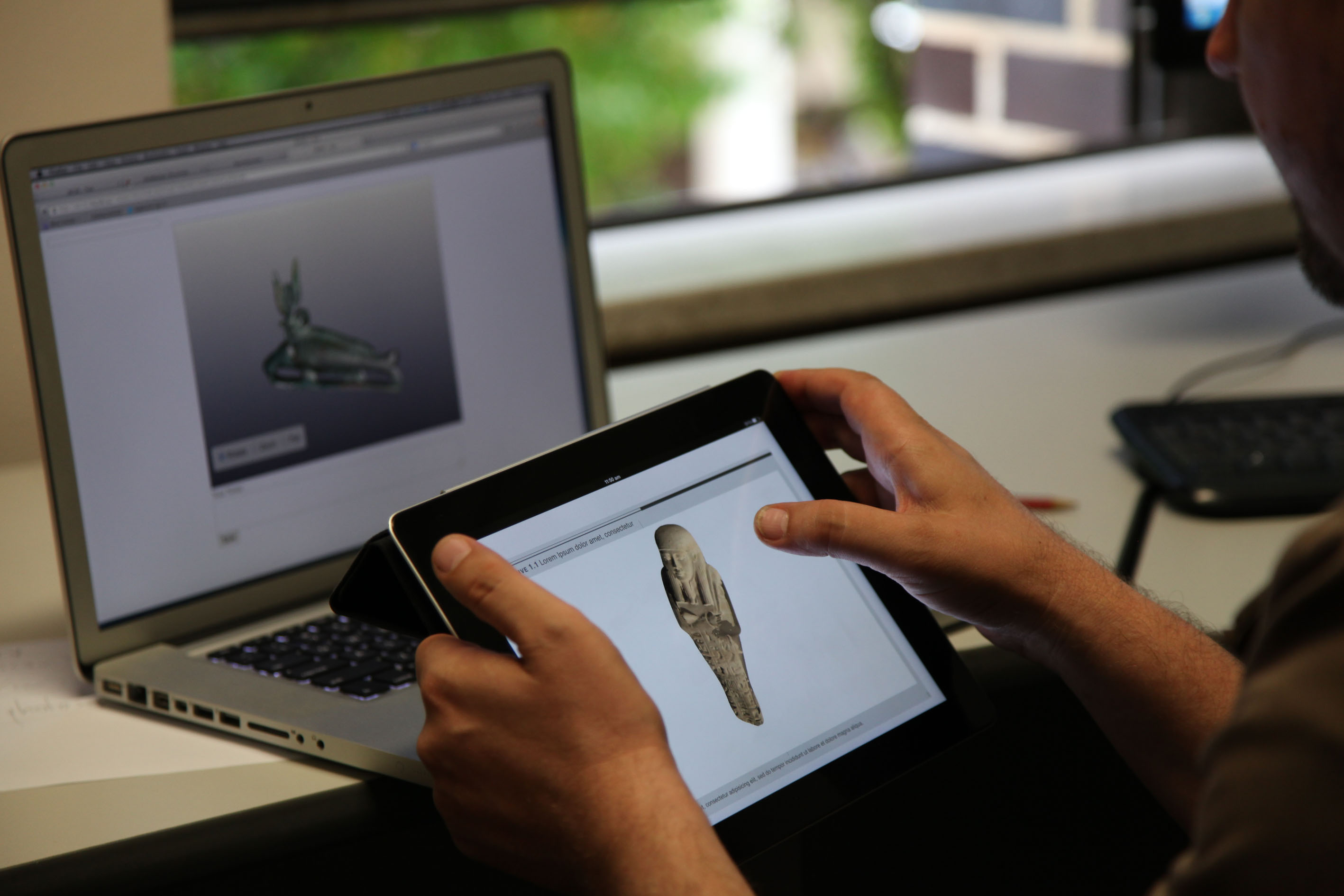 Online database of 3D scanned objects
Developed by Macquarie University. Objects shown are from the Museum of Ancient Cultures.
Education has always been a primary goal of museums.
Education is more than school excursions and worksheets with set tasks. Learning infiltrates all areas of life, from higher education to professional development to lifelong learning. The family museum visit educates; expanding horizons as parents and grandparents share stories of the way things used to be.
How does a museum effectively use technology to provide purposeful educational experiences to empower the student to discover and know more?
Technology is pivotal to the education experience. The first information technology was the written word. While the first skeptics doubted the worth of writing and felt that it would lead to a corrupt and slovenly mind, they have long been proven wrong. As wise as he was, Socrates said:
"Written words will create forgetfulness in learners' souls . . . (the learners) will be hearers of many things and will have learned nothing; they will appear to be omniscient and will generally know nothing; they will be tiresome company, having the show of wisdom without the reality."
These days neuroscience, behavioral psychology and pedagogy tell us much about learning and teaching. There are numerous models of education and countless ways technology enables learning. Yet a wariness about technology remains. Rather than embracing technology, many in the education sector still believe new technologies get in the way of the authentic, 'real', tactile experience, and 'true memories' provided by museums.
So how then does a museum effectively use technology to provide purposeful educational experiences to empower the student to discover and know more?
With these questions in mind, Museums & Galleries of NSW and Education Studio, Macquarie University present a day of learning about 3D technologies in education, cultural heritage and visual arts. Widely considered the best person to navigate the challenges and opportunities of emerging technologies is keynote speaker Larry Johnson, CEO of New Media Consortium (NMC) an international community who strive to make learning more engaging, open and inclusive.
NMC does a bunch of interesting stuff such as global discussions and projects with high profile partners UNESCO, OECD, World Bank, United Nations University, and world-leading companies including Apple Inc. They've got practitioners who work with new technologies every day, including visionaries shaping the future of learning at think tanks, labs, and research centers.
And each year NMC compiles their findings into the Horizon Report. The Museum Edition of the report examines emerging technologies for their potential impact on education and relevance to museums. They outline trends, define challenges, and predict the adoption of specific technologies for the future.
Want to read NMC's 2013 Museum Report? Two versions are available:
In brief on Youtube: