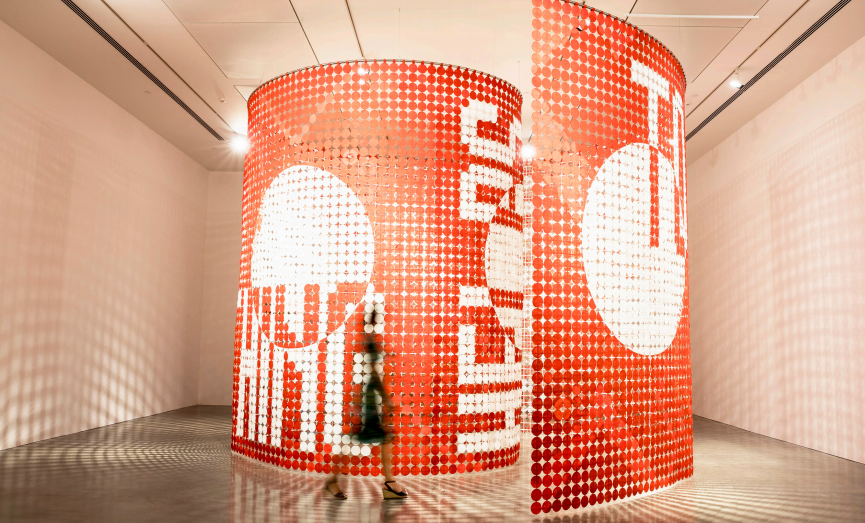 The curators for the second edition of The National: New Australian Art 2019 have been announced by the Art Gallery of New South Wales (AGNSW), Carriageworks and the Museum of Contemporary Art Australia (MCA).
Staged concurrently at the three cultural institutions from 30 March 2019, The National: New Australian Art 2019 presents a joint curatorial vision of emerging, mid-career and established artists drawn from around the country, including Australian artists practicing overseas.
The curators for The National: New Australian Art 2019 are: Isobel Parker Philip, Curator of Photographs at the AGNSW; Daniel Mudie Cunningham, Senior Curator of Visual Arts at Carriageworks; Clothilde Bullen, Curator of Aboriginal and Torres Strait Islander Collections and Exhibitions at the MCA; and Anna Davis, Curator at the MCA.
The announcement of this curatorial team, currently in conversation with artists around the country, follows a successful first edition of the exhibition held in the autumn of 2017 that attracted 286,631 visitors across the three partner institutions. Showcasing the latest ideas and forms in contemporary Australian art, visitors to The National 2017 who travelled from interstate or overseas represented 40% of total audiences, contributing $3.38 million in revenue to Sydney's economy.
Dr Michael Brand, Director, Art Gallery of New South Wales, said "The National unites three of Sydney's leading visual arts organisations in providing critical support for contemporary Australian artists through the commissioning and acquiring of new works.
"In 2017 there were 170 works by 49 artists exhibited across the three venues. One of the most exciting aspects of The National is enabling the realisation of ambitious new works by leading Australian artists. The 2019 iteration will bring with it a fresh opportunity for exhibiting artists to explore and experiment with space, form and meaning."
Lisa Havilah, Director, Carriageworks, commented: "The National provides a unique insight into the thinking and practice of Australian contemporary artists at a particular moment in time. The collaboration between the AGNSW, Carriageworks and the MCA further extends to an integrated public and education programs that explore themes across the exhibition."
Elizabeth Ann Macgregor OBE, Director, MCA, added: "The collaborative approach to The National enables our three institutions to profile the expertise of each individual curator. The 2019 iteration will be as curatorially ambitious and innovative as the 2017 exhibition, which was very well received by artists and the public. Bringing together four curators for one exhibition provides different viewpoints but within a collaborative framework helping to strengthen and shape the relationship between the chosen artworks.
The artist list for The National: New Australian Art 2019 will be announced in August 2018.
Exhibition Dates for The National: New Australian Art 2019
Art Gallery of New South Wales: 30 March – 21 July 2019
Carriageworks: 30 March – 23 June 2019
Museum of Contemporary Art Australia: 30 March – 23 June 2019
CURATOR BIOGRAPHIES
Clothilde Bullen, a Wardandi (Nyoongar)/Yamatji woman, is Curator of Aboriginal and Torres Strait Islander Collections and Exhibitions at the Museum of Contemporary Art. She was previously Curator of Indigenous art at the Art Gallery of Western Australia, Perth, where she worked for over a decade. She has curated a number of shows independently including Darkness on the edge of town in 2016 at Artbank, Sydney, and When the sky fell: legacies of the 1967 Referendum at the Perth Institute of Contemporary Art in 2017. She is the coeditor of the black edition of Artlink magazine in 2018 and is a board member on Artmonthly magazine. Clothilde has written and had feature essays in a number of catalogues including Defying Empire, Tarnanthi and Being Tiwi, and been published extensively including in Artlink and Sturgeon. She is an alumni member of the British Council Accelerate Scholarship for Indigenous leadership in the arts.
Anna Davis is a Curator at the Museum of Contemporary Art Australia, where she works with artists to present ambitious projects inside and outside the gallery environment. Her recent exhibitions and publications include: Sun Xun (2018), Jenny Watson: the fabric of fantasy (2017), New romance: art and the posthuman (2015/2016, co-curated with Houngcheol Choi), Energies: Haines & Hinterding (2015) and Workout: 7 days of experimental performance (2013). Prior to her role at the MCA, Anna was Assistant Curator of contemporary art at the Art Gallery of New South Wales and Assistant Curator at dLux media arts Sydney. Anna has a background as an artist and holds a PhD in Media Arts from the University of NSW. She speaks and publishes widely on contemporary art and curatorial practice, and has presented exhibitions in Australia, New Zealand and Korea.
Daniel Mudie Cunningham has been Senior Curator Visual Arts at Carriageworks since 2017. Previously, he has held roles as Head Curator at Artbank; curator at Hazelhurst Regional Gallery and lecturer and senior research associate at Western Sydney University, where he completed his doctorate in cultural studies in 2004. Recent curatorial projects include Good Neighbours (2017) at Artbank; Loved at Museum of Old and New Art (2015) and Carriageworks (2016); and Lost and Profound (2015) at Gertrude Contemporary. A widely published arts writer, Daniel has authored several artist monographs and edited numerous publications including the magazine Sturgeon (2013-16) and most recently, a book chronicling the history of the influential Sydney artist-run initiative MOP Projects (Formist, 2017).
Isobel Parker Philip is Curator of Photographs at the Art Gallery of New South Wales, where she is responsible for the photography collection and contributes to the wider exhibition program. Her curatorial projects address the complexity and elasticity of the medium and include Imprint: photography and the impressionable image (2016), New matter: recent forms of photography (2016–17), and Hold still: the photographic performance (2018). In 2017 she was the coordinating curator of Robert Mapplethorpe: the perfect medium. Isobel has independently curated exhibitions in a range of institutional contexts, most recently An elegy to apertures at the Centre for Contemporary Photography, Melbourne (2017). She has written catalogue essays for numerous artists and contributed to publications for the National Gallery of Victoria, Heide Museum of Modern Art, Melbourne and the Museum of Contemporary Art, Sydney