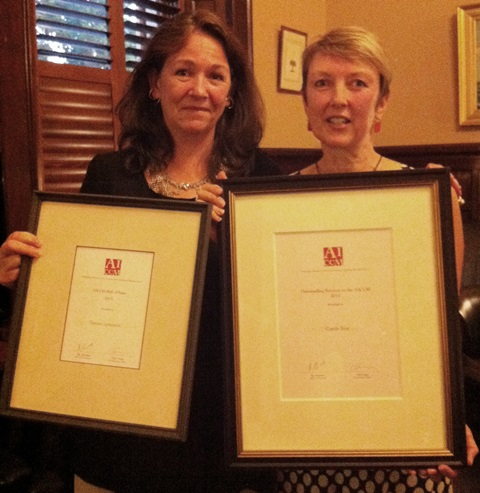 Last week two M&G NSW staff members were acknowledged with conservation related awards at the Australian Institute for the Conservation of Cultural Material (AICCM) National Conference.
It was a cocktail 'frock and tie' night at the Adelaide Club where a number of awards including Student Conservators of the Year, Volunteer Conservators of the Year (three of them!) and the prestigious Conservator of the Year were announced.
Tamara Lavrencic, M&G's Museum Program Manager was one of two conservators inducted into the AICCM Hall of Fame. The inaugural Hall of Fame is a special award reserved for those who have made ongoing and outstanding contribution to the conservation profession. Tamara, a qualified paper conservator, was acknowledged for her lifelong championing of conservation, her exemplary work as past National President of AICCM and her commitment to community conservation.
So if you're working with Tamara through our Standards Program or the Museum Advisor Program, rest assured you're in good hands.
Marcelle Scott, from the Centre for Cultural Materials Conservation (University of Melbourne) received the award along with Tamara. Marcelle has made a significant contribution as mentor for students, working to increase the standard of conservation education in Australia and for maintaining a strong commitment to participation in professional development at all levels.
If you're working with Tamara through our Standards Program or the Museum Advisor Program, you're in good hands.
Kristin Phillips from Artlab was the worthy recipient of the Conservator of the Year Award with her long time work towards all things conservation formally acknowledged. She was involved in the high-profile conservation of the Eureka Flag, Indira Gandhi's sari worn during her 1984 assassination and her son's trousers worn when he was assassinated seven years later. Kristin was actively engaged with the media during these projects to promote conservators and the profession.
M&G's Social Media and Online Content Coordinator, Carole Best was also acknowledged for her work towards the new AICCM website, a volunteer project she headed up along with Michelle Berry, AICCM's Secretariat and Community Builders web designers. They worked in tandem with past contributors Alice Cannon and Jenny Dickens to upgrade and redesign the site to 2013 standards.
Congratulations to all awardees – it's great to see such diversity in conservation commitment across so many institutions and allied industries. It all helps in preserving and conserving Australia's cultural heritage and increasing awareness and understanding of the aims and approaches of conservation as a profession.