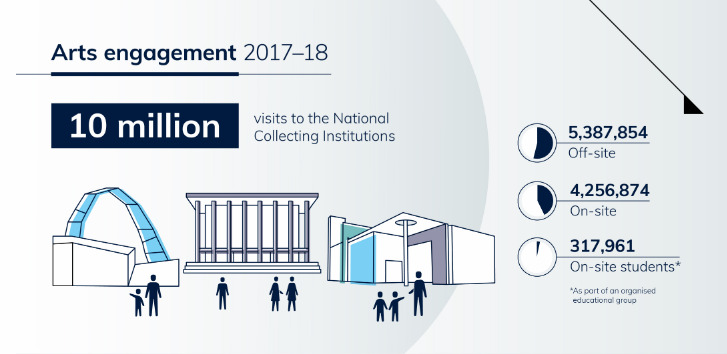 The Department of Communications and the Arts recently released new data on the trends for our National Cultural Institutions in 2017-18.
Each year, the department reports on the performance of 12 national cultural institutions to see how they are tracking.
These results provide insights into audience attendance and experience, access to our national collections, education and funding. They help to understand how Australians' engagement with the institutions has changed over time, and show how important these institutions are to Australia's cultural landscape.
Some key findings for 2017-18 include:
There are now more than 10.6 million objects in our national collections with 8.3% available online
This year saw more than 10,000 new Australian artwork projects funded through the Australia Council
There were 6331 onsite school visits to our National Collecting Institutions – the highest number to date
Screen Australia productions reached more than 3.4 million people in cinemas
There were more than 22 million attendances at Australia Council supported arts and cultural activities
This year saw the highest number of cultural initiatives between Australia's national cultural institutions and other countries